Whether it's New England clam chowder, Louisiana gumbo or Vermont maple syrup, there's no denying that cuisine is a point of pride throughout the United States. But have you ever considered what it would be like to thoughtfully cook and bake your way through all 50 states? TikTok and Instagram creator Samantha Huot, aka @yumlabels, pondered this very question when she tackled a fun, informative and downright delicious project: creating and documenting 50 unique recipes to represent each of the 50 states. You read that right—all 50!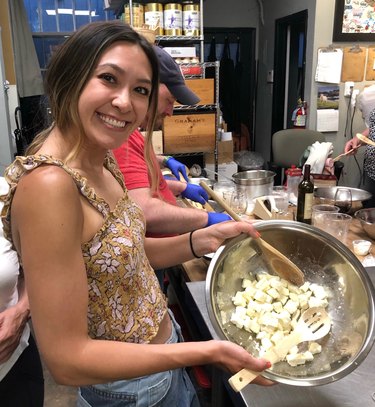 Samantha's "Foods of the 50 States" series made its debut in June 2022 with a Cinnamon Roll Peach Cobbler recipe dreamed up to represent the state of Delaware. Since then, her following on social media has skyrocketed, prompting her to pen an eBook filled with scrumptious recipes. Think: Pretzel and Hershey's Bar Cookies for Pennsylvania, Bison Meatballs for Wyoming, Coconut Muffins for Hawaii, Apple Dump Cake for New York and Strawberry Almond Cupcakes for California.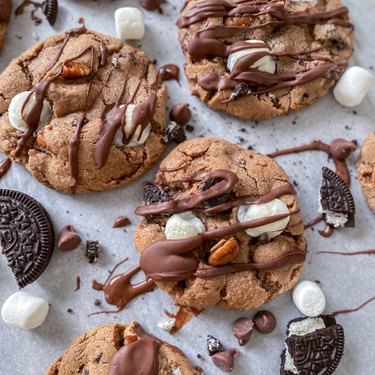 Samantha's recipes are far from standard comfort food or overdone state-specific dishes. Instead, she combines regional cuisine with creativity, state history and a dash of humor—which explains her videos' viral popularity. Best of all, her recipes have given followers the opportunity to virtually travel throughout the U.S.
We sat down with Samantha to learn more about her "Foods of the 50 States" project, her passion for creating and what it's like to deal with low-stakes controversy on "food TikTok."
Where did you get your love of baking and cooking?
‌SAMANTHA:‌ I grew up as an only child in Minnesota and have distinct memories of making banana bread with my mom or baking pies and cookies with my grandma during the holidays. It became a hobby right out of the gate, but I never really thought of it as a career. It was just something that I liked to do. So I started a TikTok and Instagram account, @YumLabels. It was something that I didn't take seriously by any means. It was just a hobby account for meal prepping and documenting my recipe ideas. Then, at the start of 2022, things changed.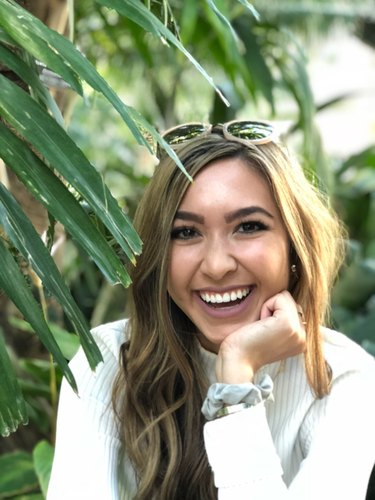 ‌SAMANTHA:‌ Well, I was working in digital marketing and decided to take the the advice that I always give my clients about growing their brands with authentic content. I thought, "Let's see if I can grow something out of this...if I can be consistent and just see what ends up happening.'' So I started posting multiple times a day on different social media platforms, and it took off from there.
What inspired your "Foods of the 50 States" series?
‌SAMANTHA:‌ I was on vacation in Florida with my boyfriend's family—so there was a lot of new family members to meet and new restaurants. When I'm traveling, I love learning about what makes each city its own and, as a foodie, learning which cuisine is most popular in a region. So I was doing a lot of that research in Florida. After the trip, I had a conversation with my boyfriend and we just started brainstorming, thinking, "Oh, state recipes would be cool because there are Chicago hot dogs and then there are Philly cheesesteaks and with Florida, you've got oranges..." From there, I had the idea to make this a series. I finished one state—Cinnamon Roll Peach Cobbler from Delaware—and, of course, I had to commit and do all 50. It took four months, but I finished them all.
Just curious, why did you start with Delaware?
‌SAMANTHA:‌ Delaware happens to be the first state in the U.S.—but I didn't mean to go in order! For Delaware, I had the idea to do mini peach cobblers because I saw a similar recipe posted on TikTok. So I re-created and did my own version of it with a few tweaks to make it original. Picking the states after that first one was mostly based off how many people were half-jokingly yelling at me in the comments to do their state next!
Speaking of comments, did you get pushback from followers about your choices for their state?
‌SAMANTHA:‌ Oh, yes! There was some feedback about my Pigs-in-a-Blanket Coney Dog for Michigan. People said it did not represent a "real coney dog." But the funniest feedback was for my home state of Minnesota. Tater Tot Hot Dish was an easy answer to what I was going to make for Minnesota, but I wanted to do a play on the "Minnesota nice" stereotype. So instead of tater tots, I used smiley-face potatoes... and people did ‌not‌ get the memo on why I made that choice. But I wanted to stray from the traditional dish that everyone knows and loves. I wanted people to look forward to coming back and seeing how I put a twist on the recipe for their state.
Tell us about how you incorporated state history into your recipes.
‌SAMANTHA:‌ It was like going back to school and taking a U.S. history class! Writing the voiceover scripts for my videos was the hardest part—doing the research, looking at fun facts about each state and pulling up all these different tabs on my computer to really get a sense of what every state is all about, whether it was Alabama or Massachusetts. It was so cool to learn about all these cultures within each state.
What surprised you most about the project?
‌SAMANTHA:‌ I was surprised to learn just how passionate people are about where they grew up. It was really cool being able to connect with people who might have moved away from their home state. I got comments saying things like "This made me homesick!" Followers were more than happy to share small tidbits of state history or facts about their state that weren't included in my video. Sometimes they would gently correct me on pronunciation. Overall, it was inspiring to see how proud people were of their home states and how happy they were to join me in learning about all 50.
Samantha's Favorite State Recipes
Now that you've finished every state, what's next?
‌SAMANTHA:‌ I really want to do a city series! It would be similar to the "50 States" series, but I'd focus on famous cuisine from 10 or 15 major cities throughout the country. I mentioned Philly cheesesteaks or Chicago hot dogs, so I'd follow that trajectory—putting my own spin on food from each city and hopefully gaining the same traction I got with my state recipes. I'm taking a break for the next couple of months, but I've come up with a lot of different series ideas moving forward. So it'll be exciting to see what comes next.