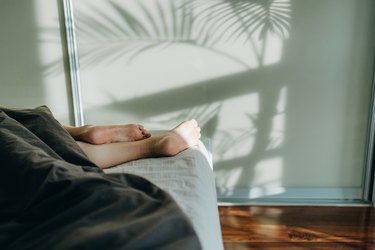 Are you tossing and turning at night? Too hot one minute and too cold the next? Wide-eyed and wondering why? There are a whole host of reasons why you might be having trouble snoozing, and getting at the root of your restlessness is key for a more comfortable sleep.
You can get there with sleep tracking, according to Alexandra Zatarain, cofounder of Eight Sleep — the wellness company on a mission to help people rest better. Eight Sleep's signature Pod mattress features embedded sensors for nightly tracking without any wearables, recording sleep metrics like time, phases, quality, heart rate, and more.
Why, exactly, would you want to collect all that data while you're snoozing? We asked Zatarian to break down the benefits of sleep tracking, with a little help from Total by Verizon — the new, no-contract, no-sacrifices wireless provider that seeks to help savvy creators like Zatarain in her quest to find the perfect balance of productivity and respite. Keep reading (and start tracking) to find yours.
For healthier slumber, aim for consistent bedtimes and wake-ups, Zatarain says, including weekends. "This will get your body into a natural rhythm, which in turn will help you fall asleep faster and wake up more refreshed." Tracking technology helps you establish this routine by recording your sleep time every night. The more consistent you are with your resting hours, the more comfortable those hours will start to become, she says.
2. Accessing your deepest sleep
The total amount of time you spend asleep is important, but the amount of time you spend sleeping ‌deeply‌ shouldn't be overlooked either, Zatarain says. The goal is to access deep sleep for 13 to 25 percent of your night in order to feel optimally rested. "If you are below that threshold, you can try adjusting the temperature of your bed, adopting healthier routines, or checking on your snoring or potential issues with sleep apnea," she says — all factors that affect your comfort levels in a major way.
3. Learning how your day affects your night
How you spend your waking hours is key to the comfort and quality of your sleeping ones. "Most tracking devices are able to provide insights that uncover how your sleep and your day are correlated," Zatarain says — like what kinds of exercise give you higher recovery overnight and how alcohol consumption affects your slumber, for example. With that data, you can make adjustments to your daytime routine (yoga and mocktails, anyone?) for deeper, comfier sleep.
4. Checking in on your mental health
Many tracking devices monitor your heart rate while you sleep, which is useful because your heart rate can actually clue you in on your state of mental health. For example, a higher heart rate may be an indication of heightened stress or anxiety. If you're seeing that pattern in your nightly data, try incorporating a guided meditation into your wind-down routine and throwing a weighted blanket on your bed to help induce relaxation.
5. Personalizing your sleep environment
With tracking technology, you can personalize your sleep setup for optimal comfort, calm, and coziness. "The reason why technology can be so useful to solve sleep issues is that sleep is very personal," Zatarain says, so what works for you might not work for someone else.
A big area those difference in preferences can show up is sleep temperature, and Eight Sleep has a solution for that, too. The sensor technology creates an ideal microclimate, cooling and heating the bed to optimize your temperature — which is clinically proven to improve your sleep quality. So hop on the Eight Sleep train, crack a window, or make the bed with eucalyptus sheets for that cool-side-of-the-pillow feeling, all night long.
‌‌While you're exploring innovative sleep solutions, go ahead and innovate your wireless provider, too, with a no-contract plan from Total by Verizon starting at $30 per month. Click here to learn more.‌‌