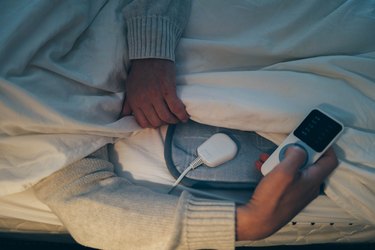 When it's cold outside, there's nothing better than cozying up on the couch or in bed with a warm blanket. If it also happens to be chilly in your house, the only way for your blanket to actually be warm might be to invest in an electric blanket. Just like a heating pad, an electric blanket has an insulated heating element, usually a wire, inside the fabric that heats when it's plugged in.
Electric blankets have come a long way from the thin, scratchy material you might remember from your childhood. Now they're just as warm and cozy as any non-electric blanket, they just happen to have a warming mechanism. As far as their safety, modern and well-maintained electric blankets are unlikely to cause any issues, but it isn't recommended to keep them on all night, which is why most of them come with a timer. Less sophisticated models might not have a timer or an automatic shut-off, in which case it's safest to turn the blanket on to warm up your bed before you get it and to turn it off before you fall asleep.
Heated blankets can of course keep you toasty, but they have other benefits too, like helping to relieve muscle and joint pain, helping you fall asleep quicker and some believe they can even boost your mood. They're also less expensive than central heating or running a space heater.
What to Consider When Purchasing an Electric Blanket
‌Size:‌ The size of your electric blanket will depend on where you want to use it. If you want a blanket to use on the couch, a throw blanket will probably make the most sense. If you want one for your bed, you'll be able to choose the size that corresponds to your mattress size. Most are available for twin-size beds, full-size beds, queen-size beds and king-size beds.
‌Material:‌ Electric blankets come in a variety of cozy materials, including faux fur, fleece, sherpa and microfleece. Each is just as soft as the next.
‌Color:‌ Heated blankets come in many different colors. You don't have to settle for something basic like white, gray or brown—some blankets come in brighter shades like red, green or purple.
‌Timer:‌ A timer is ideal if you want to stay warm as you fall asleep but tend to get hot in the middle of the night. A timer is also convenient if you need to apply heat for muscle or joint pain for a certain amount of time.
‌Heat Settings:‌ The best way to regulate the heat output is through the blanket's heat settings. Most standard blankets come with three to five settings, but you can find some that have up to 10 or 20, giving you more control.
‌Plug Location:‌ The plug is usually located in the middle or on the bottom corner of the blanket, which is something to consider depending on where your outlet is located.
Scroll on to see the best electric blankets for the 2022 winter season.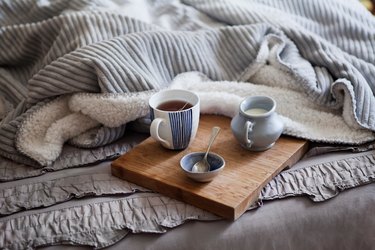 1. Sunbeam Royal Ultra Heated Blanket
Bring on the heat with this electric blanket for your bed. It has a quilted design that's perfect for layering with a sheet and comforter on cold nights. A digital controller has a 10-hour automatic shut-off for safety and to keep you from overheating.
‌Material:‌ Polyester
‌Sizes:‌ Twin, full, queen, king
‌Colors:‌ Blue, cabernet, mushroom, ivy, night fog
‌Heat Settings:‌ 10
‌Care:‌ Machine-washable
‌Special Features:‌ 10-hour auto shut-off
2. Serta Malea Shaggy Faux Fur Heated Throw
This shaggy faux fur throw is the one your whole family will fight over because it's so soft and warm. One side of the reversible throw is made of ultra-soft shaggy fur while its other side is plush. The controller has five heat settings with a 3-hour automatic shut-off. The company notes that the blanket might have a small amount of shedding, which is normal for faux fur, but that should go away after three or four washes.
‌Material:‌ Faux fur
‌Size:‌ Throw
‌Colors:‌ White, black, gray
‌Heat Settings:‌ 5
‌Care:‌ Machine-washable
‌Special Features:‌ 3-hour auto shut-off
3. Westinghouse Electric Blanket Throw
It's soft, it's silky and it'll keep you toasty all winter long. This electric throw is double-sided—one side with flannel and the other with sherpa. You can set the timer anywhere from one to 12 hours depending on your needs, and when the timer is up, it'll automatically turn off.
‌Material:‌ Flannel, sherpa
‌Sizes:‌ Throw, twin, full, king
‌Colors:‌ Gray, red, beige, charcoal, gray
‌Heat Settings:‌ 10
‌Care:‌ Machine-washable
‌Special Features:‌ 1-12 hour timer
4. Beautyrest Heated Plush Blanket
Rest easy (and warm) with this micro plush heated blanket. It's designed with flexible wires and a super soft micro plush fabric to ensure comfort. There are a whopping 20 different temperature settings, making it possible to find the precise temperature that makes you the most comfortable. The twin and full-size blankets have one controller and the queen and king sizes have two.
‌Material:‌ Flannel, sherpa
‌Sizes:‌ Twin, full, queen, king
‌Colors:‌ Aqua, black, gray, ivory, lavender, mink, purple, red, sapphire blue, teal
‌Heat Settings:‌ 20
‌Care:‌ Machine-washable
‌Special Features:‌ 10-hour auto shut-off
5. L.L. Bean Wicked Cozy Heated Throw
Whether you're looking for an extra-soft heated throw blanket for your couch or for one to give as a gift, this L.L. Bean throw is a fantastic option. It's the perfect size for snuggling on a chair or sofa, and it has five heat settings to keep you as toasty (or lightly toasty) as you want.
‌Material:‌ Polyester
‌Size:‌ Throw
‌Colors:‌ Cream, gray, blue
‌Heat Settings:‌ 5
‌Care:‌ Machine-washable
‌Special Features:‌ Auto shut-off
6. Bedsure Electric Heated Throw
Available in every size imaginable, this heated blanket can go from the couch to your bed while providing you with the heat you deserve. The LED controller offers 10 heat settings, and the soft sherpa and flannel material makes it an extra comfy option.
‌Material:‌ Flannel, sherpa
‌Sizes:‌ Throw, twin, full, queen, king
‌Colors:‌ Red, beige, black, blue, brown, dark green, gray, navy
‌Heat Settings:‌ 10
‌Care:‌ Machine-washable
‌Special Features:‌ 8-hour shut-off
7. Serta Heated Midweight Electric Blanket
This no-frills blanket will get the job done. It's made of fleece and sherpa, so you know it's soft to the touch and will warm you up even when the heat isn't set to high. There are 10 temperature settings and it comes in a wide variety of colors, so you're sure to find one that matches your current bedding and bedroom decor.
‌Material:‌ Fleece, sherpa
‌Size:‌ Twin, full, queen, king
‌Colors:‌ Ivory, blue, dark gray, tan, brown, light gray, burgundy
‌Heat Settings:‌ 10
‌Care:‌ Machine-washable
‌Special Features:‌ 1-12 hour auto shut-off
8. Stalwart Electric Car Blanket
Perhaps the most genius invention for cars, this electric blanket will keep you warm in your car even when it's freezing outside. The lightweight blanket plugs into your cigarette lighter, so if you have a newer car, you'll need to make sure it's equipped with one. This blanket features thin wires and a cord that's long enough to reach the passengers in the backseat. It can easily be folded to store in your backseat or trunk without taking up too much space. Even if it isn't plugged in, this perfectly sized blanket can still provide warmth like a regular ol' blanket.
‌Material:‌ Polyester
‌Size:‌ 59" x 43"
‌Colors:‌ Red/black, green/black, white/black, blue, gray plaid, orange plaid
‌Heat Settings:‌ 1
‌Care:‌ Spot-clean
‌Special Features:‌ Works in cars, SUVs, RVs