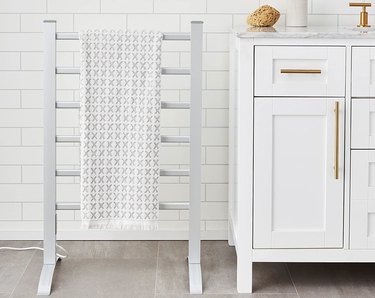 A towel warmer in your bathroom is definitely a luxury, but it's a luxury you deserve. There's nothing quite like the feeling of stepping out of the shower and grabbing a warm towel to wrap around yourself. Towel warmers don't just provide immediate warmth, however; they can also dry your towel faster than it would take to air dry, preventing bacteria growth and that distinct wet towel mildew smell that happens after several uses—you know the one. They can also be used to dry clothes that need to be hand-washed or other delicate garments that can't be thrown in the dryer.
Towel warmers come in various sizes and styles, with some having a small footprint and others taking up a bit more space. Most towel warmers are designed for bathrooms, laundry rooms or mudrooms and can hold towels, robes, pajamas and even slippers.
What to Consider When Purchasing a Towel Warmer
‌Type:‌ There are two types of towel warmers: electric and hydronic. Electric towel warmers are the most common and the most affordable, as they simply needs to be plugged into the wall to work, but hydronic towel warmers are generally more efficient. Hydronic towel warmers use hot water from the plumbing system in your home to generate heat.
‌Style:‌ Towel warmers come in a few different styles. Wall-mounted or freestanding racks are good for large towels or several at a time. Of course, wall-mounted towel warmers don't take up floor space while freestanding towel warmers do. Barrel-shaped warmers can sit on the floor or on a table and can hold towels and robes, while cabinet warmers are best for hand towels and washcloths.
‌Capacity:‌ You can find small and large towel warmers—the size you choose will depend on the size of your towel and the number of towels that need to be warmed simultaneously. Smaller towel warmers will save space and energy, but if you have a large family or like to use more than one towel at a time, you might want to go for a larger warmer.
‌Warm-Up Time:‌ Like most electronics, the warm-up time can differ from model to model. Some towel warmers can heat in as little as 10 minutes, while slower units can take up to 40 minutes. The average time it takes a towel warmer to fully heat up is 15 to 20 minutes. If your showers tend to be quick, you might want to consider a model that heats up faster.
Below, you'll find our top picks for the best towel warmers of 2022.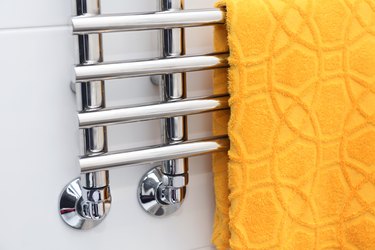 The Best Overall Towel Warmer
Whether you want to warm up your oversized towels, bathrobes, pajamas or slippers, this bucket style towel warmer can make it happen. Its large capacity is big enough to fit standard bath towels belonging to your whole family or two oversized bath towels. The bucket has a super fast heating time: It warms in just one minute and fully heats to a high temperature in six minutes. Using the single button on/off switch, this towel heater is easy to use and can stay on for up to 60 minutes. While it does take up more floor space than a wall-mounted towel rail, it can be placed out of the way in the corner of a room or next to your sink or vanity. This towel warmer comes in six color options.
The Best Budget Towel Warmer
Can't decide between a wall-mounted or freestanding towel warmer? This one offers both. It comes with feet for standing on the floor and with wall brackets. The rack works wonders as an electric towel warmer and as a drying rack for your delicate clothes that shouldn't be thrown in the dryer. It has a quick start-up time and is operated by an on/off switch.
The Best Freestanding Towel Warmer (With a Timer)
The Heat Rails towel warmer has a built-in timer so you can turn it on and forget about it until next time. It's on the smaller side, so while it won't take up too much space, it'll only be able to warm one bath towel or a couple hand towels at a time. The lightweight aluminum rack comes with removable freestanding feet and wall-mounting brackets.
The Best Bucket Towel Warmer
A major benefit of this bucket warmer is its large capacity, and this one can fit two oversized bath towels, robes, a throw blanket, PJs and more. This plastic and bamboo bucket warmer has four timer settings, so you can choose from 15, 30, 45 or 60 minutes, and once the timer is complete, the device will automatically turn off. A built-in cord storage helps keep the extra-long power cord out of the way when it's not in use.
The Best Wall-Mounted Towel Warmer
Wrap yourself in a warm towel after your shower or bath using this electric towel warmer featuring 10 bars—enough to heat two towels at a time. It's a wall-mounted towel rack that can be placed on a wall in your bathroom or in the laundry room. It has a 5-foot cord and an on/off switch, but a separate timer can be added. Made of high quality stainless steel, this model is available in polished or brushed stainless steel.
The Best Hydronic Towel Warmer
If you're looking for a towel warmer that's a bit fancier than the standard electric towel warmer, this model from Runtal Radiators might be the one. This hydronic towel warmer needs to be installed into the plumbing of your home so it can run on hot water to provide even, energy-efficient heat. It's considerably pricier than the average electric towel warmer because it's fancier, but it saves on electricity over time. If you want to get really fancy, you can opt for the chrome finish.
Wall-mounted electric towel warmers don't have to take up half of your wall space. This small device is perfect for small bath towels or several hand towels. It has a rack up top for rolled or folded towels, along with four bars for vertical hanging. It has an on/off switch, comes with a plug and comes with a hardwired kit if you want to go that route. Choose from a brushed or polished finish.
The Best for Large Towels
If your whole family enjoys having their towel warmed up, you might want to spring for a large capacity electric towel warmer. The Anzzi Towel Warmer with a brushed nickel finish has a modern design and 14 heated bars that warm up in 20 minutes. It's waterproof, so it can safely be wall-mounted near a shower or bathtub, and it can be hardwired or plugged into a wall.
The Best Compact Towel Warmer
This compact warmer can sit on your bathroom's vanity, a side table or on the floor. It's designed for facial or hand towels, just like the hotel towels you get at the spa, nail salon or even a fancy restaurant. It takes about 30 minutes for the warmer to reach its top temperature of 178 degrees. To use, wet the towels with warm water and wring them out before placing them in the warmer.