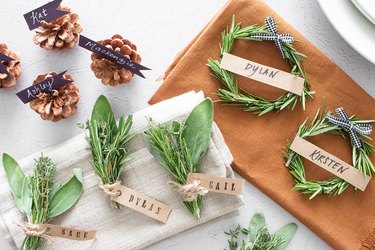 With Turkey Day around the corner, it's time to start brainstorming festive tablescape ideas. But fear not—you don't need to be a crafting pro to create a pretty setup. Thanks to these easy eco-friendly Thanksgiving place card ideas, it's possible to spruce up your table with minimal effort and materials.
To keep things interesting, we've included three different place card themes: pine cones, herb bouquets and mini rosemary wreaths. This way, you can pick a project that best suits your style or the supplies you have on hand. Additionally, each version calls for natural materials or repurposed items, paving the way to a more sustainable holiday celebration.
What's more, these place card holders will add a lovely natural, organic touch to your Thanksgiving table. They pair well with elements like wheat grass centerpieces, fresh apples, mini pumpkins and linen napkins, but feel free to add your own personal touch.
Here's what you'll need to make DIY Thanksgiving place cards, plus tips for customizing each place setting idea.
Idea 1: Pine cone place cards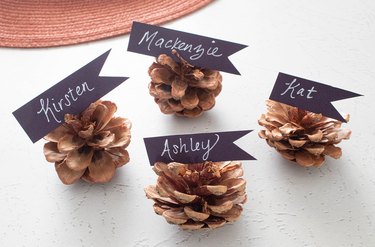 Things You'll Need
Gel pen, gold paint pen or marker

Cardstock

Scissors

Pine cones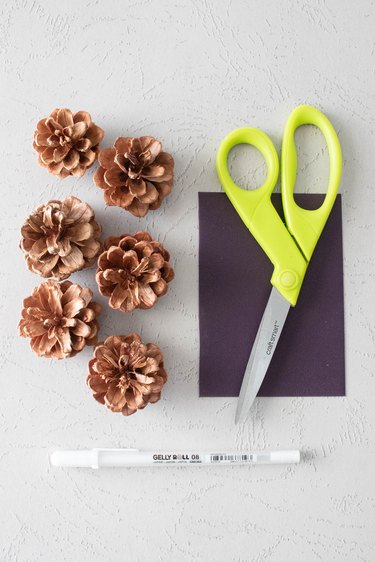 Tip
Pine cones are available in the floral section of the craft store. Alternatively, you can clean pine cones from the outdoors and use them for this project.
How to make pine cone place cards:
Using a pen or marker, write each guest's name on the cardstock. Feel free to print the names or use calligraphy techniques. Next, cut out the names into strips. At this point, you can leave them as is or cut the ends at an angle to create a decorative touch.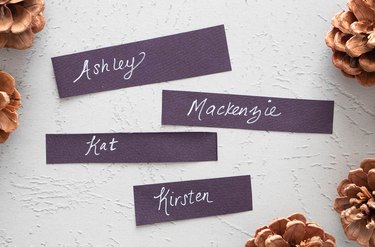 Tip
To further customize this Thanksgiving craft, consider using white cardstock and embellishing the tags with a wash of watercolor paint.
To complete your pine cone table decorations, simply add a name tag to the top of each pine cone. Try to place the paper between the pine cone's scales to ensure it stays in place. And just like that, your pine cone name cards are ready to adorn your dinner table!
Tip
If the pine cones are unable to stand up straight, adhere the bottom to a cork pad or wooden disc using hot glue.
Idea 2: Herb bouquet place cards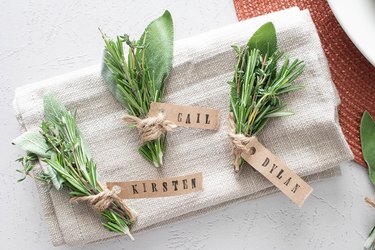 Things You'll Need
Black ink

Brown paper scraps

Scissors

Hole puncher

Fresh herbs (rosemary, sage, thyme or oregano)

Jute cord, raffia or twine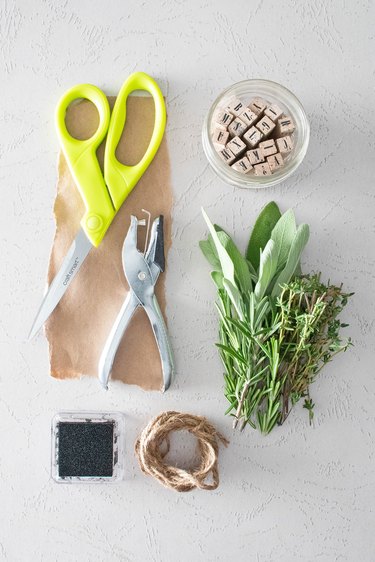 Tip
This DIY project is best made just before serving Thanksgiving dinner. That's because the herbs will wilt if you leave them out for too long. Alternatively, you can create them a few hours in advance and store them in the refrigerator in an airtight container.
How to make herb bouquet place cards:
Using the alphabet stamps, spell out each guest's name on the brown paper scraps. Next, cut out each name, making sure to leave extra space to the left of each one. Punch a hole in this spot.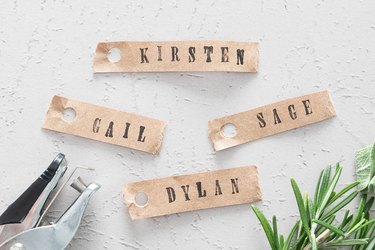 2. Wrap fresh herbs together to make a mini bouquet
Gather sprigs of fresh rosemary, sage, thyme and/or oregano. Wrap a strand with jute cord around the base. You can also use twine, ribbon or strips of burlap.
Tip
Be sure to trim the herbs so that they're about the same length.
Add the name tag to the cord and then tie a tight knot.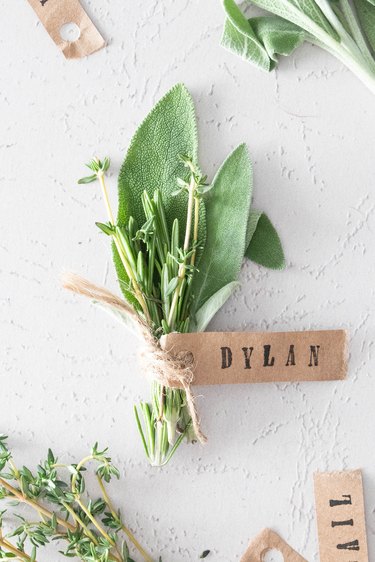 3. Set up your Thanksgiving name card
To complete your beautiful Thanksgiving spread, add a mini bouquet to each place setting.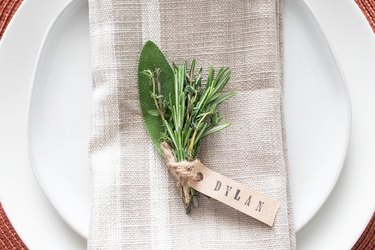 Idea 3: Mini rosemary wreath place cards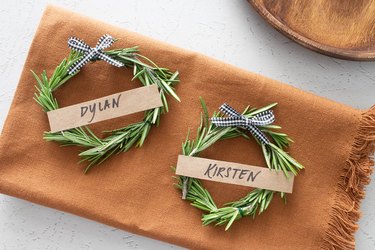 Things You'll Need
Floral wire

Wire cutters

Fresh rosemary sprigs

Ribbon or fabric scraps

Pen or marker

Brown paper scraps

Scissors

Hot glue gun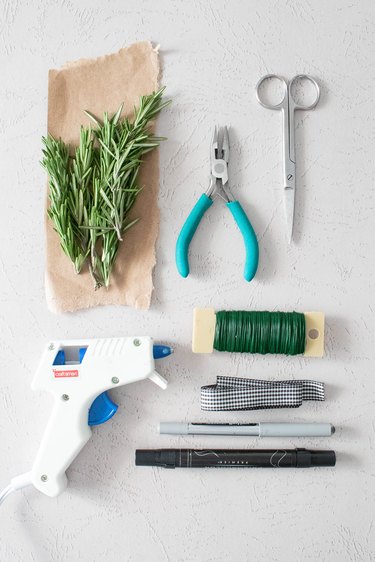 Tip
For each mini rosemary wreath, you'll need three rosemary sprigs measuring about 3 to 4 inches each.
How to make mini rosemary wreath place cards:
1. Wrap the rosemary sprigs together
First, precut the floral wire into strands measuring about 4 inches each.
Place the top of one rosemary sprig against the bottom hard stem of another. Using a strand of floral wire, wrap the sprigs together. Cut away the excess wire and then carefully press down the ends.
Repeat the same process to attach a third sprig.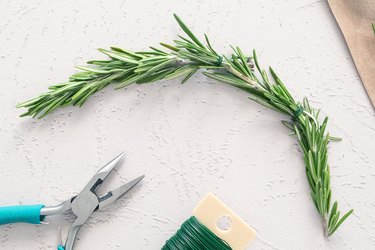 2. Bend the rosemary to create a mini wreath
Gently snap each sprig without fully breaking it. This will make them more pliable.
Attach the ends with a strand of wire to create a circular shape.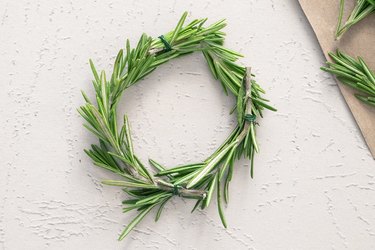 To make embellishments for your place card holder, tie a strand of ribbon or scrap fabric into a bow.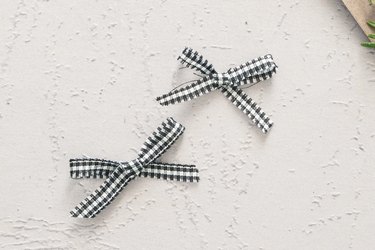 Write each guest's name on brown paper and cut them out.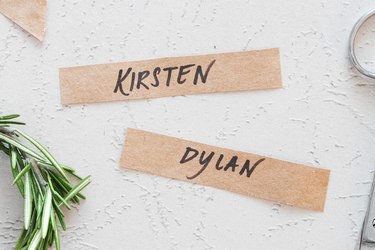 4. Style your Thanksgiving table setting
Finally, it's time to arrange your Thanksgiving decoration. Using hot glue, attach the bow to the top of the mini wreath and tuck in the name tag between the leaves.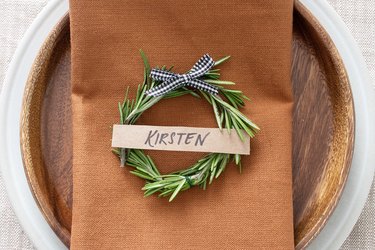 Bonus: This holiday table DIY is perfect for winter and Christmas tablescapes too.