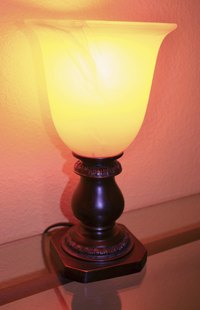 A candle warmer is a device that helps to disperse the scent of a candle without the use of an open flame. Candle warmers are often used in homes with kids or pets, as well as in public places where an open flame is not allowed due to safety concerns. While there are several different types of candle warmers, many prefer to use a low-watt light bulb to warm the wax. These types of candle warmers are available for purchase in most specialty candle shops, but you can also make your own homemade version.
Things You'll Need
Torchiere-style amp
20-watt bulb
Ceramic dish
Candle tart or wax cubes
Purchase a torchiere-style accent lamp or desk lamp.
Replace the bulb that is in the lamp with a 20-watt bulb. This is necessary to prevent your candle warmer from becoming a fire hazard.
Place a heat-resistant ceramic dish over the top of the torchiere shade. Many ceramic soap dishes are the right size for this project.
Place your candle tart or wax cubes into the top of the warmer.
Turn the lamp on and enjoy your fragrance.