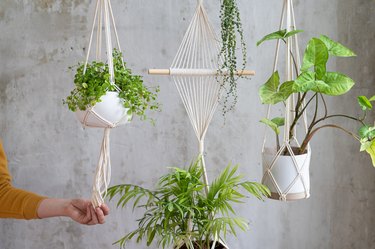 Macrame knotting techniques can be traced back to the Arabic weavers in the 13th century and, although trendy in the 1970s, it is making a modern comeback. It has become a popular way to add texture and a boho feel to your home decor, as well as an eye-catching appeal to your indoor greenery by showcasing it in a macrame plant hanger.
Macrame planters come in different sizes and styles. They accommodate everything from small plants to large ones. Choices in textiles making up the macrame cords are also varied, with some hanging planters made of jute and others of cotton rope. Macrame designs are also as diverse, with some hangers having a minimalist appearance made with basic knots, and other more elaborate macrame patterns highlighting wooden beads and tassels. All will make your hanging plants shine.
Below, we cover some important points of consideration when selecting a macrame plant holder, and also have noted the ones that earned a spot on our list.
What to Consider When Purchasing a Macrame Plant Hanger
‌Macrame Patterns‌ ‌and Style‌: Macrame plant hangers come in a variety of knot patterns and styles, from those with a minimalistic design to those that are a bit fancier. Going with a basic and simplistic pattern allows your plant to shine and get all the attention. However, you can also go with fancier patterns that utilize different knots and ropes and are embellished with wooden beads and various tassels. Some hang directly from the ceiling hooks, while other macrame wall hangings sit on the wall holding your plant.
‌Size‌: Consider the size of the plant pot the macrame plant hanger is holding so you select one that's large enough to hold it. You don't want to choose one that's overly large and swallows the entire pot and plant, and you don't want to select one that's too small and forces you to cram the pot into the opening.
‌Accommodating Weight and Hook Type‌: It's impossible to predict how much weight a macrame plant holder will safely hold. However, those made with a sturdier rope that is thicker will accommodate more weight than those that are thinner. You also want to pay attention to the type of hook that's holding everything together. Make sure the hook is made from sturdy material and won't bend or break when weight is added to the macrame holder. Remember, some flower pots like ceramic can be heavy, and adding water to the plant adds even more weight.
‌Best Plants‌: Almost any plant will look great in a macrame plant hanger, but some are showier than others. Any type of plant with a trailing habit or flowing foliage will look great. For example, devil's ivy pothos, spider plants, trailing philodendrons, any trailing succulent, air plants and hoya are just a few of the houseplants that will look showy in the hanger.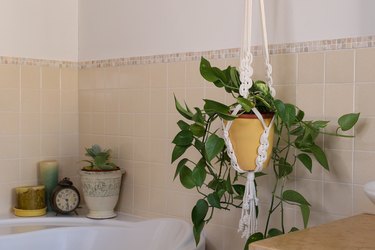 The Best Overall Macrame Plant Hanger
Mkona Indoor Outdoor Macrame Plant Holder
Whether you want to gift yourself or someone else, this stylish macrame plant holder from Mkona is sure to put a smile on anyone's face. It has a modern but vintage-inspired look that adds to a host of different design styles from boho, farmhouse or modern minimalist styles. The handmade plant holder is made from 100% pure cotton cord and has a strong woven design and thick woven hook. It's also embellished with wooden beads. The plant holder is 35 inches long and accommodates 9-inch pots. You can hang it indoors or outside. It's sure to add beauty and style whether it's gracing your living room, balcony, bedroom or other areas of your home.
The Best Macrame Plant Hanger for Large Pots
LahaCorner Macrame Plant Holder for Large Pots
If you want to spruce up your indoor decor by adding a bit of color and desire a macrame plant hanger that accommodates larger pots, then this one from LahaCorner fits that need. You have choices in 28 colors and the plant hanger holds a 10-inch plant pot and is 44 inches long. The 4-millimeter cord is made from 100% cotton and the hanging hook is made from stainless steel. This handmade macrame plant holder is guaranteed to add an attractive appeal to any room in your home and add to its style. You also have choices in smaller options that fit plant pots ranging anywhere from 3 inches all the way up to 10 inches.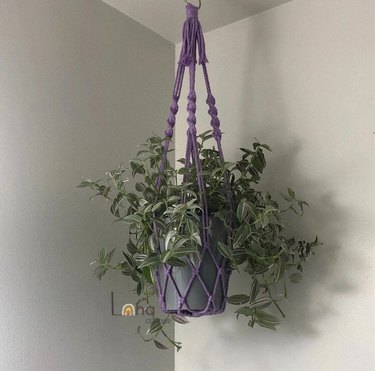 The Best Multipack of Macrame Plant Hangers
Mkona 5 Pack Different Tiered Macrame Plant Hangers
This five-pack of macrame plant hangers from Mkona offers a different tiered style and design with each one. Each ivory plant hanger is handmade and made from a strong and flexible 100% pure cotton cord and is suitable used indoors or outside the home. Each plant hanger is unique with some sporting wooden beads and tassels. Three of the hangers hold a single plant, while one accommodates two plants and the other accommodates three plants. One hangs on the wall. You also get five plant hooks to hang them and the set comes in lengths of 35 inches, 41 inches, 46 inches, 67 inches and 70 inches. Each of these stylish macrame plant hangers is sure to brighten up any spot in the home where they're used. This set also makes a good gift.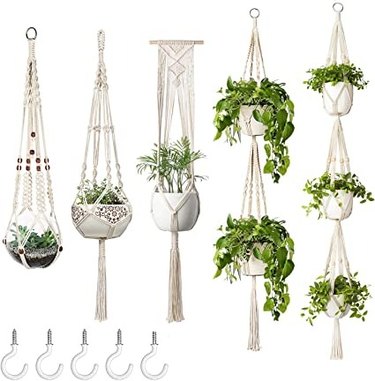 The Best Macrame Hanging Shelf
Hedume Macrame Plant Hanger with Shelf
If you're looking for a macrame plant hanger that includes a shelf, then this one from Hedume might work. It has a modern but vintage-inspired design made from twisted cotton cords and has a thick and sturdy hanging ring. The package comes with two included "S" hooks you can use to hang the plant hanger. Wooden beads add to the hanger's stylish look and the entire hanger is approximately 26 inches long. Adding to its appeal is the floating tray made from oiled chestnut with a 2.5-centimeter lip and a flower cut-out design on the bottom. The shelf is 12 inches in diameter, and the entire plant hanger is suitable for use indoors or outside.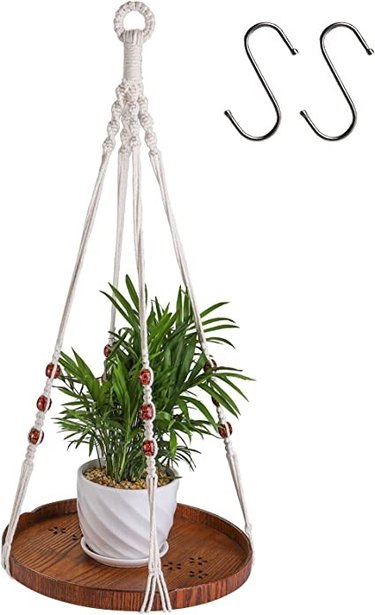 The Best Multipurpose Macrame Plant Hanger
MAKEONEWO Macrame Plant Hanger With Lamp Shade and Shelves
This plant hanger offers a unique look and will definitely add appeal to a boho design. The hand-woven, 4-millimeter, 100% cotton lampshade and ropes are handcrafted and offer an elegant retro pattern that brings a romantic atmosphere wherever hung. The three solid wood floating shelves are round and 11 inches in diameter. The entire plant hanger holds up to 45 pounds and is 77 inches long. Its light socket holds a standard bulb and the 59-inch cord is woven in macrame and has a standard plug and on/off switch. The plant hanger and shelves come preassembled with all the hardware you need. This attractive macrame plant hanger with its lamp and shelves is sure to be a conversation piece wherever it's placed inside your home.
The Best Macrame Plant Hanger for Air Plants
BeanDaikon Macrame Air Plant Holder
Due to the smaller size of many types and minimal conditions needed for healthy growth, air plants can require a more specialized macrame plant hanger. This one gives you an assortment of choices on the number of tiers and color options. The handmade, cotton rope macrame plant hangers come with one to three tiers and in three basic designs. All the plant holders have a wooden ring for hanging. You even have 25 color options. The shop notes they can even customize a plant hanger for you by adding more tiers. This macrame plant hanger is not only a stylish addition to a boho decor scheme, but will keep your air plants happy.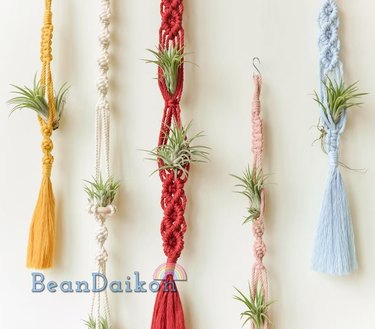 The Best Macrame Plant Hanger With Multiple Color Options
RIFNY Store Black Macrame Plant Holder 2-Pack
If you're looking for a macrame plant holder that is more contemporary in its looks and design, this black macrame plant hanger from the RIFNY Store is sure to please. Best of all, you get two in a package and the hanging hardware is included. The handcrafted hanger is made from 100% natural cotton and has a thick woven macrame hook and black beads accenting its good looks. It's approximately 35 inches long and handles 5-inch to 10-inch flower pots. Its rich black color adds to a contemporary boho or minimalist modern design and will highlight any plant's green foliage. You also have the option of purchasing three plant hangers if you need more than two.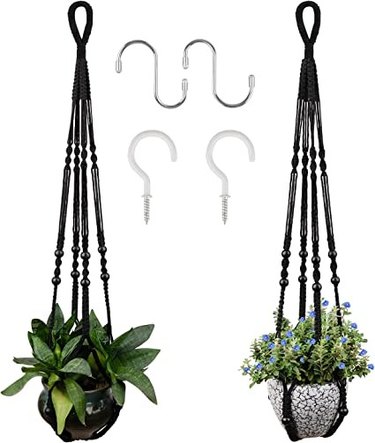 The Best DIY Macrame Plant Hanger Kit
Aesthetic Creative Store Macrame Plant Hanger Kit
For those who want to try their hand at making their own macrame plant hanger, this kit is a good choice, and there are enough supplies to make three of them. The kit has easy-to-follow, step-by-step instructions and comes with everything you need to make three different styles of plant hangers. It's a good choice for beginners in the craft. You'll receive 109 yards of 3-millimeter cotton cord, three natural wooden rings for hanging and wooden beads to add accents to the hangers. This kit makes a great gift for the crafters and gardeners in your life, too.