Ever heard of "oleogelation"? Before we saw a certain TikTok video explaining it, we sure hadn't. The video in question, posted by @testkitchen, shows viewers an innovative way to get rid of frying pan oil via a method called, yup, oleogelation.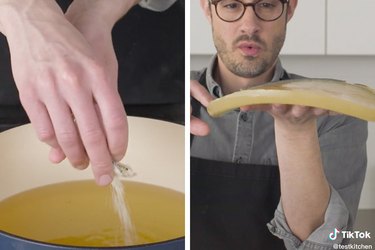 So, what exactly does this fancy word mean? According to the video, oleogelation "immobilizes liquid oil in a matrix of crystalline fat so it behaves very much like a solid." The speaker in the TikTok video draws a comparison to the way gelatin and water interact to create a (mostly) solid. The resulting product is an oleogel, which can either be thrown in the garbage or added to your compost bin.
And what does this mean for you? Less of a headache when you cook things with a vat of hot, liquid oil! In the video, the TikTok creator explains that you add the "waste oil cooking powder" to your leftover oil when it's at about 175° Fahrenheit and then let it cool. You'll be left with a disc of oleogel that you can remove from your pot with a spatula and then toss in the trash or compost.
If you are itching to try this handy method for disposing of used cooking oil, try these products:
We don't know about you, but we're feeling pretty thankful right now for food and TikTok!