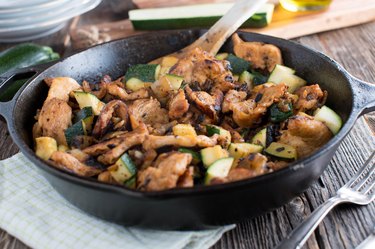 The right cookware makes your job as a cook easier. Cooking with glassware vs. cast iron affects the length of time it takes to cook the food and whether or not the food browns easily. After the meal is done, some cookware cleans easier than others. Glass and cast iron cookware have different properties, but both can have a place in your kitchen.
Cooking with glassware is dependent on what you are preparing. Glass cookware made today is designed to be used in the oven or microwave, but not on top of the stove. If you have a glass skillet, you might have inherited the piece from an older relative, purchased it from a thrift store, or bought it yourself several decades ago, when Corning made the line of Visions cookware. Glass cookware is ideal for pies as it allows you to watch as the crust browns. A drawback of glass is that it reacts by shattering when extreme changes in temperature occur. Finishing your low, slow bake with a quick broil is an invitation for the pie plate to crack.
There is no substitute for a cast iron skillet. It has been a staple in kitchens for centuries. You might have a newer cast iron skillet, or one that has been passed down through the generations in your family., but through the years they never lose their properties as long as they are cared for. These durable, heavy skillets are available in a wide range of sizes, from 6 inches to 18 inches and even larger, but the larger, the more heavy they are. Cast iron cookware was once made in the United States by companies such as Lodge and Griswold. Today most cast iron comes from China.
Glass cookware looks lovely and moves easily from microwave to stovetop. It's lighter than cast iron. The skillet is attractive enough to use as a serving piece on the table. But glass is fragile. You can easily chip a glass skillet and the glass might crack if you transfer the skillet from the refrigerator or a cold cabinet to a hot stove.
Glass is an insulator while cast iron is heat conductor. Foods that bake at low or slow temperatures are better suited to glass cookware. While glass takes longer to heat up, it does hold heat longer, keeping an even cooking temperature throughout the process. Glass shouldn't be used for high-heat cooking and doesn't fare well under a broiler. Greasy foods can stain your glass skillet, leaving marks that can require scrubbing with abrasive cleaners to remove. But too much scrubbing can scratch the glass, leaving it hazy.
Pros and Cons of Cast Iron
Using a cast iron skillet in a microwave will ruin the microwave. Metals do not belong in these rapid fire appliances. Use it in an oven to heat slowly and evenly as it holds heat well. If you're looking for crisp edges or a nice rise in your loaf, use cast iron. Cast iron is porous and absorbs acidic foods such as tomatoes and citrus which reacts with the cast iron.
Cast iron is durable and easy to clean with a little soap and warm water. Only use an abrasive if necessary to remove baked on food. Be sure to season with oil after cleaning. A properly seasoned cast iron skillet is virtually non-stick. But cast iron is heavy, and the iron can rust if you allow water to stand in it or don't keep the pan seasoned. Also, cast iron cannot be used in the microwave.