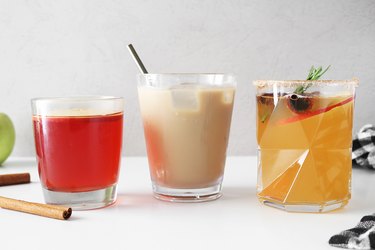 Nothing says "autumn" quite like the return of pumpkin spice lattes. Every year, cafes across the country bring back the popular drink, and coffee lovers go ​wild​. But if you prefer apple flavors or if you're craving something different, you might be more excited about the newest drink at Starbucks: iced apple crisp oat milk macchiato.
The delicious fall drink combines the flavors of apple, brown sugar and cinnamon with espresso. It's also available in hot and iced versions depending on your mood. Fortunately, the drink is easy to recreate at home, which means you can get your fix long after the autumn season, not to mention that preparing your own coffee drinks is an excellent way to save money while tweaking the recipe according to your taste buds.
Ahead, you'll find a step-by-step tutorial explaining how to make an iced apple crisp macchiato from scratch. And because we're such big fans of autumn, we've also included recipes for sparkling apple cider and a nonalcoholic Washington apple drink. Thanks to this trio of fall drinks, you'll be all set for the new season!
Recipe 1: Copycat Starbucks iced apple crisp macchiato
The first step to making the Starbucks apple crisp macchiato at home is to prepare an apple brown sugar syrup. It's flavored with real apples and apple cider along with vanilla extract and brown sugar. As you can imagine, it's even tastier than the real thing.
Part 1: Apple brown sugar syrup
Things You'll Need
1 apple, chopped

1 cup apple juice or cider

1/2 cup water

1 teaspoon vanilla extract

1/2 cup dark or light brown sugar

2 or 3 cinnamon sticks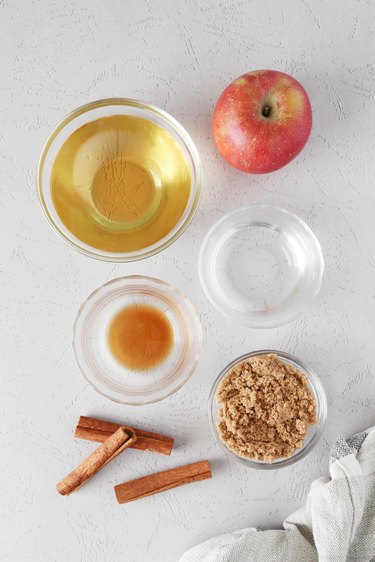 Tip
When it comes to homemade apple syrup, many people prefer using Granny Smith apples. This variety has a delightful tartness that balances the sweetness of simple syrup. However, you're welcome to use any type of apple you have on hand. The syrup also has a slight caramel flavor from the brown sugar, but if you'd like to tone it down, you can replace it with white sugar.
1. Combine all of the syrup ingredients
In a small saucepan or pot over medium heat, add the sliced apples, apple cider or juice, water, vanilla extract, brown sugar and cinnamon sticks.
Bring the mixture to a boil. Cook for 20 to 25 minutes or until the liquid is slightly reduced. The total time will depend on your desired level of thickness. By the way, your home will smell amazing during this step.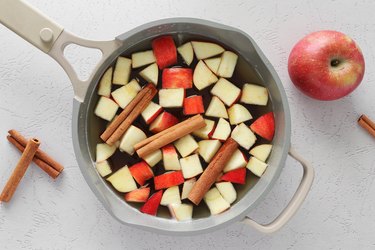 Tip
You don't need to peel or core the apple before chopping it, but you're welcome to remove the skin if you prefer. Additionally, if you don't have cinnamon sticks, use 1 to 1 1/2 teaspoons of ground cinnamon instead. You can also add 1/2 teaspoon of ground nutmeg or clove to emphasize the fall flavors.
2. Strain and enjoy your homemade flavored syrup
Place a strainer over a bowl. Carefully pour the apple mixture through the strainer, making sure to press on the apples to release leftover juices.
Let the syrup cool and then store it in an airtight container (like a Mason jar) in the refrigerator.
Part 2: Iced apple crisp macchiato recipe
Things You'll Need
1 tablespoon apple brown sugar syrup

1/2 cup oat milk

1 shot of espresso or cold brew (about 1/4 cup)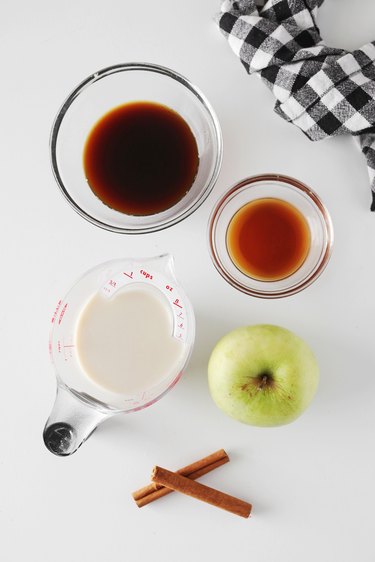 Tip
For best results, use espresso or cold brew without any flavoring. This will ensure that the apple crisp syrup shines in this Starbucks copycat recipe. Also, avoid using regular brewed coffee, as this will become too diluted in the drink.
1. Flavor the coffee with apple syrup
Add the brewed espresso or cold brew to a tall glass. You can add a second shot (about 1/4 cup) if you want an extra-strong coffee drink.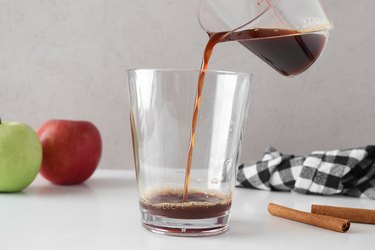 Add 1 tablespoon of apple syrup. Feel free to add more for a stronger apple flavor.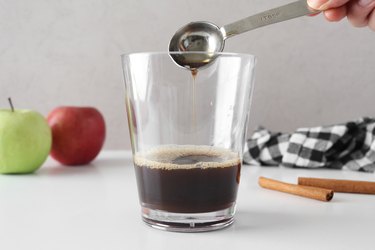 2. Add oat milk and ice for a chilled autumn drink
Pour the oat milk into the glass and add ice cubes. If you'd like, top it off with whipped cream and caramel sauce for a richer macchiato.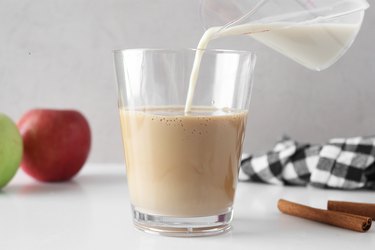 Also, while the original Starbucks drink uses oat milk, you can make it with any milk you prefer. Examples include soy milk, coconut milk, almond milk and dairy milk, such as whole milk.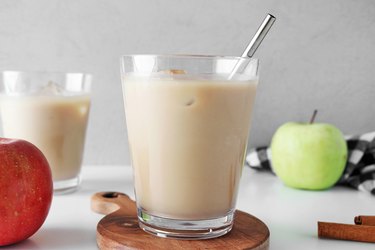 Tip
This seasonal pick-me-up can be made hot as well. First, prepare the coffee and apple syrup as usual. Pour steamed milk into a separate tall container. Use a milk frother to make it frothy and then pour it into the coffee. Skip the ice to keep it hot.
Recipe 2: Sparkling apple cider drink
Things You'll Need
1/2 cup apple cider

1/2 cup seltzer

1/4 cup ginger ale or ginger beer

Cinnamon sugar

Apple slice, for garnish

Cinnamon stick, for garnish

Sprig of rosemary or thyme, for garnish

Anise pods, for garnish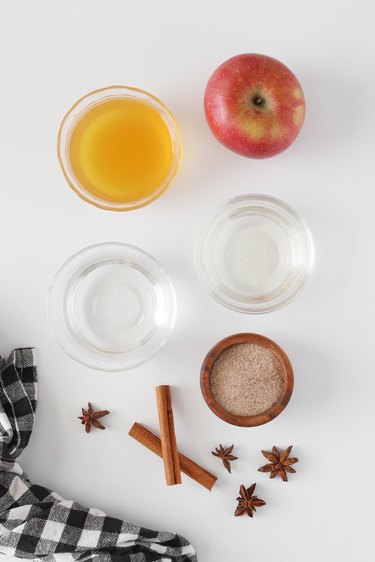 Tip
To make a cinnamon sugar garnish, combine 4 tablespoons of white sugar and 1 teaspoon of ground cinnamon.
1. Coat the rim with cinnamon sugar
Pour the cinnamon sugar onto a plate. Moisten the rim of your glass with water or apple cider and then place the rim in the cinnamon sugar. Rotate to coat the rim completely.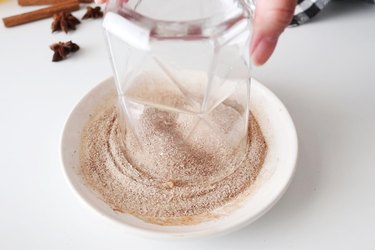 To create this fall drink, simply pour the apple cider into a glass.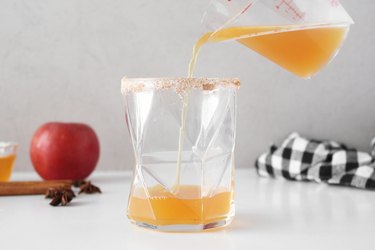 Follow with the seltzer and ginger ale.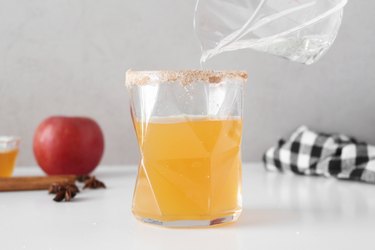 Tip
If you prefer a stronger ginger flavor, use 1/2 cup of ginger ale or beer and 1/4 cup of seltzer. We recommend using unflavored or orange seltzer. You can also use vanilla-flavored seltzer to create a drink that tastes like apple pie.
3. Top it off with seasonal garnishes
Add an apple slice, cinnamon stick, anise pods and rosemary or thyme sprig to the drink. Cheers!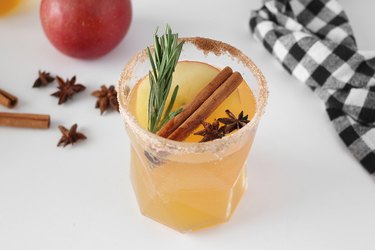 Recipe 3: Nonalcoholic Washington apple drink
Things You'll Need
1 shot of barley tea, cold (about 1/4 cup)

1 shot of apple juice or cider (about 1/4 cup)

1 shot of cranberry juice (about 1/4 cup)

Ice

Apple slice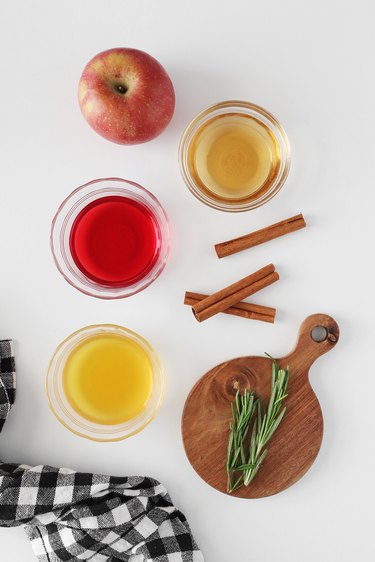 Tip
Traditionally, the Washington apple cocktail contains whiskey. If you want to make a nonalcoholic version, you can use barley tea instead. It has a similar flavor profile as whiskey; both liquids are slightly bitter and smoky. You can buy barley tea on Amazon or most Japanese and Korean supermarkets.
Pour the barley tea, apple juice and cranberry juice into a cocktail shaker mixed with ice. If you don't have barley tea, you can try this recipe with iced black tea. Shake well.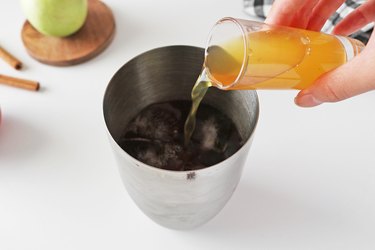 Tip
For best results, follow the directions on the product's packaging when preparing barley tea. Store it in the refrigerator for one to three hours or until it's cold.
2. Pour it into a glass and drink up
Strain the drink into a chilled glass. The Washington apple is typically served in a coupe glass, but you can use any cup you'd like.
Garnish with an apple slice and enjoy right away.