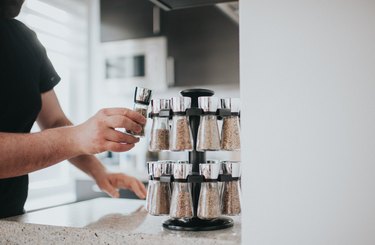 The difference between a pedestrian meal and an excellent one often comes down to how well it's seasoned. To get the most out of the time and effort you put into cooking you'll want a good selection of spices and herbs at your fingertips, but keeping them organized also requires time and effort. Keeping your spices organized and accessible is a lot easier when you have a spice rack. The best spice racks make efficient use of your space, but still give easy access to your spices when you need them. They're a chronically undervalued part of your kitchen, but our top picks—in all their diversity— show how a good spice rack can make your life better.
What to Consider When Purchasing a Spice Rack
‌Capacity:‌ Consider how many spices you want to put in your spice rack: Just the few you want always within reach, right beside your stove? The entire contents of your adventurous pantry? Most of us fall between those two extremes. Take a moment to review your collection of spices, dividing it between those you use daily, those you use occasionally, and those you've never used. Once you have a feel for how many spices you actually work with, you'll know how large a rack to buy.
‌Location:‌ Where do you want your spices to live? Depending on the size and layout of your kitchen, the best place for your seasonings might be the countertop, a spice drawer, a wall next to your stove or cupboards in the pantry. Your spices will last longer if they're kept in a cool, dark place like a pantry cupboard, but will get used more if they're within reach while you cook. There's no right or wrong answer, so go with whichever option fits your space and cooking style. Well-designed racks can be versatile enough to offer some combination of freestanding, wall-mount, or in-cabinet use depending how you set them up.
‌Versatility:‌ Many spice racks assume you'll be using the same size of glass jars for everything, and in some cases they're built around the standard-issue spice jars that come from the supermarket. The problem is that most cooks use some spices a lot more than the rest. You'll probably want large jars for your most-used spices and small jars for the others, so the best spice racks can accommodate multiple sizes and shapes. That being said, a rack filled with uniform jars is more aesthetically appealing and can contribute to your kitchen's overall look. Again, it all comes down to personal preference. You do you.
‌Materials:‌ Spice racks can be made from just about any material, but the most common options include wood, stainless steel and various kinds of plastic. Something that's going to go into a drawer or cupboard and stay there won't need to be as sturdy as a countertop rack that will be handled constantly, so picking a rack that'll stand up to your intended usage is important. You may also want your rack to fit with your kitchen decor—stainless steel to match your appliances, perhaps, or natural wood to introduce a warm note—and that's perfectly valid.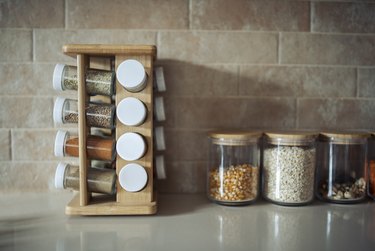 The Best Overall Spice Rack
Everyone's going to have a different checklist of what they want in a spice rack, but this one from JonyJ ticks a lot of the right boxes. To begin with its metal construction is very sturdy, which is important in a freestanding countertop spice rack. Three of the four tiers are angled to hold spice jars on their sides, with the lids easily viewable (and perfectly located for labeling). They'll handle up to 8 four-ounce spice jars per shelf, or even more if you have smaller jars. The top tier is flat and will take two rows of spice jars (up to 16 four-ounce jars, for a total of 40), and will also accommodate larger jars.
Putting your most-used jars on top, and the rest below, is an obvious strategy. The individual shelves can be placed inside a drawer and used as an in-drawer holder, and the whole unit (or part of it) can be used in your cupboard. If you have a lot of spices, you can order additional units and stack them together to make an extra-tall rack. This model is sold without jars, for cooks who already have an established spice collection, but the company offers bundles with jars and labels as well.
The Best Wall-Mount Spice Rack
Ideally a spice rack would give excellent visibility and accessibility, while still largely protecting your spices from exposure to the light. That's not an easy trick to pull off, but wooden criss-cross spice racks like this one from Kamenstein come pretty close. It holds 18 spice jars, all of which are included—and filled with spices—when you buy the rack. The rack itself is made of bamboo, a highly sustainable option (there are similar models from competitors made of other woods, if you need to match the wood to your kitchen decor) and easy to clean with a damp cloth when it's not full.
You can stand the rack on your countertop or use it in a cupboard, but it really shines when wall-mounted. The spices along the top row are open to the light, so you'll want to put your most-used flavorings there, but the remainder are safely cocooned in their individual cubicles with minimal exposure to light. The spice jars themselves have two-way caps with "sift" or "pour" openings. Your purchase price even includes free refills of your spices for five years, as long as you register your purchase within 90 days. That's not the slam-dunk it sounds (you pay shipping and handling, which may or may not be cheaper than buying your own), but it's a nice option nonetheless.
The Best Magnetic Spice Rack
If you browse around your favorite online retailers, you'll find magnetic spice racks in all different shapes and sizes. The most flexible and versatile design, though, is to not have an actual rack at all. These space-saving magnetic spice jars from Maine-based Gneiss Spice contain a powerful neodymium magnet in the lid. Anywhere you have a magnetic surface—your fridge or stove, for example—you can store your spices. The hexagonal spice bottles fit together neatly in a honeycomb pattern, so you can use every square inch of available space. It's the ultimate expandable spice rack, because you won't run out of space until you run out of fridge.
You'll have easy access (just pluck the jar you want from the fridge) and the magnets are plenty strong enough to hold your jars in place as the fridge opens and closes. You can apply labels to the bottoms of the jars if you want, or simply let the spices show through. You can even arrange them by color, turning your spice collection into a piece of functional art. Our pick features the company's small jars, which encourage quick use and frequent refilling, but they also make a larger size for spices you use a lot.
The Best In-Drawer Spice Rack
If you want to keep your spice containers out of your counter space entirely, and in a place where they'll be sheltered from the light, designating a kitchen drawer for them is a good option. It means they're always close at hand, but it also means you'll need some kind of drawer organizer to keep things manageable. You'll find lots of them on the internet, in wood, plastic or metal, but we especially like this offering from Lynk Professional. The four-tier spice rack is manufactured from steel with a heavy-duty epoxy finish, and should last for many years. It holds your spice jars at a gentle angle so the labels are clearly visible and you'll always be able to see (and reach) the one you want.
The model we've chosen is the medium size, which holds up to 36 spice jars and fits most drawers, but there's a smaller model for narrow drawers and a deluxe expandable version—which holds up to 64 jars—for wide drawers. Lynk doesn't include jars with the drawer organizer, so it's targeted at cooks who already have a collection. Despite that, this is as good as an in-drawer organizer gets.
The Most Space-Efficient Spice Rack
Spice storage for small kitchens is always a challenge, not just because of they're small but how they're small: One might give you a big blank wall but few drawers or cupboards while the next has drawers to spare but no counter space. If you're looking for a storage solution that takes up minimal space but will still store spices effectively, YouCopia's Spice Stack might be what you're looking for. This compact unit stands 8 inches high and takes up less than a square foot, but it will hold 24 spice jars on its three pull out, drop-down drawers. This versatile design means it can go into an upper cupboard or sit on a high shelf—even the top of your fridge—if counter space isn't available, but you'll still have easy access to your spice collection and still be able to read the labels. The cube-shaped storage unit comes in two colors, and includes over 100 labels (half pre-printed, half blank) for your spices.
The Best Slide-Out Spice Rack
One type of spice rack organizer we haven't discussed yet is the slide-out rack. These are ideal for cupboards and pantries where spices often get lost in dark corners: Your spices stay neat and organized, but you can still enjoy easy access just by sliding them out of their hiding spot. This cabinet organizer from Lynk Professional is as good as they get. It's made of chromed steel for looks and durability, and its slides run smoothly on industrial-quality ball bearings.
We think this 6 1/4-inch model is the sweet spot in their lineup for many home cooks, holding 15 spice jars handily, but the company's line includes both wider and narrower models. There are also two-tier versions to help you get maximum use of your cabinet space. There's no measuring to do, and the two-screw installation process could hardly be easier. If you like to keep your spices off the kitchen counter but still easy to find, this is a really good way to do it.
The Best In-Cupboard Spice Rack
Your expectations might be low for a pantry organizer that's "as seen on TV," but in this case you may change your mind. If you want to save space (or more accurately, maximize storage space) in your pantry or cupboard, the Spicy Shelf is a surprisingly well thought out alternative. Rather than plunking a turntable into the middle of your kitchen cabinet, the Spicy Shelf pushes them out to the edges. It's a U-shaped design, with adjustable shelves that can be narrowed to less than 8 inches or expanded to 16 1/2 inches.
There are two tiers of shelves, and they stand on adjustable legs that are tall enough to fit a third level of jars or tins (or anything else) underneath for even more versatility. Early versions of this product were relatively flimsy but the current model can now support up to 40 pounds' weight, plenty for a few dozen glass spice jars. The design leaves the middle of your cupboard free, so you can still use it for boxes and bottles if you want to. Efficient use of space, room for your favorite spices, and an open area for other pantry goods: What's not to like?