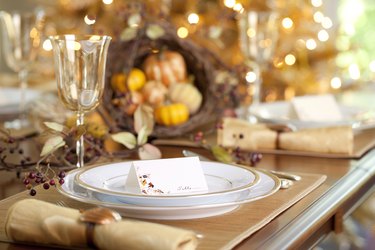 You know the feeling—the thrill of wandering around a dinner table looking for your place card. It feels special and formal, all while alleviating any awkward "Where should I sit?" and "Where are you sitting?" moments. Whether you're hosting Thanksgiving, Friendsgiving or both, always opt to include place cards, no matter how simple they are. Trust us, your guests will appreciate the thought that goes into a seating chart and the personalized feel that comes from seeing their name on a place card.
When choosing place cards and holders, there are a few routes you can choose from. If you're the crafty type, there are plenty of DIY options to consider. You may already have your hands full with a Thanksgiving menu to plan and RSVPs to track down though. In that case, pre-made cards that you simply need to fold and write your guests' names on are more than adequate. There are many Thanksgiving-themed designs on the market that are both beautiful and affordable.
Another option is to go all out with an awe-inspiring personalized option. Those take a little more forethought, time and money, but are truly one-of-a-kind. Since you're busy planning out how many pies to bake, we went ahead and shopped for place cards and holders for you. Some are simple and others are intricate, but any would be a beautiful addition to your Thanksgiving dinner tablescape.
What To Consider When Purchasing Thanksgiving Place Cards and Holders
​Materials:​ Think "place cards" and most likely an image of a neatly folded piece of paper comes to mind. Those are a great option, but there are plenty of other materials place cards and holders can be created from too. Think: intricate wood cutouts, painted foam pumpkins and calligraphed leaves, for starters. We included all of the above in our list of favorites below.
​How Many You'll Need:​ Are you hosting an intimate dinner for a few of your closest loved ones or do you welcome both sides of your family plus your college besties and probably half of your neighborhood too? To make sure there's a place card for everyone, you'll need to have an approximate head count in mind. Whatever that number is, buy a few more. That way you have wiggle room if (surprise!) your cousin brings her new boyfriend, or if you mess up while writing them out. If you're going the route of personalized place cards—there are a few really cool options below—you'll need to know exactly who's coming to dinner, and weeks ahead of time too, since you'll need plenty of time to ensure they arrive by Thanksgiving.
​If They Double As Gifts:​ Some place cards are simply beautiful pieces of paper that tell your guests where to sit, and that's all they need to be. Others, like personalized wood-carved ones, can be considered a small token of your Thanksgiving gratitude and act like a parting gift for your guests. (Maybe they could add a ribbon to the place card, turning it into an ornament.) Either way is great, but if you intend to gift them, make it clear to guests (perhaps during your dinner speech) that they're encouraged to take them home.
Read on for nine festive Thanksgiving place cards and holders that'll help you host the best Turkey Day dinner ever.
So what, your turkey turned out a little dry. No one will notice when they're fawning over these oh-so-cute custom pumpkin place cards. Choose between raw wood, gold, silver, white acrylic or black acrylic, then let the Etsy artist get to work. Reviewers rave about the fast shipping, but still, be sure to plan several weeks ahead to allow for plenty of time for these one-of-a-kind pumpkins to arrive. As you wait patiently, you can design the rest of the tablescape, including a table runner, centerpiece and napkins.
​Quantity:​ Up to 50
​Material:​ Wood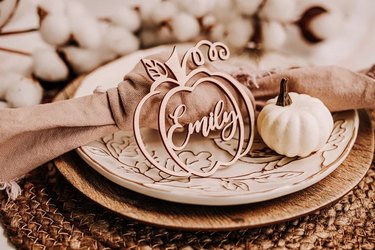 2. Sur La Table Thanksgiving Turkey Place Cards
Effortless, traditional and elegant. That's how these handsome turkey place cards would look when placed on your Thanksgiving dinner table. The autumnal forest border adds to the ornate seasonal feel too. Simply write your guests' names on these cards—in your best cursive, of course—and arrange each in front of their place setting. It doesn't get much easier than that. (If only cooking a turkey were as simple.)
​Quantity:​ 12
​Material:​ Paper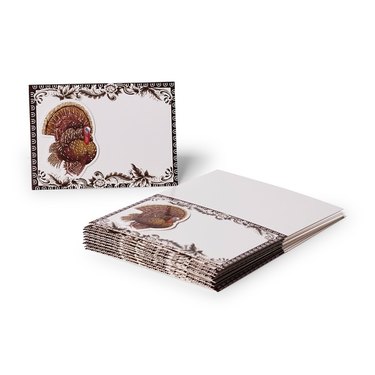 3. Magnolia Leaf Place Cards
If anything turkey or pumpkin-decorated is a little too on-the-nose theme-wise for you, what about a leaf place card instead? This Etsy artist personalizes real magnolia tree leaves with beautiful black lettering for each of your dinner guests. Since each leaf varies in size and color, they make for truly one-of-a-kind place cards your friends and family members will surely "ooh" and "ahh" over. As with all custom items, be sure to place your order in plenty of time—aim for at least a month in advance—to ensure the Etsy seller has enough time to work their calligraphy magic and package them up carefully to ship off to you. They're worth the forethought, we promise.
​Quantity:​ Up to 239
​Material:​ Magnolia tree leaves
4. Gold Turkey Place Card Holders
To add a delicate vintage touch to your Thanksgiving tablescape, add a couple of sets of these tiny gold turkeys to your Pottery Barn cart. The gold antique finish gives off the impression that these could have been passed down from your grandmother, and they'd bring an elegant look to any table design. With such an ornate design, keep the place card itself simple. We'd opt for small white cardstock, as pictured, to not overwhelm the petite little turkeys.
​Quantity:​ 4
​Material:​ Zinc alloy with gold-plated finish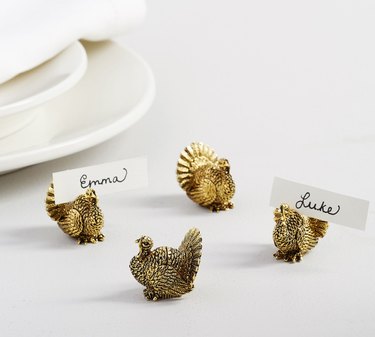 Not the extravagant type? Keep it simple with these easygoing turkey place cards. For under $10, you'll receive 100 of them, so you can either host the biggest Thanksgiving dinner ever or keep them on hand to use year after year. They may be straightforward design-wise, but they're sturdy and inviting—the two most important characteristics of a place card.
​Quantity:​ 100
​Material:​ Paper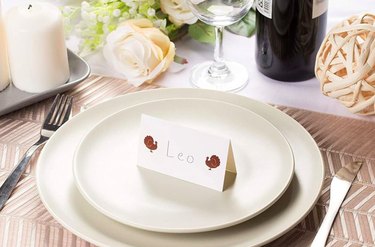 You could fill in your guests' names on these place cards, as is expected. Or, as guests arrive, nudge them to fill out their own place card, completing the "I am thankful for…" statement. Then, as dinner is served, go around the table so everyone can share what they wrote down. These are more than just place cards. They're a bonding experience and a conversation starter too.
​Quantity:​ 12
​Material:​ Paper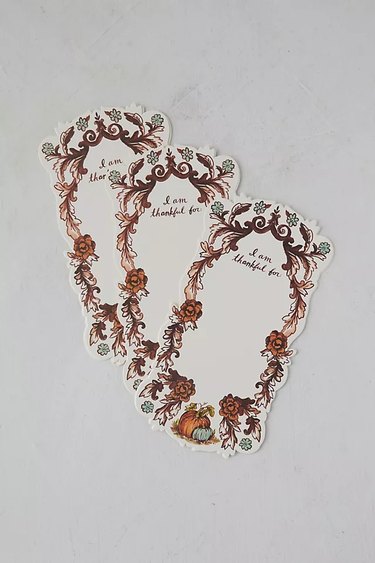 7. Personalized Pumpkin Place Settings
Who doesn't like mini pumpkins? (Everyone. Everyone likes mini pumpkins.) That said, there's a good chance you'll hear many squeals of delight when your guests see these personalized mini pumpkins with their names painted on them. Just a friendly reminder to be sure to order these early—well before Halloween—to ensure you'll receive them in time for the big dinner.
​Quantity:​ Up to 50
​Material:​ Foam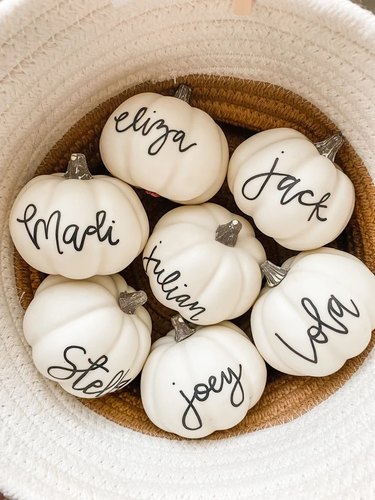 8. Thanksgiving Pumpkin Place Cards
Easy, easy, easy. If you already have a lot on your mind going into Thanksgiving, go the easy route with these place cards from Amazon. They're guaranteed easy delivery, easy folding and they're easy on your budget too. For under $10, you'll receive a set of 100 place cards made of thick card stock, so don't worry if you mess up a few of them. They're pre-scored too, making folding a breeze. The fact that they have pumpkins, leaves and a beautiful color palette too? Just a bonus.
​Quantity:​ 100
​Material:​ Paper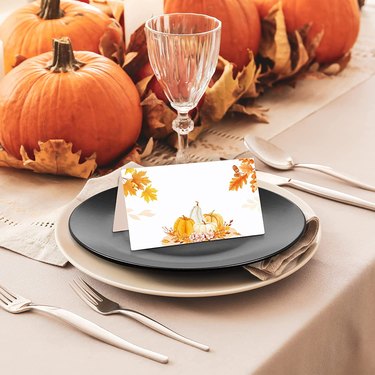 9. White Pumpkin Place Card Holder With DIY Place Cards
Sometimes you'll find place cards you love and sometimes you'll find place card holders you love, but rarely can you purchase them together. That's not the case with these little white pumpkins. They include a gold-colored stem that has a slit in the top that'll hold any average-size place card, including the kraft paper with gold foil place cards that this set includes. You'll receive 12 pumpkins and 14 place cards, giving you a little wiggle room in case you spell someone's name wrong. (Oops!) Then store the pumpkins away until next fall, when you can use them again for autumn events of all kinds, like backyard weddings, Halloween parties, and, of course, the big Thanksgiving meal.
​Quantity:​ 12 pumpkins and 14 place cards
​Material:​ Resin pumpkins and kraft paper