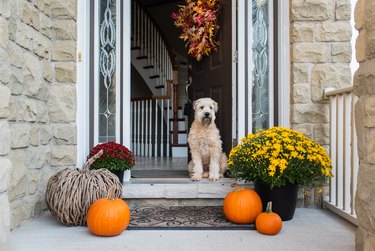 With the fall season in full swing, it's time to think ahead to everyone's favorite indulgent holiday: Thanksgiving! Before you even determine who's hosting the big meal this year, you can break out autumn decorations—including a Thanksgiving wreath, of course—while mentally preparing yourself for several servings of pumpkin pie.
Whether you're preparing the turkey this year or not, start decorating at the place all guests will see: Your front door. The easiest way to amp up your front door decor? A Thanksgiving-themed wreath, naturally. Wreaths aren't limited to doors though. While a front door wreath is a welcoming way to greet both guests and yourself, you can incorporate wreaths into your indoor fall decor too. Add one to your entryway, on a mantle, or replace a mainstay art piece with a seasonal wreath. There are plenty of places a Turkey Day-themed or autumn wreath would add some serious holiday cheer to your home.
What To Consider When Purchasing a Thanksgiving Wreath
​Material:​​ While many Thanksgiving wreaths can be used both inside and outside, read the product description carefully before clicking "add to cart" to confirm that the material can withstand the climate wherever you intend to hang it. Depending on where you live, the Thanksgiving season can bring cold snaps and snowfall or direct sunlight and a heatwave. If you live in an area with unpredictable or harsh weather, opt for a tough material that won't fall apart with a single gust of wind. More delicate materials, like dried flowers and feathers, fare better in the calm of the indoors, while plastic and polyester-based wreaths can often withstand the outdoors. No material is better than another for a fall wreath; just be sure the material of your choosing stays in good shape wherever you hang it. That way, it'll stay in tip-top shape year after year.
​​Price:​​ Seasonal wreaths vary in cost, so we shopped for a range of price points, from affordable options under $30 to one-of-a-kind pieces that'll cost you over $100. How much you're willing to throw down on a Thanksgiving wreath is at your discretion, but you know all too well how quickly the month of November flies by. One day you'll be packing up your Halloween costume, and the next it's time to take out the Christmas decorations. Since a Thanksgiving wreath adorns your front door or mantle for just a few weeks a year, take that into consideration as you're comparing prices. If you're committed to storing a certain (perhaps pricy) wreath properly so you can enjoy it year after year, you may want to add a few dollars to your budget for a higher-quality wreath.
​How You'll Hang It:​ Wary of adding nails to your door or walls for a seasonal item? We understand. Keep an eye on the weight of the wreath. Most seasonal wreaths will be lightweight enough for you to put down the hammer and nail and use a removable adhesive strip instead. That way, you won't leave any residue or holes in your wall, and you can move the wreath around year after year, if you want, mixing up your holiday decor.
Scroll on to discover 10 Thanksgiving wreaths that are bound to bring the holiday spirit to your home.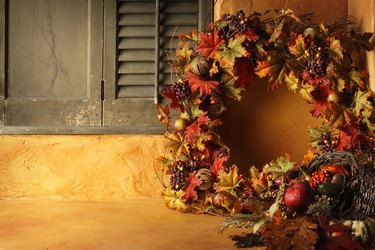 1. Nearly Natural Sorghum Harvest Artificial Wreath
To get the most use out of a Thanksgiving wreath, select a design that can transition easily from the last days of summer to the first snowstorm, like this sorghum-decorated option. It features yellow and orange sorghum and an array of greenery that mimics the dried grasses and grains of the season. This one can hang all fall long yet still feels distinctly Thanksgiving-like without being too on-the-nose with the theme. This wreath is recommended for indoor use, but if you live in a calm climate, you could consider adding it to a covered outdoor area, or it'd be perfect for an indoor apartment or condo door too.
2. Grapevine Harvest Decor Wreath
Grateful, indeed! You'll be reminded of your warm, fuzzy feelings for the season with this artificial sunflower wreath that also features berry sprigs, assorted greenery, fall leaves and that sweet bow. The durable materials allow this wreath to be hung indoors or outdoors, though be careful to protect it from gusty winds and heavy rain. While the "grateful" sign nods specifically to Thanksgiving, there's no need to wait until November 1st to hang this one. Instead, add this wreath to your home decor once the first chill hits the air, then retire it once it's time to replace it with a Christmas wreath.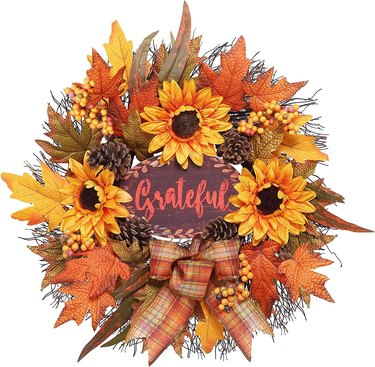 3. Autumn Harvest Corn Husk Wreath
Pumpkins and gourds and corn husks, oh my! This artificial autumn harvest wreath represents the bounty that fall brings, all in a beautifully muted color palette. The cooler tones are an unexpected take on the fall colors, so if traditional colors aren't your style, opt for this wreath instead. Hang this one indoors, in an entryway, above a fireplace or outdoors, ideally on a covered porch to shield it from Mother Nature's most unpredictable moments.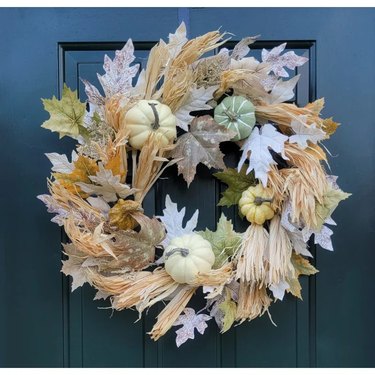 4. Thanksgiving Dangling Legs Turkey Wreath
We can practically hear this sweet, stuffed Thanksgiving turkey saying "gobble, gobble!" There's no denying your love for Thanksgiving when you hang this wreath, decorated with maple leaves, pumpkins, sunflowers, and, of course, the turkey. To add another layer of charm, use the included string of 30 LED lights, which are not pre-lit on the wreath, to emit a welcome warmth on those first chilly nights of the season. Be sure to have two AAA batteries on hand too; you'll need those, as they're not included.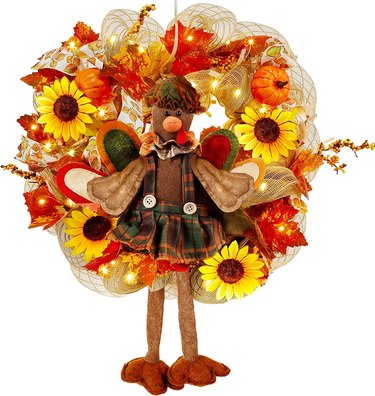 If you're ooh-ing and ahh-ing at this acorn wreath, act fast. This design is a best-seller for this Etsy artist, and there are only so many to go around. Choose between cream and brown berries or orange and brown berries, then select which color bow you'd prefer. (There are a ​lot​ of options—48 of them.) Each of these beauties is handmade and would be a delight to pull out of your Thanksgiving decorations bins year after year.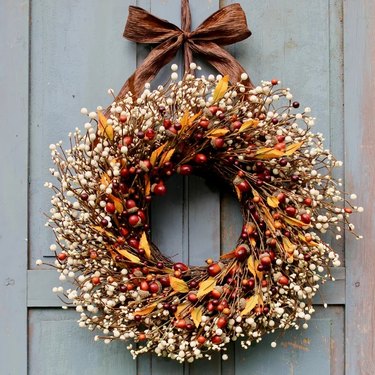 6. Northlight Thanksgiving Cornucopia Wreath
Nothing says "happy Thanksgiving!" quite as concisely as a cornucopia. Petite and lightweight, this wreath features colorful leaves with a burlap trimmed cornucopia and a twig handle for hanging. It would make for an easy addition to any wall, door, mantle or entryway this holiday season. We also love the idea of mixing up your gallery wall by temporarily replacing one of your standby art pieces with this wreath—it's unexpected and would add some texture, depth and life to your wall.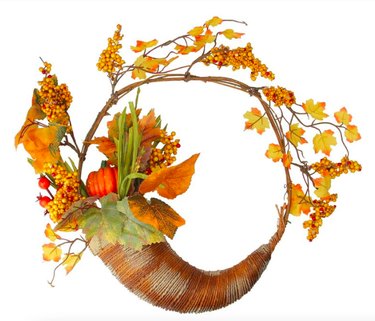 7. Nearly Natural Pumpkin And Maple Artificial Wreath
Pumpkins aren't just for Halloween, you know. (Just ask the pumpkin pie you'll be diving into on Thanksgiving.) This pumpkin wreath is also proof. It's pre-strung with 50 warm white LED lights to illuminate those early nights once daylight saving time kicks in. This traditional and timeless style is bound to look just as beautiful for years to come, so be sure to properly store it after you've eaten your final bite of leftovers. That way you can break it out for many Novembers to come.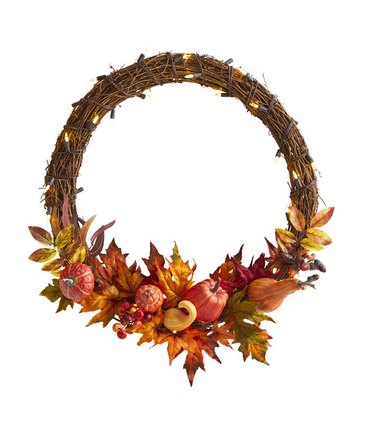 8. Autumn Hydrangea Hello Wreath
You may equate floral wreaths with spring, but this hydrangea wreath will have you thinking twice—especially if you live in a warm climate where a Thanksgiving wreath with orange and red leaves may feel out of place. This flower wreath features orange and white hydrangeas as well as green leaves and red berries, so it still allows you to celebrate the autumn colors in a design that feels more appropriate to your weather. Now comes the tricky part: Deciding where to hang it, as this design is friendly for both indoor and covered outdoor use.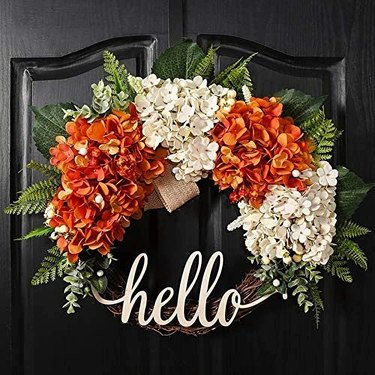 9. Thankful LED Lighted Wreath
You'll never forget to give thanks when you come home to this front door wreath. Adorned with autumn leaves and "thankful" in a beautiful script, it'll add a shimmer of gold and beautifully bright sunflowers, pumpkins and berries to your home decor. Best yet, it sparkles with the addition of six white LED lights. (Note that it requires three AAA batteries, which are sold separately.)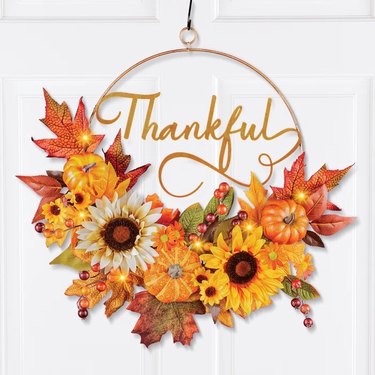 A fall door wreath is guaranteed to add swag to your decor all season long, from your first sip of a PSL to the first listen of a Mariah Carey Christmas song. The versatility of this twig wreath earned it a spot on this list, since it can be hung both indoors and outdoors, as well as throughout the entire autumn season—not just during November—so its price tag is more worth it. Plus, one look at those miniature pumpkins and we were sold.