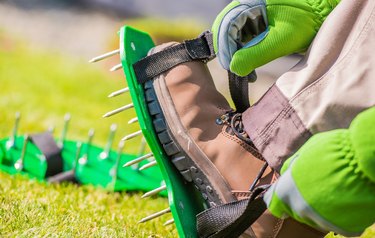 Most homeowners already have a large arsenal of lawn and garden tools, so adding a lawn aeration tool and aerating your lawn can seem unnecessary. However, a lawn aerator and aerating your lawn can make a positive difference in your lawn's appearance and health. This is especially true with compacted heavy clay soil and compacted areas due to heavy vehicle or foot traffic.
Lawn aerator tools extract small cores of the lawn or make small holes throughout the lawn, depending on the type. This gives water and oxygen an easier time reaching the root system. When combined with proper fertilization, irrigation and good lawn care, aerating your lawn results in a lush, green lawn, minus any patches.
Below, we note important considerations when selecting the best lawn aerator for your lawn. We've also listed our top picks of the various types of high-quality lawn aerators.
What to Consider When Purchasing a Lawn Aerator
‌Lawn Size‌: Considering the size of your lawn helps in deciding which lawn aerator is best for getting the job done. What type and size of aerator depend on how big of the area your lawn encompasses and its configuration. You also need to consider the amount of effort you're prepared to exert and the amount of time you're willing to invest, as well as how much money you want to spend on an aeration tool. It goes to reason that performing the work on small lawns is an easier task than aerating large yards. If the work seems too much for you, you might want to call in a professional landscaper.
‌Types of Lawn Aerators‌: There are three basic types of lawn aerators: tow-behind, handheld and push. Regardless of the size of your lawn or the type of soil, it's best to go with an aerator style that you're comfortable using. Handheld and push aerators are the least expensive and the easiest to use. Some types you wear like shoes and aerate the lawn by walking over it. These types of lawn aerators work by pushing the tines into the ground. They are the easiest to use, don't take up a lot of storage space and work best in smaller yards.
When it comes to larger lawns, tow-behind aerators get the job done quickly and are more efficient. However, you'll need a lawn tractor or riding lawn mower to tow them along. They're also a bit pricier than manual lawn aerators, are heavier and take up more storage space.
‌Best Time to Aerate Your Lawn‌: Knowing when to aerate your lawn and if the soil is compacted can be confusing. Although aeration and de-thatching are two completely different lawn tasks, both usually go together. Thatch forms a layer of decomposing material at the lawn's surface between the grass and soil. When it gets too thick, it acts like compaction, preventing air, nutrients and water from reaching grass roots. Aerating your lawn gets your lawn ready for de-thatching and reduces the buildup of thatch.
If your lawn starts looking stressed and you notice water puddles where none were before, you have soil compaction problems. Knowing when it's best to aerate your lawn is important. Never aerate a dormant lawn. If you have cool-season grass, it's best to aerate it in early spring or early fall. Those with warm-season grass should perform aeration in late spring or early summer. Irrigate the lawn the day before you aerate—but wait a bit if your grass is overly wet.
The Best Handheld Core Aerator
Although it's a handheld manual core aerator, the Yard Butler's cushioned handles provide comfort and gripping power. Its heavy-duty powder-steel construction is rust-resistant, making the coring aerator built to last. It reduces back strain, thanks to the aerator's 37 inch height and the solid steel foot bar, which allows for control and ease of use. Each time you plunge the aerator into the ground, two 1/2-inch wide, 3 1/2-inch long plugs are removed from the yard. The plugs then are ejected from the cylinder's top, and you just leave them on the ground. It works well for smaller yards, but can even work for larger ones if you're willing to put in more effort. If your soil is hard and dry, this aerator performs best if you pre-soak the soil before aerating. By using this lawn coring aerator, you'll have a healthier lawn with less water runoff.
The Best Push Spike Aerator
If you'd rather have an aerator you can push or pull through the lawn, then this push spike aerator from Agri-Fab is a good choice. Plus, it's a breeze to use. This walk-behind aerator has five galvanized steel spike discs that penetrate into the soil as they rotate. The spikes can penetrate into the soil 2 1/2 inches. The working width of this lightweight aerator is 16 inches and is a good size to cover small to medium-sized lawns. The steel weight tray holds up to 35 pounds and typically holds a concrete block. This push spike aerator will make the job easier and with less effort on your part, leading to a greener lawn.
The Best Handheld Spike Aerator
The Gray Bunny multi-spike aerator not only aerates your lawn to reduce compaction, but de-thatches it at the same time. The aerator is built to last, made from premium steel, and reduces strain on your back, owing to its 37 inch height. The padded handles allow more gripping power while giving your hands extra comfort. The steel foot bar provides comfort and control as you plunge the four 3-inch spikes into the ground, loosening the soil. It's lightweight, easy to use, and its small size takes up less storage space. The Gray Bunny spike aerator is a good choice for those with small yards, but also works well for those with a bit larger lawns if you don't mind doing a bit of extra work.
The Best Lawn Aerator Shoes
If you're looking for an economical way to aerate your lawn and loosen compacted soil while you walk around, then these aerator shoes from DenForste can help. The shoes have three adjustable straps and fit women's shoe sizes six to 10 and men's shoe sizes size six to nine. Straps hook with hoop-and-loop fasteners and wrap securely around your ankles and over the top of your foot. The top of the shoe's base is plastic, and the bottom portion is a durable aluminum alloy that prevents bending and breaking, but offers comfort to the wearer. The aluminum spikes are 1.8 inches long and offer good soil penetration in any type of soil, including hard, clay and rocky types. These aerator shoes will work well in small yards.
The Best Rolling Lawn Aerator
This easy-to-use rolling lawn aerator makes aerating soils that aren't extremely dense or thick a breeze. It's constructed of heavy-duty, anti-rust steel and the solid but flexible plastic wheels easily roll over various types of turf. The rolling aerator has a rolling length of 17 inches and a roller diameter of 5.7 inches, which will make quick work of loosening compacted soils in small to medium-sized lawns. At 58 inches long, the aerator is tall enough to take the stress off your back while using it, and the three-piece tubular handle is easy to assemble. This rolling lawn aerator takes the work out of aerating your lawn.
The Best Tow-Behind Plug Aerator
This tow-behind plug aerator has a universal hitch with a single pin that easily attaches to lawn tractors and ATVs. It's made from durable steel and has a fully enclosed weight tray that holds up to 200 pounds of weight, offering maximum soil penetration. The aerator has 32 heat-treated plugging spoons made from 16-gauge steel that remove 3-inch soil plugs. There's a single transport lever that engages the 10-inch semi-pneumatic rubber tread tires. It works and turns safely on uneven terrain, and the sections of welded tines minimize damage to your turf. Although a bit more pricey than other lawn aerators, this Brinly aerator will get the job done quickly and efficiently, no matter the lawn's size.
The Best Multi-Function Lawn Aerator
This multi-function lawn aerator from LARNORJE allows you to get three lawn maintenance jobs done, leading to a healthier and green lawn. The patented aerator has two detachable heads for core aerating and spike aerating, as well as a twist tiller. At 37 inches tall, it won't put stress on your back while using it, and the wide foot plate offers stability. The cushioned T-shaped handles add additional comfort and control. The spike lawn aerator attachment has four 4.7-inch iron tines which are able to penetrate deep into the grasses root zone. The lawn coring attachment has two 4.7-inch long cores, while the twist tiller has sharply curved tines. It's made of high-quality powdered steel so it's built to last. Overall, it would make a great addition to your gardening tool arsenal.