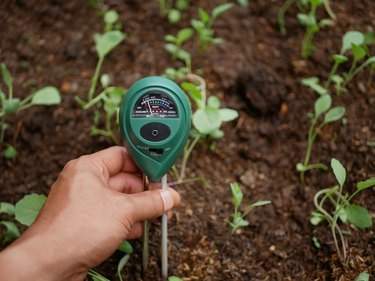 Regardless of the types of plants, water is an essential element that all plants require to remain alive. However, even when knowing what your specific plant needs, it can be challenging to gauge soil moisture levels and know when to water. Whether you're growing houseplants or outdoor plants, underwatering can be just as detrimental as overwatering. This is where a soil moisture meter comes in handy and lets you know when to irrigate.
Whether you're a novice or have been gardening for too many years to count, maintaining a proper moisture level leads to thriving, problem-free plants. Using a soil moisture meter takes the guesswork out of watering and there's a wealth of options to choose from. Choices include basic meters checking the soil's moisture level to fancier types with all the bells and whistles.
We try to take the guesswork out of soil moisture testers so you purchase the best soil moisture meter for your particular plant needs. We've also identified some of the best soil moisture meters on the market and points of consideration when selecting.
What to Consider When Purchasing a Soil Moisture Meter
‌Soil Type and Indoor/‌‌Outdoor Use‌: When selecting an appropriate soil moisture tester, consider whether it will be used indoors for your houseplants or outside plants, or even in the garden. You'll also want to consider the type of soil. Potted houseplants have soil that is usually lightweight and not heavy and dense, so you can use a plant moisture meter with a shorter probe. However, outdoors, you might need a long probe that is thicker and more durable, especially if you are using it in hard soil that contains rocks, or have a large container.
‌Features‌: Plant moisture meters range in digital or analog models and those that offer basic moisture readings to 4-in-1 soil moisture meters that also offer readings on the soil's pH levels, a light meter as well as measuring ambient temperature and soil temperature. For the highest degree of accuracy, you might want to go with a digital display model, as they can show moisture levels down to a percentage or decimal point. Conversely, most analog models show moisture levels on a scale from one to 10. Analog display types usually don't require batteries, making them ready to use right out of the package. Digital moisture meters are generally pricier and are usually easier to read and some models come with smart technology. However, they require batteries and/or charging through USB.
‌Price‌: Depending on how you plan to use the soil moisture sensor meter and the type you require, prices can range from under $10 for a basic model to over $100 for an entire system. If you plan to use the meter to measure moisture in outdoor plants, you might be better off spending a few more dollars and going with a durable one. However, if you'll only be watering your indoor plants and want to test soil moisture, you can probably get away with a basic, inexpensive meter. But as with most things, you get what you pay for.
The Best Overall Moisture Meter for Plants
The SONKIR 3-in-1 moisture meter is a breeze to use, allowing you to check the moisture in the plant's soil, soil pH and light levels. The 3-in-1 soil tester has an analog display, doesn't require batteries and is suitable for indoor and outdoor use. Make sure the soil is moist before inserting the probe, as you won't get a reading with dry soil. You just have to insert the probe about 6 or 7 inches into the soil, toggle the switch to read moisture, light or pH and you'll have an accurate reading in around 10 minutes. Once you're through with your reading, you simply remove the probe, wipe off any dirt with a clean cloth and store the meter until you need it again.
The Best Budget Moisture Meter for Plants
You won't have to break the bank testing your soil's moisture, pH values or intensity of sunlight with the light meter with this 3-in-1 soil moisture meter. No batteries are needed and all you have to do is insert the dual-probe up to 6 inches into the soil for an easy reading. You can easily switch the meter so it displays either a readout on moisture, pH values or light. It only takes about a minute to get an accurate reading once the dual-probe is inserted in the soil, and the analog display is easy to read, whether you're checking moisture, pH or light. This meter works well for outdoor use, as well as indoors on your houseplants. Checking your plant's moisture levels couldn't be easier and, best of all, you won't have to spend a fortune doing so.
The Best Moisture Meter for Deep Containers
If you have extremely large containers that are deep, you'll need to check the soil's moisture content making sure it's reaching the plant's roots with a long probe. This soil moisture meter from XLUX's probe is over 12 inches in length and is over 5 inches longer than standard probes. Your plants will receive the plant care they need by receiving the correct amount of moisture, so you never have to worry about under-watering or overwatering again. The analog display is color-coded with a scale of one to 10, letting you know if the soil is dry, normal or wet. The large dial is easy to read and the moisture meter is just as easy to use. You simply insert the long probe into the soil and you'll get a moisture reading almost instantly.
The Best Digital Display Moisture Meter for Plants
Suitable for potted houseplants and outdoor plants, this moisture meter from BANDQ has a single probe that will test soil moisture, the soil's pH value, light and soil temperature. The meter has upgraded stainless steel which prevents corrosion and offers accurate readings on an easy-to-read digital display. The moisture meter is lightweight and is easy to use: Simply insert the probe into the soil about 2 to 4 inches and you'll get an immediate reading. The moisture meter comes with a 9-volt battery, and the meter lets you know when the battery power is getting low. You'll also be able to check if your plant is receiving enough light, whether the soil temperature is adequate and if any adjustments to the soil's pH are required. This basic digital display meter makes your plant care easy.
The Best Moisture Meter for Plants With a Digital Display
For a reliable waterproof soil moisture meter with an easy-to-read digital display that gives accurate readings, you won't be disappointed with this meter from Ecowitt. The moisture meter has an advanced chip that collects moisture data within 72 seconds from when the probe is inserted into the soil. Once inserted into the soil, you'll get a moisture reading in two to three minutes. It features custom modes with 0% AD and 100% AD to manually calibrate the low/high moisture value so you can get an accurate reading for different soil types. The digital display also includes the time. Note that the display console and soil sensor each require one AA battery (not included).
The Best Multi-Pack Soil Moisture Meters for Plants
You get a moisture soil meter and a soil pH meter in this package from Kensizer, where you can check the levels on both. Each has a single probe you insert several inches into the soil, where you can get a quick reading on the easy-to-read analog dial. The color-coded dial for the moisture levels ranges from wet and moist to dry, and the pH dial is also color-coded, letting you know the soil's range on a scale from acidic to alkaline. You should have a reading on both values in around a minute. The meters don't require batteries, so they are ready for use straight out of the package. Both meters are suitable for use in your houseplants and potted outdoor plants, and once you're through testing, you simply remove the probe from the soil and wipe off any dirt with a clean cloth.