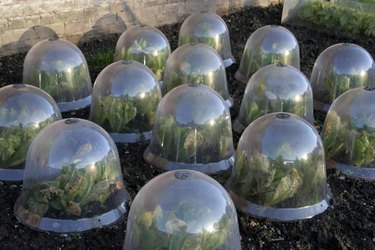 You've worked hard putting your garden and landscape together. The last thing you want is a visit from Old Man Winter destroying all your efforts. Whether you live in areas with cold winters or where freezing and frosty temperatures are uncommon, there are times when your gardens require frost protection from cold weather. If temperatures are colder than your plants' tolerance, they can suffer dieback and even death.
Fortunately, you have various options that will assist your garden in withstanding the cold snap and continue producing healthy growth. Whether you have gardens that require protection or only several plants, you have choices in products that will keep them warm and thriving during the frosty temperatures.
We've laid out some things to consider when selecting a product for frost or freeze protection and additional steps you can take for protection. We've also reviewed some products that won't let you down when those cold days of winter come calling.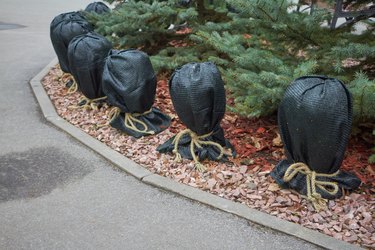 What to Consider When Protecting Plants From Frost
​Know Your Area's Frost Dates​: Although Mother Nature can change her mind when cold weather strikes, it's best to know your area's first and last frost date averages so you can be prepared. Although expected temperatures and dates for cold weather give only a general guide to past years, they'll give you a pretty good idea of expected cold snaps and the temperatures involved. If growing plants from seed, the seed packet gives an idea of when it's best to plant to avoid damage from too cold temperatures. For example, the seed packet might suggest planting two weeks after your area's last cold snap.
​Pay Attention to Your Weather Forecast​: Pay attention to your local weather forecast predicting a sudden temperature change to colder conditions. Be prepared by having all your frost protection supplies on hand. You'll then be ready to protect your plants before the colder temperatures arrive. Cold temperatures can become more destructive on calm and clear nights with minimum cloud cover. In addition, colder temperatures and frost congregate in low-lying areas of the landscape called frost pockets.
Planting your garden or frost-sensitive plants in higher areas of your landscape will help protect them from sudden cold temperature changes. Even planting in raised beds elevates your plants and helps protect them from frost damage.
​Grow Plants Hardy to Your Region​: If planting directly into your landscape and not in pots, only grow plants that are hardy growing in your particular USDA hardiness zones, unless you want to treat them as annuals. Plants hardy in your USDA zones typically withstand your specific region's average high and low temperatures and only require frost protection when temperatures dip below these averages. If you desire to grow plants sensitive to cold temperatures, it's best to grow them in pots so you can bring them indoors to a protected location during a cold snap.
​Size of Plants and Garden​: When selecting products to protect your plants from frost or freezing weather, consider the size of your garden and the plants requiring protection. This will give you a good idea of what type of frost protection will work well for your situation and garden. For example, if you're protecting a larger vegetable garden, you'll need something that covers the entire area. However, if you are only protecting several plants, an individual covering will work. Be sure to select a frost protection product that covers the plant fully and is large enough that it doesn't squish the plant or damage it.
​Protection Rating​: Frost protection fabrics have different weights and thicknesses that affect the degree of temperatures they offer protection from. Thicker and heavier materials offer protection from colder temperatures than thinner types. The available frost protection fabrics come in weights from 0.05 ounces to 3.5 ounces, with 3-ounce fabrics offering protection for temperature drops into the teens and 0.05-ounce fabrics rated usually to temperatures around 35 degrees Fahrenheit.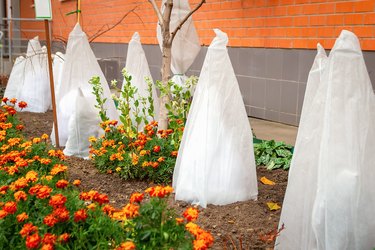 Budget-Friendly Long Frost Protection Plant Cover
Agworth 10' x 50' Floating Row Plant Cover Fabric
If you're looking for a budget-friendly option to protect larger garden areas like raised beds or vegetable gardens, then Agworth's frost protection fabric won't let you down. It's the perfect size for longer beds at 10 feet wide and 50 feet long and has a protection rating of 1.2 ounces. However, there are other sizing options depending on your needs.
You can also cut the lightweight and breathable fabric to fit smaller areas and plants. The fabric seals in the heat while still allowing the penetration of water and sunlight. This makes it the perfect choice for extending a growing season and insulating plants while protecting them from cold temperatures. The only caveat is that the product doesn't come with any stakes or fasteners to keep the fabric in place. For such a task, we recommend GROWNEER 6-Inch Galvanized Steel Garden Stakes.
Whether you desire protection from low winter temperatures, frost, hail, wind or snow and don't want to spend a fortune accomplishing it, this frost protection plant cover is your answer.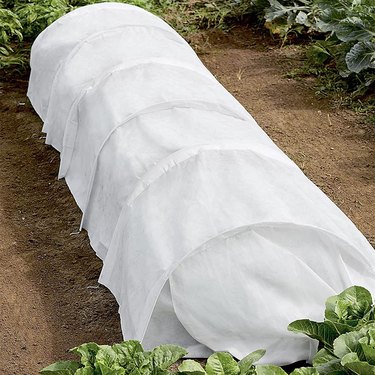 Large Shrub Frost Protection Plant Cover
SUNPRO Frost Protection Drawstring Bags (1 ea.)
SUNPRO's 73-inch by 85-inch drawstring bags offer protection from frost and freezes for large shrubs. The large 2.1-ounce non-woven fabric bags protect plants from temperatures down to 24 degrees Fahrenheit. They allow sunlight, air and water to enter while protecting your plants from hail, wind, snow, sleet and frost.
The bags are a breeze to use, as all you have to do is unzip the zipper, slip the frost protection bag over the targeted plant or plants, close the zipper and adjust the bag over the plant and then close the drawstring. Whether you're protecting saplings, small trees, or larger shrubs or want to group several potted plants together for warmth, you can do so in a matter of minutes with these SUNPRO frost protection bags.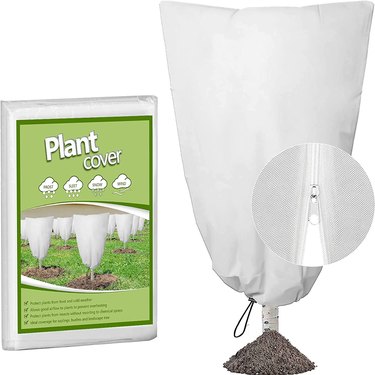 Natural Jute Burlap Frost Protection Tree Wraps
DAANYAP Natural Burlap Wrap Frost Protection (2 Rolls)
Don't underestimate the frost protection ability of natural jute burlap when protecting your trees or other sensitive crops. With DAANTAP's burlap, you get two rolls of high-quality, 100% jute burlap that is environmentally friendly, durable and strong enough for multiple uses. The rolls are 40 inches wide and 23 feet long, giving you plenty of material to satisfy all your gardening uses, from wrapping tree trunks and shrubs for frost and freeze protection to using the burlap for erosion control or sun protection.
The fabric provides warmth and has good resistance to moisture and cold, protecting your trees and plants from winter winds, snow, sleet or frost. The edges have reinforced stitching, making the burlap resistant to tears, although you can cut the fabric to size without damage. You won't have to worry about plants being able to breathe with the fabric's multiple holes. You have a 30-day money-back guarantee if you aren't satisfied with the fabric's performance.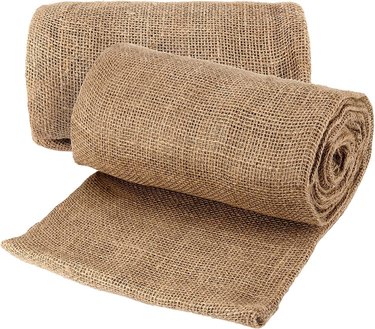 Hooped Garden Tunnel for Frost Protection
Highland Garden Supply Garden Cloche Tunnel
Highland Garden Supplies garden cloche tunnel comes fully assembled with six hoop stakes and two drawstrings that close and open the access points located on each end. Reinforced fleece fabric that is UV-stabilized covers the galvanized steel hoops and is strong and won't tear. The accordion-style design allows you to use the tunnel for frost protection for all garden shapes.
The fully extended tunnel is 10 feet long and 20 inches wide and tall, which is large enough to cover most plants in a vegetable garden. The Cloche Tunnel allows your plants to receive much-needed air, sunlight and moisture while locking in warmth and blocking wintry winds and snows. It keeps your plants snug and warm through winter's frosty conditions. You can also use the tunnel to block intense sunlight during the hot summer months.
Multi-Pack Frost Protection Plant Covers
Foozet Drawstring Cloth Bags for Freeze Protection (5-Pack)
If you're looking for a multi-pack deal of freeze and frost protection bags for your garden, then Foozet is the brand to go with. The polypropylene breathable fabric bags have a 2.4-ounce protection rating standing up to freezing and frosty conditions, as well as snow, sleet, wind and rain.
You have three multi-pack options, with the five-pack bags measuring 22.8 inches wide and 30.7 inches tall, which are big enough to cover smaller plants. The four-pack bags are 30.7 inches wide and 38.2 inches tall, covering medium-sized plants, and the two-pack bags are 46.5 inches wide and 70 inches tall, suitable for larger plants and small trees.
These frost protection bags are a breeze to use. All you have to do is slip the opening over the targeted plant and pull the drawstring tight. You'll rest assured knowing your precious plants are now protected from winter's cold.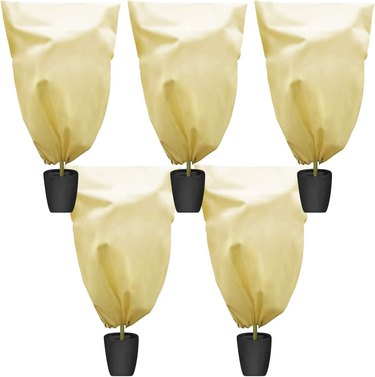 Cloche Plant Domes for Frost Protection
MorTime Reusable Cloche Mini Greenhouse (6-Pack)
If an unexpected frost hits your region, there's no need to worry about those seedlings getting damaged with MorTime's cloche domes. Each package includes six reusable domes that are large enough to cover your seedlings or small plants at 7.3 inches by 6.9 inches. The package also includes 10 plant labels and 18 metal pegs to secure the cloches to the ground.
The bell-shaped cloches function as a mini greenhouse, offering protection from frosts, freezes, snow, and windy conditions, as well as protecting your plants from bird and insect damage. The plastic material is durable and plants receive adequate light while covered. There are two vent holes located on the top of each dome that allow you to control humidity and temperatures inside the cloche. These cloches are easy to use and will protect your plants regardless of the cold weather outdoors.