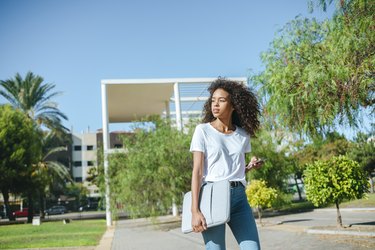 You probably have a phone case for your expensive iPhone or Android, so why wouldn't you have a case for your even more expensive laptop? A laptop case or sleeve can give your computer a layer of protection from drops, spills, scuffs or dents. Even when you try to be as careful as possible with your laptop, things happen. The good news is, you can buy a laptop case that's protective ​and​ stylish.
The type of case you buy will be based on what you want out of it. If you don't have kids or a pet who will knock your laptop off the table (if you know you know), one that's easy to slip in and out of a sleeve might be a good option. If protection is your biggest concern, a hard shell case or briefcase might work best.
What To Consider When Purchasing a Laptop Sleeve or Case
​Laptop Model:​ Most laptop sleeves and cases fit common laptop brands, such as Apple, Microsoft, Dell, HP and Lenovo. Some laptop sleeves won't fit the bigger models, so be sure to pay attention to the dimensions and compare them to your laptop before you buy. For example, Apple's soon-to-be-released MacBook pro 16-inch might not fit in a case that works for the Lenovo ThinkPad.
​Type:​ There are different types of sleeves, cases and bags that offer protection for your laptop. A laptop sleeve is a thin, soft cover that a laptop can easily slide into. It offers moderate protection and can be the only protection for your laptop, or it can be used as padding inside another protective element like a backpack. Many modern backpacks come equipped with a laptop sleeve or padded divider, which is usually enough protection for your laptop without the need for a case. Hard shell and briefcase designs offer the most protection from falls. Some briefcases even come with a lock to deter theft or easy access. Laptop bags are designed to be carried and usually come with a shoulder strap and handle. Sometimes they look like a tote bag, which can make your laptop look more inconspicuous to prevent theft.
​Material:​ Laptop sleeves come in a variety of materials, the most popular being cushioned neoprene. Neoprene is soft enough not to damage your laptop while offering decent shock absorption and good grip. Other common materials include EVA, polyester, nylon and leather. Polyester and nylon are similar in that they're both textured and inexpensive, with nylon being a bit more lightweight and durable than polyester. EVA is typically water-resistant with good shock absorption, but its hard shell is heavier and can take up more space inside a bag. Leather is the most expensive laptop case material, but it's functional, stylish and unique.
Now that you have an idea of what will work best for your laptop, scroll on to see our picks for the best laptop sleeves and cases in 2022.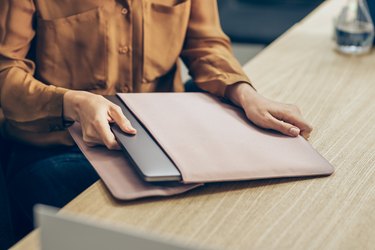 The Best Overall Laptop Sleeve
Jetech Waterproof Laptop Sleeve Case
Not only does this best-selling laptop sleeve provide a layer of foam protection with a snug fit, it's also slim, lightweight and waterproof. It's easy to carry around or put in a briefcase or backpack. An exterior front pocket gives you a spot to store things like your laptop's charger, a power bank, your phone and extra pens. The laptop sleeve comes in two sizes: One for laptops and tablets up to 11.2 inches and one for the MacBook pro 14-inch and smaller or anything up to 13.3 inches. There are 11 colors to choose from.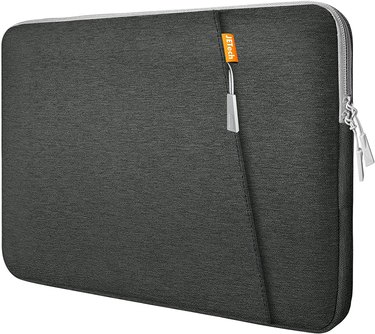 The Best Budget Laptop Sleeve
Fysho Slim Laptop Sleeve Case
For a budget laptop sleeve, this one certainly offers a lot of options. You can choose a black, blue or pink sleeve in sizes ranging from 11 inches to 15 inches. The 11-inch case is great for something like an iPad, iPad Air, iPad Pro or Microsoft Surface, and the 15-inch and smaller sizes are ideal for laptops like the Surface Pro, MacBook Pro 13-inch and an Ultrabook. The case is waterproof and slim, while still allowing a laptop with a plastic hard shell case to fit inside. The case works with Apple MacBook, Samsung Chromebook, HP Acer, and Lenovo laptops and notebooks.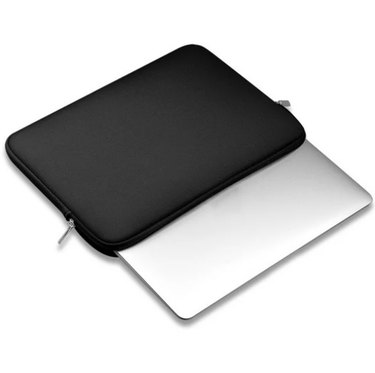 The Best Laptop Sleeve in Multiple Sizes
Amazon Basics Laptop Sleeve Case
It's hard to go wrong with this Amazon Basics laptop sleeve, because it's both affordable and effective. This form-fitting sleeve is slim and lightweight, perfect for carrying inside a bag that doesn't have a laptop-specific compartment. It's an ideal sleeve if you aren't too worried about dropping your laptop as it offers moderate protection. There are five colors to choose from (black, blue, gray, navy and purple) and six size options, ranging from 7 inches to 17.3 inches.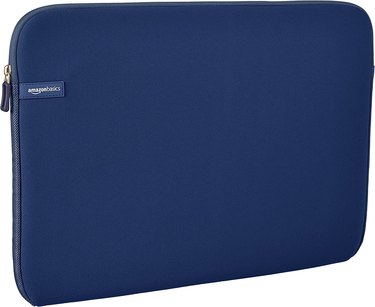 The Best Hard Shell Laptop Case
With this case you get a hybrid of a laptop sleeve and a hard shell case—the best of both worlds. The case is made of a semi-hard EVA shell with anti-scratching polyester to protect your laptop from scratches, dust and drops. It also has thick padding to provide your laptop with full protection. You don't have to worry about spills with this case as its outer fabric is water-repellant. Sizes range from 11 inches to 15-16 inches.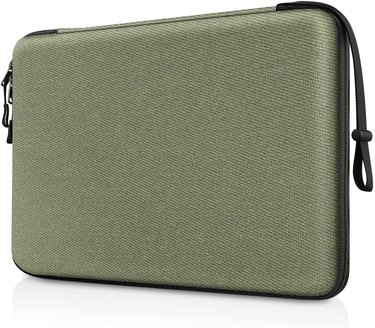 The Best Laptop Sleeve Design
AlphaOmega '70s Retro Stripes Laptop Sleeve
Society6 sells quality laptop sleeves that are made from durable polyester and lined with a soft microfiber to help prevent scratches. Each sleeve the company sells is the same, but the designs are created by different artists. This vintage design by an artist called AlphaOmega features retro stripes for a '70s vibe. It's a unique and stylish design that'll add a touch of fun to your laptop. The laptop sleeve is available in 13-inch and 15-inch sizes.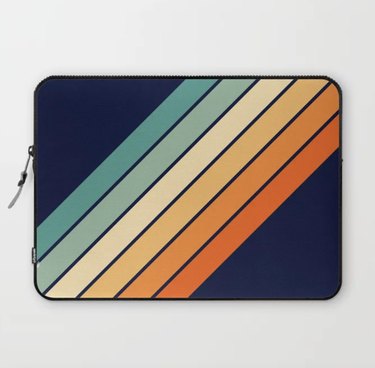 The Best Laptop Briefcase
Insignia Laptop Briefcase
This briefcase with a padded design is a secure carrying case for your laptop. Front and inside pockets let you carry chargers and other accessories while keeping them organized. A detachable shoulder strap allows for hands-free and comfortable carrying. This briefcase is the perfect size for laptops with up to a 15.6-inch display.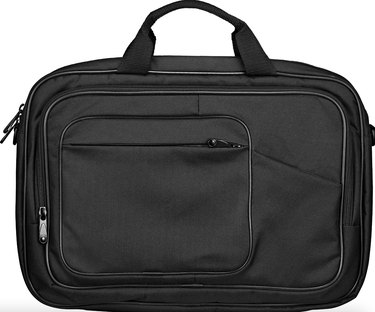 The Best Backpack With Laptop Sleeve
Targus Urban Expandable Backpack
There's plenty of room in this backpack to store whatever you need for a day out with your computer—or even to use as a carry-on when traveling. There are zippered pockets, side pockets, and an internal pocket for small items like pens, keys and business cards. It's designed to fit up to a 15.6-inch display, but it has a bit more room to fit up to a 17-inch. The padded divider for a laptop keeps it safe from scratches and dents. The bag is sleek, practical, lightweight, easy to put on and easy to carry.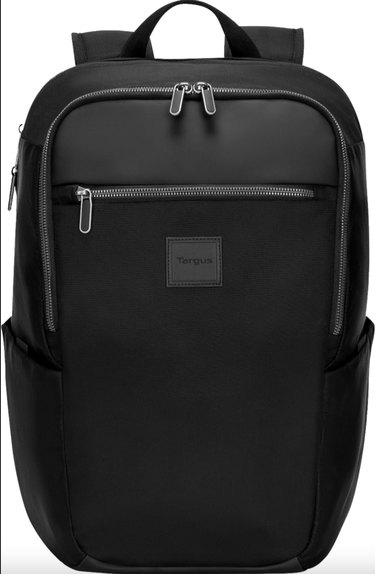 The Best Personalized Laptop Sleeve
Leatherfarmdesign Leather Laptop Sleeve
If style is what you're after, this leather laptop sleeve from Etsy has it. The envelope sleeve is made of genuine leather, so it's soft to touch and looks ruggedly fancy. For added elegance (and for a few more dollars), you can have the sleeve personalized with your initials in the font and color of your choosing. The sleeve is available in 13-inch, 15-inch and 16-inch sizes in four colors: black, brown, tan or cognac.