Whether your kids need a new lunch box for school or you need a better option to hold your work lunches, bento boxes are a great way to incorporate a variety of foods into one container. Bento is a Japanese word that means take-out or home-packed meal, often referring to lunch. A bento box holds a single-serving boxed meal that's typically already assembled and ready to be eaten. It can hold a large portion of one type of food or different types of food within several compartments. Bento boxes usually have leakproof lids that are easy to put on and take off, and sometimes the compartments are removable for customization and easy cleaning.
What To Consider When Purchasing a Bento Box
‌Type:‌ The three most popular styles of bento boxes are traditional, modern and kid-friendly.
‌Traditional:‌ Traditional Japanese bento boxes used to be made of wood, bamboo or lacquered wood. While most modern bento boxes are made with easier-to-care-for materials, you can still find bento boxes with hints of the more traditional aesthetic, like a plastic box with a bamboo lid, for example.
‌Modern:‌ Modern bento boxes are available in all different sizes and shapes, with many variations on the number of food compartments. They're ideal for everyday use and are typically dishwasher-safe with leakproof lids.
‌Kid-Friendly:‌ The most convenient lunchbox for a child is a bento box because of its multiple compartments, ease of care, leakproof lid and fun design options. Bento boxes that are designed specifically for kids tend to come in colors and designs that kids love, like space themes, unicorns, flowers, dinosaurs, geometric shapes, bright colors and more.
‌Material:‌ The most common materials for reusable bento boxes are plastic, stainless steel and glass. Plastic is the least expensive option and the lightest to carry, while glass and stainless steel are a bit heavier. Stainless steel is the priciest, but it's also the most durable and can withstand wear and tear.
‌Capacity:‌ Most bento boxes are designed for a single meal, which often includes compartments for side dishes, but they can vary in size. The size you purchase will depend on which meals you plan on using it for and how much food you typically eat. Some bento boxes are designed specifically for a larger main course like a salad or pasta. If you prefer to eat a variety of foods, you'll probably enjoy a bento box with several smaller compartments.
‌Care:‌ The most convenient way to go is to get a bento box that's dishwasher-safe. Most plastic and stainless steel boxes tend to clean pretty easily—whether you're hand washing or using a dishwasher. Just like with any dish, the sooner you rinse out your bento box, the easier it'll be to clean.
Scroll on to take a look at the best bento boxes for kids and adults.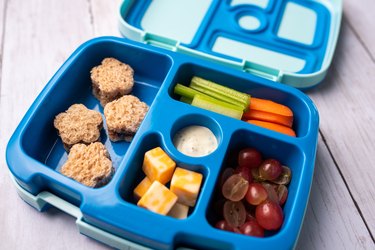 The Best Overall Bento Box
Lunches don't always look the same, so it's important to buy a bento box that is customizable to your needs. The Mepal Bento Box comes with removable compartments so it can hold a variety of lunch options or one main course like a salad. The box is made from BPA-free plastic, and it's both dishwasher- and microwave-safe. So, not only is it easy to clean, you don't need to transfer your food to a plate or microwave-safe container to heat it. The tight sealing lid prevents your food from spilling and also keeps it fresh, plus it can be used as a plate. A fork is included.
The Best Budget Bento Box
Sistema's To Go Bento Lunch Box is a great way to take your lunch to work or school without breaking the bank. At just over $10, this plastic bento-style lunch box has multiple removable dividers for a variety of wet or dry foods, including a small cup with a lid for something like yogurt or dip. The lid has an easy locking clip to keep it in place, and the entire box is dishwasher-safe.
The Best Leakproof Bento Box
A favorite among parents with kids in school, the PlanetBox Rover Lunch Box is pure perfection. Made of dishwasher-safe stainless steel with no lead, PVC, phthalates or BPA material, the high-quality lunch box is great for daily use as it's super easy to clean and has five compartments that are the right size to encourage your kids to try different foods. It comes with two leakproof containers with lids that fit inside the box—one large for soup or yogurt and one small for sauce or dip. It also comes with your choice of fun magnets to give the top of the box some style.
The Best Bento Box for Toddlers
This adorable bento box is perfect for toddlers to take to daycare, preschool, the park, the zoo or anywhere that might involve your little one being hungry (that's everywhere, right?). The leakproof bento box has five compartments so you can pack a balanced meal with the right amount of food, and it comes with stainless steel toddler cutlery. Made from BPA-free plastic, the lunch container is dishwasher-safe for easy cleaning.
The Best Bento Box for Kids
A kid-friendly lunch box can bring some fun to school lunches. The Bento Kids Lunch Box comes in a whopping 28 designs, so chances are good that you'll find one your kid will love. This bento box for kids features five compartments for a well-balanced meal or several snacks. The removable compartments are microwave-safe and can be thrown in the dishwasher, but the company recommends not putting the outer shell in the dishwasher to keep the leakproof seal intact.
The Best Stainless Steel Bento Box
If you have a big appetite or need to bring a large amount of food with you, this 3-in-1 stainless steel bento box is a great option. You can also use the two larger boxes for meal prep. The large capacity boxes can hold up to twice as much food as other bento boxes. The compartments are deep, so you don't have to worry about your chips getting crushed or your sandwich getting smushed. The boxes are crack-resistant and designed to last a lifetime.
The Best Two-Layer Bento Box
This stackable lunch box has three total compartments—one large compartment for your main course and two others for sides or snacks. A reusable utensil set is attached to one of the lids. It comes with a sealing strap to ensure there aren't any leaks or spills. The bento box is made of BPA-free plastic that's both microwave- and dishwasher-safe. It's sold in eight colors at Amazon and two colors at Bed Bath & Beyond.
The Best Bento Box for Salad
If you're in need of the perfect salad container for your adult lunch that also holds salad dressing and salad toppers in a separate compartment, it's hard to beat Bentgo's Glass Salad Container. The bottom container holds the lettuce while the top container with dividers can hold veggies, fruit, croutons, salad dressing and whatever else you enjoy on a salad. Made of glass and silicone, this eco-friendly container is microwave- and oven-safe. The lid latches on two sides to ensure a leakproof experience. It comes in multiple color options, along with a fork and a lid for the salad dressing.
The Best Traditional Bento Box
This is more of a Japanese-style traditional bento box. While it works well for sushi, sashimi or other Japanese foods, you can also pack sandwiches or whatever type of lunch you want. The box is made of BPA-free, recyclable plastic and the lid is natural bamboo. The double-decker containers are completely leakproof and don't hold onto smells or stains. It comes with two screw-top sauce containers and a utensil set, including a fork, spoon, knife and chopsticks.