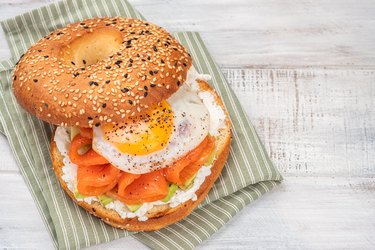 There's some inherent danger in cutting a round food item with a large, serrated bread knife—especially if you're one of those people who can't resist holding a bagel in your hand while you saw through it. A bagel slicer is a safety item just as much as a convenience item for bagel lovers.
They are convenient, to boot. They reliably provide straight, even slices in less time. The time savings can be significant if you're hosting a brunch and putting out sliced bagels for a crowd, too. The best bagel slicers make quick work of this prep task, and they're sharp and strong enough to cut through a warm bagel without smooshing it. They can even help with dividing other stuff, like hamburger buns, English muffins, rolls and pastries.
But with so many bagel cutters on the market—many of which look alike—and considerable variation in quality, it's important to check out a buying guide so you know what to look for and which of these kitchen gadgets perform well.
What to Consider When Purchasing a Bagel Slicer
‌Style:‌ There are a few types of bagel slicers, but they all come down to some sort of brace that holds the bagel while a serrated stainless steel blade or a sharp carbon steel blade cuts it in half. Guillotine-style bagel slicers are the most popular, and also generally the highest priced and largest. These countertop kitchen utensils hold the bagel vertically in a base while you push down the top piece, which has a V-shaped blade inside. They have safety shields that protect your hands and fingers. It's important that these products have sturdy bases and very sharp blades.
Handheld bagel slicers typically have some sort of mold that holds the bagel and a serrated knife blade that saws it down the middle. These work well too, but depending on the design, they may not safeguard your fingers as thoroughly as guillotine-style bagel cutters. They require less storage space, and they should be comfortable to hold and offer reasonable protection. And then there are bagel holders that hold the bagel in place and make it easy to cut it straight and evenly down the middle using your own regular knife. Because they don't include a blade, they're usually the most affordable and smallest option.
‌Features:‌ Bagel slicers are pretty simple kitchen tools that don't come with a huge variety of features. Still, there are some things you can look for. Safety features like safety shields or other types of hand and finger guards, nonslip handles on handheld slicers, and nonslip bases on guillotine-style models are a big plus. Some bagel cutters are adjustable or otherwise designed to be more versatile than others, so take a look at what a given product can fit and cut through if you're interested in multiple uses. Other models have nonstick blades, which can be helpful when slicing certain foods. Many bagel slicers are top-rack dishwasher-safe, which is recommended so you don't have to hand-wash these oddly shaped items with sharp blades.
‌Price:‌ There's not really a significant price range for bagel slicers; the lowest priced tend to be sold at around $5 to $10, with costlier models running around $35 to $40 (though there are some commercial styles that go for more—even up to a few hundred bucks). But, if you don't expect to get frequent use out of it, you might want to minimize what you spend on it.
These factors should help you pick out the best bagel slicer for your needs and preferences.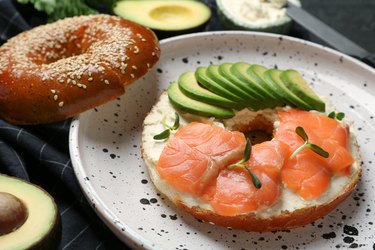 The Best Overall Bagel Slicer
The Hoan bagel guillotine is simply a fantastic, high-quality product at a great price. Bagels—even large ones and minis—sit securely in the cradle as the super-sharp serrated stainless steel blade effortlessly slides through them with minimal pressure. The slicer sits securely on its base, while the built-in acrylic safety shields ensure the blade never gets anywhere near your fingers. Its ample size and sharp, nonstick xylan-coated serrated cutting edges make this a multipurpose tool for cutting lots more than bagels, too; it also delivers smooth slicing for items like buns, rolls, English muffins and pastries. It's top-rack dishwasher-safe, and, as an added bonus, if the white version isn't exciting enough for you, it comes in other colors for just a few dollars more.
The Best Handheld Bagel Slicer
If the potential for a slightly smooshed bagel—which exists with any guillotine-style slicer—horrifies you, or if you're looking for a bagel cutter you can toss in a drawer with your other cutlery, this handheld slicer is a perfect pick. It has a sturdy, ergonomic, BPA-free plastic handle with a comfortable rubberized grip and a sharp stainless steel serrated blade. Its elongated shape means smooth cutting for things like all sizes of bagels, bread loaves, larger rolls and baguettes in addition to the foods a bagel guillotine can accommodate. The casing around the blade helps keep your fingers away from the blade during use, and this product is top-rack dishwasher-safe for easier cleanup without the risk of hand-washing this type of kitchen tool.
The Best Budget Bagel Slicer
This handheld bagel cutter is a simple, lightweight, low-cost and compact solution you can stash away in your knife drawer. It has a serrated stainless steel knife blade in the center of a well-designed, sturdy plastic grip guide for the bagel and it readily cuts large bagels and small bagels alike. The soft, nonslip and ergonomic rubberized handle is pleasant to hold, even after slicing a large number of bagels. Plus, it has a convenient hanging hole if that's how you prefer to store the piece. It's a dishwasher-safe product too, so no worries about trying to carefully wash it by hand. Just note that while the plastic bagel grip provides some built-in protection for your fingers, you still need to exercise caution while cutting.
The Best Bagel and Bread Slicer
If you're a carb-lover who bakes your own bread or buys whole loaves rather than pre-sliced, this utensil will surely be a hit. Its design makes it perfect for bagels, soft or crusty bread loaves, buns, rolls and all sorts of other baked goods. On top of its versatility and quality, it's also an aesthetic piece. It has a 9-inch double-ground stainless steel serrated blade and a sleek hardwood handle and frame with four attractive finishes to choose from (walnut, as pictured, or mahogany, maple or alder). It's slender, but keep in mind that it's 16 inches long, so it won't fit in shorter utensil drawers; it does have a strap at the end of its handle for hanging, too. As with just about all wood kitchen tools, this item shouldn't go in the dishwasher. If you purchase it on Etsy, you can choose from a right- or left-handed model.
The Best Heavy-Duty Bagel Slicer
For a slight upgrade from standard guillotine-style bagel slicers, choose this incredibly durable and high-performance NSF-certified cutter. It has a strong, commercial-grade polycarbonate body and a nonstick high-carbon steel serrated blade that's exceptionally sharp—and that will stay that way for a long time to come, even with frequent use. The large, clear acrylic safety shields provide reliable protection against any mishaps, while the large base holds the slicer steady during use. It's a tiny bit bigger than many of the other bagel guillotines out there but that means it can take on the biggest bagels, and it helps keep it steady. Conveniently, you can put this product right in the dishwasher when you're done slicing bagels.
If you prefer a bagel holder that doesn't include a blade, this one costs a bit more than many of your options, but it's a great product that's worth the extra expenditure. It holds all sizes of bagels, as well as rolls, buns, English muffins, croissants and more. Its secure patented design keeps your fingers clear of any danger, closing fully around the bagel while you hold it from the top and cut downward using your own knife. The design also prevents bagels from getting smooshed while you cut them. It's smaller than guillotine cutters, so you can easily stick it in a drawer or cabinet or even leave it out on your countertop. Wash it without any hassle by putting it on the top rack of your dishwasher.