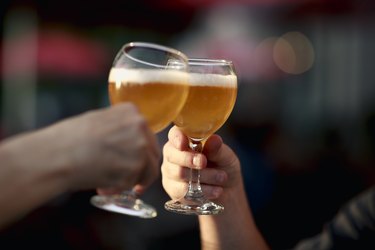 Many Americans who are casual beer drinkers don't put much thought into the glassware they use for beer. But once you start partaking of craft beer with much more complexity, flavor and aroma than those few big-name lagers from the huge corporate producers, it matters. If you've visited smaller breweries or craft beer bars, you know that different beer styles get served in different types of beer glasses.
Just as wine glasses do for wine, the best beer glasses elevate the beer-drinking experience. Proper drinkware for a particular style of brew is designed to help the beer's aromas and flavors bloom based on its composition. It also affects the way the carbonation comes to life and the head that develops—and these should play out differently for different types of beer.
What to Consider When Purchasing Beer Glasses
‌Style:‌ This is the main thing to think about when you're buying beer glasses. There are so many types available, though a lot are just minor variations on a theme. Let's take a quick look at the most common types. A starter lineup of beer glasses should at least have a representative from each of the four following categories.
‌Pint glasses‌ are a classic and a great choice for a versatile drinking glass. American pint glasses are 16 ounces, with a wide mouth and gentle taper to a narrower base; English pub glasses (AKA nonic pint glasses) are 20 ounces and similarly shaped, but they have a section that bubbles out near the top.
‌Beer mugs or steins‌ with a handle are another familiar type of beer glass. They're thick and hefty, designed to keep beer colder longer, and they're ideal for many lager styles and German beers.
‌Tulip glasses‌ are a versatile option suitable for many types of craft beers, and a must-own for any beer lover. They work well for a number of Belgian styles, stouts and porters, IPAs and hazy IPAs, sours, barleywines and more. They have stems and range from 5-ounce tasters (often used for flights at breweries and craft beer bars) to 16 ounces. This is a style with several similar variations, like goblets, snifters and thistles.
‌Weizen glasses‌ are designed for wheat beers like hefeweizens, and they're tall and narrow, skinniest at the bottom half and bulging out with a gentle curve at the top half. This is also a great choice for pilsners, which are typically enjoyed in a glass like this or a similarly tall, narrow one that's straight rather than flared. There's a style of IPA glass that's like an exaggerated version of the weizen glass, too; it has a narrow bottom and a more suddenly, dramatically bulging top. These types of glasses are often 20 ounces, or sometimes 16 ounces.
‌Design:‌ Besides the shape and size, there are other aspects of a beer glass design to consider. Like with wine glasses, thin glass or crystal and a minimal lip is optimal for many beer glass styles, with less coming between you and your beverage. Pint glasses and mugs are thicker and sturdier though, designed with nights of serious drinking at the bar in mind. Also, you may want glasses that are dishwasher safe so you don't have to hand wash them after imbibing.
Some beer glasses are nucleated, which means they have an etching in the bottom that promotes better release of the beer's carbonation. This increases the rising bubble streams and development of the head. Normally, this is good; however, if you nurse your beer for a long time (if you're a slow drinker or because it has a high ABV), it does go flat faster in a nucleated glass because of the accelerated release of carbonation. Still, it'll be good for up to half an hour.
These factors help you pick out the best beer glasses for your cabinet or home bar. Of course, there are budgetary considerations, and you can buy beer glasses individually or in sets. There are sets with mixed beer glass styles too, which is a convenient way to kick off a well-equipped collection.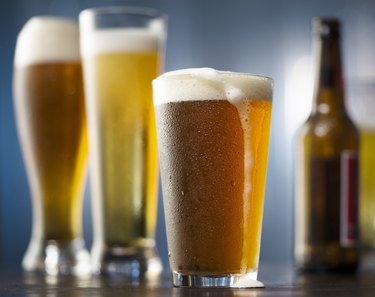 The Best Overall Beer Glass
Our top pick isn't any of the basic, traditional glass styles mentioned above. It's a 14-ounce glass and another variation on the tulip glass, but it's less curvy and more angular. It's simply a great design that works well for most beer styles, delivering maximum exposure to the aromatics and flavor. So, if you want one incredibly versatile glass that provides a superior drinking experience no matter what type of brew you have, this is it. It's nucleated with five laser-etched grooves, it's durable (but not dishwasher safe) and the lengthy stem lets you hold your drink without your hand warming the contents of the bowl.
Here's a perfect English-style pint glass, and it's another great overall pick if you're looking for more glasses at a more affordable cost. You get six 20-ounce glasses for only about $5 a piece, making it a very budget-friendly option. Pint glasses are good for everyday use and many types of beer, plus these are stackable for more compact storage and dishwasher safe for easy cleanup. They're made from fine-blown tempered glass, giving them a nice look and durability.
These 17.25-ounce beer steins have an elegant look, made by master glass blowers in Italy, and you get four of them at a good price point. You'll be equally happy using them for everyday drinking and for serving guests, and even for coffee, iced coffee, tea, iced tea, lemonade and other beverages. The glasses have a comfortable handle, and the heavy base provides extra stability. They're durable and dishwasher safe, too.
The Best Beer Glasses for Pilsners and Wheat Beers
If you're looking for weizen glasses or pilsner glasses, look no further than this four-pack of 16-ounce beer glasses. They're laser-etched nucleated glasses that provide an effervescent, flavorful drinking experience. Use them for casual drinking, but they also have an attractive aesthetic that makes them good for serving company. There's a thick base that adds stability, and the exceptionally clear glass lets even the palest beer colors shine through. Just keep in mind that you're better off hand washing these products.
The Best Beer Glasses for IPAs
IPAs aren't for everyone, but if you like them (or want to be prepared for guests who do), pick up this pair of IPA glasses. They're well designed for maximizing the hoppy flavor and aromatics of IPAs, double and triple IPAs, APAs, hazy or New England IPAs, and other variations of this beer style. They bottom has ridges that provide a comfortable grip, but they also help aerate the beer. Plus, the generous 19-ounce capacity makes them good for decanting IPAs, whether you're pouring from a bottle or a 12- or 16-ounce can. You can stick these glasses right in the dishwasher after use, too.
Every craft beer lover needs tulip glasses, which are ideal for so many types of beer. This set of four is a great buy. The sleekly curved bowl and the thin construction highlight the aromas and flavors of Belgian beers, barrel-aged beers, sours, saisons and other farmhouse ales, IPAs, stouts, and others. The narrowed top nicely showcases the head, and the many colors of all these beer styles show through the lead-free crystal brilliantly—even after many runs through the dishwasher.
The Best Set of Beer Glasses
If you're looking jumpstart your collection with a set that includes a range of key beer glass styles, this budget-friendly product is for you. It comes with a 20-ounce nonic pint glass, a 20-ounce craft pint glass, a 15.25-ounce pilsner glass, a 23-ounce weizen glass, a 16.6-ounce tulip glass and a 14.75-ounce goblet glass. So, as you can see, you're covered for any type of beer you're enjoying. And these are all lead-free, durable and dishwasher-safe glasses—from a well-known glassware brand that's been around for over two centuries.