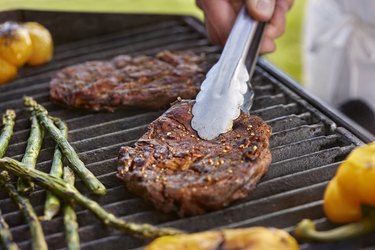 Summertime is grilling season, and regardless of where you stand on the gas grill versus charcoal grill question, you're going to need a pair (or two) of good, reliable grilling tongs to get you through these months of backyard cookery. Long grilling tongs are among the most fundamental of grill accessories, and can be used to maneuver large briskets and pork shoulders, or deftly turn delicate spears of asparagus, as needed (admittedly there's a case to be made for having separate tongs for those uses). So, before your next cookout, take a moment to run through our list of the best tongs for grilling, and learn what sets them apart from the also-rans.
Points to Consider When Purchasing Grill Tongs
​Length:​ Length is—let's face it—the single most important thing that separates grilling tongs from regular kitchen tongs. Ideally, it's nice to turn your steaks and skewers without burning your hand, or scorching the hairs from your wrist. Some tongs can be as little as 12 inches long and others can be over 20, so it's important to think about your usage. As a rule, the larger your grill and the more foods you have cooking at a time, the more likely you are to appreciate a long pair of tongs. Longer isn't automatically better; oversized tongs can put a lot more strain on your wrists. You'll want to find a balance between length and ease of use.
​Spring:​ Most barbecue tongs have a spring mechanism to keep the tongs' blades apart when not in use. To evaluate the spring, squeeze the tongs closed several times. Did the motion feel smooth and consistent? Did it require a level of pressure you were comfortable with? You're looking for a spring that's sturdy enough to last, doesn't require an excessively strong squeeze (that'll be tiresome over a long afternoon of grilling), but still keeps the tongs open when you aren't actively squeezing. Tongs without a spring use steel's natural flexibility to serve the same purpose, holding the tongs open when you aren't squeezing. Evaluate them in much the same way. (Tip: If you can't try the tongs in person, look for comments about the spring in the reviews section of your favorite online retailer.)
​Locking Mechanism:​ Tongs are space hogs when they aren't in use, so it's handy if they have a lock to keep them closed and compact when not in use. You might also want to lock the tongs onto a piece of meat, so you don't have to hold them closed. The simplest locks are just a hoop of metal that slides down the tongs, but pull-type locks are much more reliable.
​Ease of Cleaning:​ Tongs are primarily made of stainless steel, but often have insulated grips, nonstick ends or other features added. All of those create nooks and crannies that can be hard to clean. Many grilling tongs have wooden elements, which means they aren't dishwasher-safe (and extra-long tongs might fit poorly into your dishwasher, in any case). Ease of cleaning won't necessarily make or break your choice of products, but it will contribute mightily to how happy you are with your tongs in the longer term.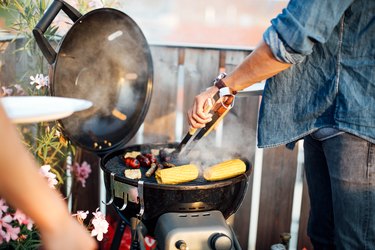 The Best Overall Grill Tongs
OXO Good Grips 16-in. Locking Tongs
OXO inspires a lot of brand loyalty because they have a well-deserved reputation as a manufacturer that "gets it." Their products are reliably good-quality and thoughtfully designed, and their grill tongs are no exception. There are 9- and 12-inch versions available as well, but the 16-inch is the most versatile option for grilling, and as a result, it's our top pick.
The spring on these tongs is reliable and sturdy without giving too much resistance, the scalloped edges are at a flat enough angle to hold your foods reliably, and their comfortable grips—OXO's signature design element—are ergonomic and slip-proof, even when wet or greasy. The pull-type lock doubles as an eyelet for hanging the tongs from a hook when they're not in use. The tongs are also completely dishwasher-safe, making cleanup a breeze. There are pricier, larger and heavier-duty tongs out there, but it's hard to beat OXO for overall quality and value. (Tip: The tongs are available in an inexpensive bundle with a grill spatula, if you're just beginning your collection of grilling tools).
The Best Value Grill Tongs
Mountain Grillers 12-in. and 16-in. Barbecue Grilling Tongs
Our top-pick OXO tongs are inexpensive enough to almost make a "value tongs" choice redundant, but it's hard to ignore this package from Mountain Grillers. For less than the cost of one pair of OXO tongs, you'll get two: A 16-inch pair for reaching the outer edges of your grill and a 12-inch pair for foods that are closer. They resemble our top pick in many ways, with stainless steel construction, heatproof, nonslip grips, and a pull lock at the hinge. And like the OXO, they're completely dishwasher-safe. Are they as good as the OXO? Well, no. They're not quite as robust, and their heat-resistant hand grips are both smaller and less ergonomic. But they're better than you'll find from most other inexpensive brands, and it's a compelling price point.
Tip
The grips on the tongs are in different colors, so it's easy to tell them apart. The manufacturer suggests using one to move raw meats onto the grill and one to take cooked meats off, or one for meats and the other for fish and poultry. Either way, it helps limit the risk of cross-contamination and foodborne illness.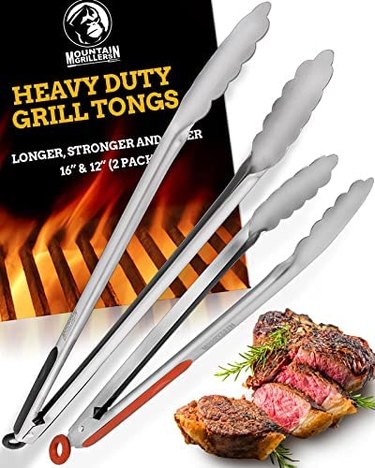 The Best Heavy-Duty Grill Tongs
Grille Perfect 16-in. Extra-Long Stainless Steel Tongs
If you routinely grill or barbecue large cuts of meat (they're not the same thing, as any 'cue enthusiast will tell you), you need a set of tongs that you can be confident in. These high-quality, heavy-duty, 16-inch grill tongs from Grille Perfect are exactly that. Everything about them is oversized and burly, from the thick steel handles to the oversized hand grips to the unusually long, wide grips at the "business end" of the tongs.
They'll handle big hunks of pork shoulder, full racks of ribs and entire chickens with equal ease. The gripping end of the tongs resembles a Venus fly trap, with one scalloped edge and one raked "Meat-Grabbing edge." Use the scalloped side for delicate meats or side dishes, and the gripping edge for your big cuts. There are plenty of other good heavy-duty tongs out there (Weber's 18-inch Precision Grill Tongs come to mind) but it's hard to top what Grille Perfect brings to the table.
The Most Versatile Grill Tongs
The two most fundamental grill tools are spatulas for burgers and other delicate foods, and tongs for everything else. These tongs from Allwin Housewares combine them—the food-gripping ends of these tongs are a pair of small spatulas rather than the usual ovals with scalloped edges. It's a brilliant idea, giving twice the function in one compact package. You can use them to easily turn burgers or delicate vegetable patties, or use them like conventional tongs with hot dogs, sausages, steaks and more.
You'll get two tongs in this bundle, a 9-inch and a 12-inch (a bit short, but still pretty usable) and the comfortable grips come in black as well as six bright, cheerful colors to match your decor. The tongs are dishwasher-safe for easy cleaning and have a pull-type lock at the hinge. Did we mention they come at a price that makes them a strong "value" pick as well?
The Best Non-Traditional Grill Tongs
Tool Wizard BBQ Tongs 16-in.
Most grilling tongs follow a very similar pattern, with a hinge and spring. Some break from the mold, though, and try alternative designs with varying degrees of success. One of the best is this set of scissor-style tongs from Tool Wizard. Unlike conventional tongs, which rely on the unaided strength of your own hand's grip, these use a double scissor-action mechanism to multiply your hand's strength. The mechanism is held together by four sturdy rivets, which stand up to heavy long-term use, and the hand grip is suitable for small or large hands.
The metal tongs are made of heavy gauge aluminum—rather than the usual stainless steel—which also makes them lighter than you'd expect. These tongs come in lengths ranging from 12 inches to a whopping 25 inches, which would certainly keep your hands well away from the grill grate, but we think the 16-inch version is the best for most users and that's why it's our pick in this category.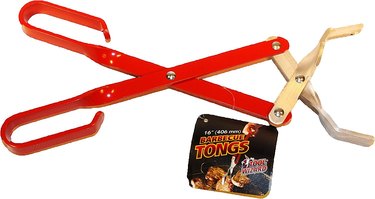 The Best Fish Tongs for Grilling
Hemoton Stainless Steel Fish Spatula
A few kinds of fish are sturdy and meaty enough to simply throw on your gas grill along with the steaks and chops (looking at you, tuna!) but most are too delicate to stand up to rough handling. Chefs have specialized fish spatulas for cooking indoors—long, slotted and flexible—but if you want to cook fish as part of your backyard barbecue? One option is to put the fillets in a specialized grill basket, but those tend to be flimsy (and sometimes, tricky to open and close when they're hot).
A better option is to turn the standard fish spatula into a pair of tongs, like these from Hemoton. The tongs consist of a pair of fish spatulas—one larger for flipping, one smaller for gripping from above—manufactured from one seamless piece of stainless steel. At 12 inches, they're on the short side for grilling tongs, but you'll probably keep fish to the perimeter of your grill anyway (they don't need to be on the hottest part of your grill, and you probably don't want them to exchange flavors with your beef or chicken). Overall, they represent a good solution to a familiar problem.
Tip
Oiling the fish, not the grill itself, will help prevent your delicate fillets from sticking.