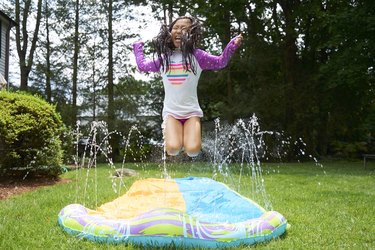 As nice as it is to have access to a swimming pool or beach, you don't need one to stay cool this summer. You can bring the water fun to your own backyard without having to worry about floaties, chlorine or your kids fighting over the best pool raft. Instead, they can fight over the coolest water blaster.
There are plenty of outdoor water toys that can make the summer heat more bearable and give your kids something fun to do outside (and you, too). Splash pads, inflatable play centers and water tables are great for little ones, while water balloons, sprinklers and water blasters offer bigger kiddos and grown-ups hours of active fun.
What to Consider When Purchasing Outdoor Water Toys
​Material:​ When you're dealing with backyard water toys, it's always important to make sure the toy has room to air out to avoid mold. Certain materials dry faster and are less prone to mold than others, like polyvinyl chloride (PVC) or polyethylene (PE). You can also find water toys that are made of plastic alternatives for eco-friendly play, but most are made of plastic.
​Storage:​ It isn't hard to store small outdoor water toys like water soakers and sprinklers, but larger ones like water tables and inflatable splash pads can of course take up more space. Since outdoor water toys generally aren't played with year-round, it's imperative to have enough storage space to keep the toys in a shaded, dry area to avoid sun and water damage.
​Age Range:​ If you're buying an outdoor water toy for a baby or a toddler, it's important to look at the age range. A toy designed for kids ages 3 and up might have small pieces that could be choking hazards or a toy designed for kids ages 5 and up might fill up with an unsafe amount of water for little ones.
​Child's Interest:​ A child who is interested in running through a sprinkler might not feel the same about getting wet from a water soaker. Gauge your child's interest and comfort level before splurging on an outdoor water toy they might not like. If your child is more active and likes to get wet and wild, a toy that induces active play like a sprinkler would be a good choice. If your child enjoys quiet play, a water table might work best.
We rounded up the best water toys of 2022 that'll cool off your whole family this summer. Check them out below.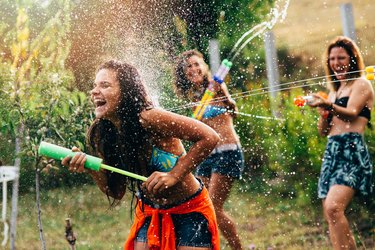 1. Hasbro Twister Ultimate Splash
A twist on the classic Twister game, this Ultimate Splash version connects to the hose for summertime water fun. Each spot on the Twister mat sprays water, making the mat extra slippery and extra fun. If you want a break from getting wet, the game can also be played without the garden hose either outdoors or indoors.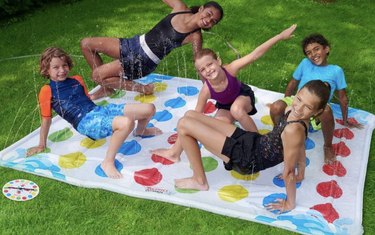 2. Step2 Splash Water Table
Perfect for toddlers and preschoolers who enjoy water play, this water table is a fun sensory activity that's basically a tiny water park right in your backyard. Your little ones can splash around and pour water into a waterfall tray that creates a fun rainfall effect. The play table comes with 13 pieces for them to play and explore the water with, including buckets, scoopers, a rubber duck and spinners.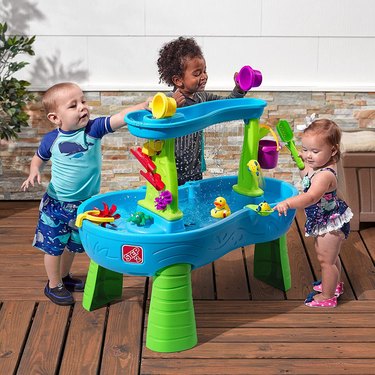 3. Max Liquidator 6-Pack Water Blaster Set
You don't need a swimming pool to soak your friends—an inflatable pool, a bucket or anything that can hold a bunch of water will do just fine. This 6-pack of water soakers can shoot water up to 30 feet. They're super fun for kids to play with, but they also can help cool down your whole family when it's hot outside.
4. H2OGO! Double Lane Water Slide
You remember the classic Slip 'N Slide from the '90s, right? This Double Lane Water Slide is just like that, only better, because it has two lanes for double the fun. Simply lay the mat out in a large enough grassy area (there needs to be enough room to get a running start) and attach the hose. The end of the slide has a small splash pool for a softer (and wetter) landing.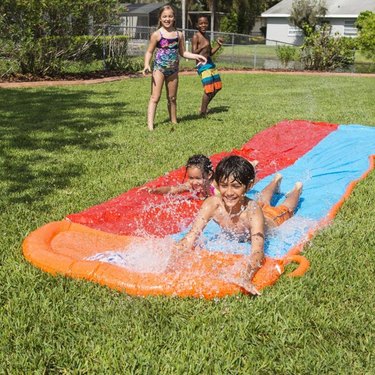 5. Sun Squad Wet and Wild Light Show Sprinkler
This isn't your average water sprinkler. When connected to a hose, the spinning, water-spouting tubes on the sprinkler spray every which way for a crazy fun time. The battery-operated dome in the middle lights up for even more fun. This sprinkler toy is designed for kids ages 3 years old and up.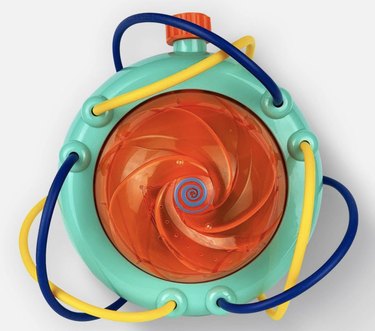 6. Quanquer 3-Pack Water Blasters
Three water blasters are way better than one. Made with high-quality, nontoxic ABS plastic, the water guns are lightweight and have a nonslip handle, making them a great size for kids and adults alike. The blasters hold up to 600 cubic centimeters of water, which is enough to shoot around 60 times at 28 to 32 feet for a super fun water fight. To shoot, slide the pump handle forward and pull it back to fire. The more pump pressure you give, the more shots you have. This three-pack comes in four different color options.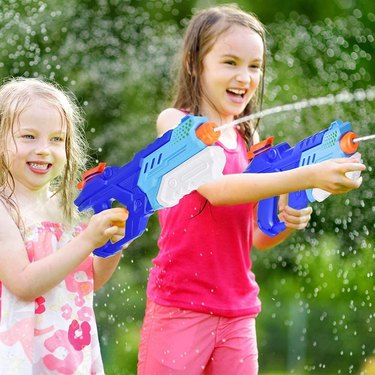 7. Action Air Inflatable Waterslide
When you can't get to an actual water park, this inflatable waterslide is the next best thing. Whether your kids are climbing the rock climbing wall, going down the shark slide, shooting the water canon, sneaking through the cozy cave underneath the slide or splashing in the pool, there's a lot of fun to be had. This mini water slide comes with everything you need to set it up within minutes: an air blower, water tube, repair patches, lawn stakes, blower stakes and a carrying bag.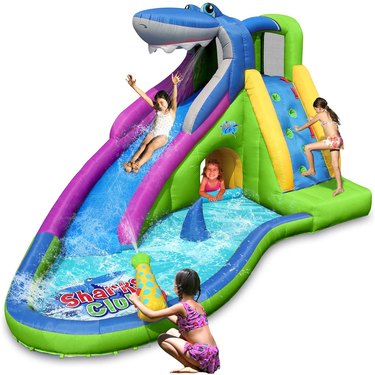 8. WowWee Nerf Super Soaker RoboBlaster
Play against another Nerf Super Soaker and knock down the targets to disable it and win—or use it alone to drench your friends, family and unsuspecting neighbors out for a walk. Although, they might not be too thrilled about that. This water game is a fun way to battle friends while staying cool in the summer heat. Choose from the standard Super Soaker or the upgraded version that comes with a bonus water blaster.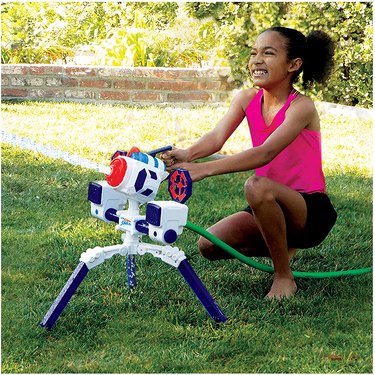 Your kids will love these water balls because they soak up water and can be reused over and over again. Made of soft cotton, the balls are eco-friendly versions of water balloons. These pool toys can be used in or out of the pool—all you need is some water and some people willing to get wet and have a great time. The balls come with a mesh bag that can hold all 56 multicolored balls when they aren't in use. A plastic water gun is also included with your purchase. To ensure they last a long time, wash the balls in water and let them air dry before placing them in the storage bag.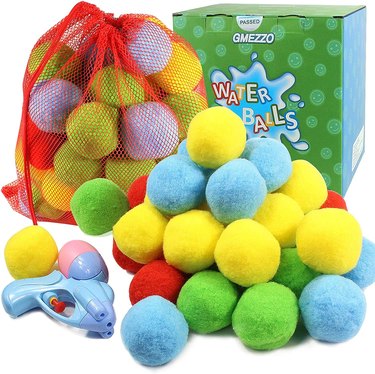 10. Bunch O Balloons Recycled Plastic Water Balloons, 3-Pack
If real water balloons are more your thing, check out this three-pack of neon-colored balloons. Using O-ring technology, the balloons self-seal, so there's no need to tie them. You can fill and tie 100 balloons in 60 seconds, which definitely beats the olden days of manually blowing up a balloon, attaching it to a faucet or hose and then tying it with your fingers. While the balloons aren't the most eco-friendly outdoor toy option, they are made from natural rubber derived from plants, and the stems and caps are made using recycled plastic—so at least there's that.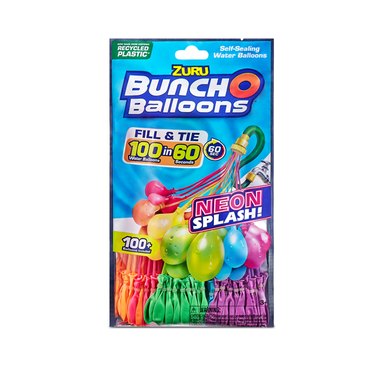 11. Oeves Inflatable Swimming Pool
If you want to bring outdoor play to the next level while beating the heat, this inflatable pool will get the job done. It may look like a kiddie pool, but it's big enough to hold the whole family. The pool comes with a removable UPF50+ canopy (the highest rating for sun-protective fabric) to block the sun's rays. Choose from two sizes: 95 inches long, 56 inches wide and 22 inches high or 120 inches long, 72 inches wide and 22 inches high.