Making your own popsicles is a great way to provide tasty, refreshing, healthier snacks for the kids—and yourself. The best popsicle molds make it easy to turn everyone's favorite fruit juices, smoothies and purees into enjoyable frozen treats (with less effort than using an ice cream maker). They can even help prevent sticky messes with helpful features like drip guards.
Of course, ice pop makers are reusable, so they're a more cost-effective, more environmentally-friendly alternative to buying packaged popsicles at the grocery store. Plus, you control the ingredients, meaning you can avoid the added sugar, dyes and other undesirable stuff in many store-bought products.
And don't think that making homemade popsicles is a very limited endeavor. You can get creative and fancy if you want to, adding whole fruit, cream, yogurt, melted chocolate, pudding, gelatin, jam and more into your popsicle molds. Then there are boozy ice pops for adults too, and they're sure to be a hit at your summer barbecues.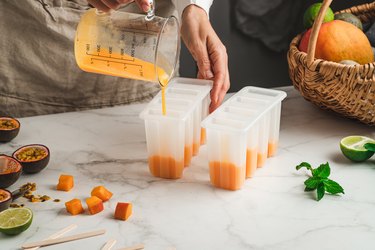 What to Consider When Purchasing Popsicle Molds
‌Material:‌ Most popsicle molds are made of plastic or silicone. Plastic has been around longer, and it tends to be the lowest-cost material. However, it often takes some wiggling and a quick hot water bath to extract the popsicles. Silicone is flexible and tends to perform better in this respect, but that also makes handling a little more delicate when the mold is filled with liquid.
You can also find metal popsicle molds. These work well and are more durable, but they cost more than the alternatives. Stainless steel is a better choice than aluminum, as it holds up better and isn't as susceptible to rusting. Whatever the material, check if a particular product is dishwasher-safe if that's important to you.
‌Popsicle Size and Shape:‌ Like ice cube trays, popsicle molds produce ice pops in a range of shapes and sizes. Many molds make classic popsicle shapes, but others make dinosaurs or other animals, stars, cartoon characters, holiday shapes and so on. Also, consider how big you want your popsicles; are they mostly for a toddler, or are they for hungry teens or adults? For reference, most standard store-bought popsicles are about 3 fluid ounces. Molds generally range from 2 to 4 ounces, with toddler versions coming in at around 1 ounce.
‌Popsicle Stick:‌ Lots of popsicle molds these days come with reusable silicone or plastic sticks or handles. Some even have drip guards for mess-free consumption, though young children may choose to refute such marketing claims. You can also find plenty of options with classic disposable wooden sticks or even reusable bamboo sticks. There are also push-pop style molds that don't use sticks; instead, you squeeze the mold or push up on the bottom to gradually eject the frozen treat.
‌Kit Size:‌ Standard ice pop mold sets make six popsicles, but you can find kits that make fewer or more. In addition to how many popsicles you want to make at the same time, consider how much freezer space the base and molds will take up. If you're short on space, you might prefer a stackable set.
These factors should help you hone in on the best popsicle molds for your needs.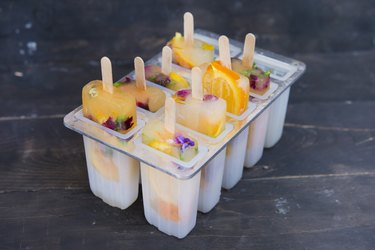 The Best Overall Popsicle Molds
This is a top pick for classic-shaped ice pops at a standard size of 3.1 ounces. Made from BPA-free plastic and silicone, there's a base, six removable molds, and six reusable plastic sticks with drip guards that snap securely onto the molds. The mold openings are broad enough to fill easily, and the silicone molds readily release their frozen snacks. Having individually removable molds is convenient, so you don't have to warm the whole base if ever necessary to release the pops. It's not a dishwasher-safe product, but all the components are a breeze to clean by hand.
The Best Budget Popsicle Molds
If you're looking for a budget-friendly popsicle mold that's well designed and durable, you can't go wrong with this one. It makes six 3.3-ounce popsicles and it's made from nonstick food-grade silicone, so you're not sacrificing the number or size of the pops or the product's performance for the low price. And it even comes with a silicone funnel for mess-free filling and a handy cleaning brush.
The Best Popsicle Molds for Babies and Toddlers
This is a great pick for making ice pops for babies 6 months and older and toddlers. They're 1 fluid ounce—a perfect portion for teething babies and young kids—and they have ringed handles that are perfectly sized and shaped for their little hands. There are also wide drip guards with channels on the handles to minimize the mess. The product is made from sturdy, BPA-free polypropylene and makes four popsicles at a time.
The Best Fun Shape Popsicle Molds
If you want to make ice pops in fun shapes for the little ones—or your favorite archaeologist—these 2.64-ounce dino pop molds are sure to please. They produce impressively detailed popsicles that are obviously dinosaurs—none of those odd, indistinct shapes you get with many budget-friendly animal-shaped products for kids. And, for a cool and unique touch, the plastic sticks are shaped like fossils and the handles are shaped like the dinos' tails. The sturdy silicone mold makes four popsicles (each a different dinosaur species) and easily releases them. As an added bonus, this is a dishwasher-safe product.
The Best Popsicle Molds With Wooden Sticks
This set delivers a classic popsicle experience, from the shape to the 3.4-ounce size to the wooden popsicle sticks. Even the fun mint color is kind of retro. Made from dishwasher-safe, BPA-free, food-grade silicone, it's a durable product that lets you easily remove the popsicles. It makes an above-average 10 pops at once (which offsets the slightly-above-average price) and comes with a helpful silicone funnel for filling the molds, as well as 50 disposable wooden sticks.
The Best Push-Up Popsicle Molds
For push-pop style popsicles, this set is the way to go. It has six squeezable, 3-ounce, BPA- and phthalate-free silicone molds with lids and a plastic base for freezing. The leak-proof lids attach securely, so you can close up the treat mid-consumption if necessary, or even use the molds as perfectly sized snack pouches. The pops easily slide up when you squeeze the mold, which helps prevent the sticky hands that can result from eating ice pops on sticks. The pieces aren't dishwasher-safe, but they come clean easily by hand with some warm water and soap.
The Best Space-Saving Popsicle Molds
If limited freezer space has you looking for space-saving stackable popsicle molds, look no further. This set of four dishwasher-safe 3-ounce molds lays flat in a stacked pile, even while the contents freeze. And if you're a little short on vertical freezer space as well as horizontal, you have the option to simply make fewer than four popsicles. The molds are silicone and the reusable sticks are made of plastic. A fill line in the mold provides helpful guidance, as does a line on each stick that shows you how far to insert it.
The Best Stainless Steel Popsicle Molds
For those who want to spend a little more on long-lasting stainless steel popsicle molds, this set is highly recommended. It makes six classic paddle-style popsicles, and at 4 ounces, they're big ones. The set includes reusable bamboo sticks, small silicone pieces that hold the sticks straight in the ice pops, and lids that double as drip guards. There are even extra silicone pieces in case you lose some. Conveniently, you can remove individual molds to warm and release the pops one at a time.
The Best Bulk Disposable Popsicle Molds
If you want to make lots of ice pops for a party or you don't want a bulky base and molds in your freezer, you might prefer the disposable plastic tube-style mold. There's no stick, and you just push the pop up out of the top of the sleeve. This set comes with 130 disposable tubes that measure 2 inches wide by 11 inches long, and it includes a funnel for easy, clean filling. The zip-locking sleeves close securely—an important thing to get right with this type of mold, and the price is good for the quantity and quality you get.