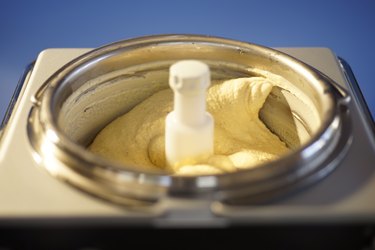 Ice cream is easy to find at just about any store, but very few of those mainstream products can compare with lush, rich flavors and textures you can get with homemade ice cream. You don't have to spend a whole lot on an ice cream maker—in fact, you can make ice cream without one—but if you're serious about your frozen treats, you might want to consider splurging on a good one.
The best ice cream makers let you turn out rich ice cream, ice milk, frozen yogurt and sorbet with minimal effort, and it's a great way to exercise your creativity with seasonal ingredients. So what sets the good ones apart from the rest? Let's take a look.
What to Consider When Purchasing an Ice Cream Maker
Before we get started, let's be clear about what kinds of machines are included in this review. If you're a fan of cooking competitions, you'll have seen chefs using refrigerator-sized commercial ice cream machines, an "anti-griddle" (it's flat, like a griddle, but extremely cold instead of extremely hot) or even liquid nitrogen to make ice cream. We won't be talking about those. You can also get an ice cream maker for a KitchenAid or other stand mixer, which attaches just like your current bowl and paddle. We won't be discussing those either (though they work well, and they're a good option if you already have the mixer).
With that out of the way, here are the main points you'll want to consider when purchasing an ice cream maker:
‌Chilling Method:‌ Old-school hand-cranked ice cream makers used ice and salt to create a low temperature for freezing. Moderately priced contemporary machines have an insulated bowl that's pre-frozen, and your ice cream maker recipes freeze as they're churned in the bowl. Higher-end machines have their own compressor, like a refrigerator, and are self-freezing. All three are effective, and all three have their pros and cons.
‌Capacity:‌ How much ice cream do you want to make at one time? A small machine might make just a single pint, while some can go all the way up to a gallon.
‌Size and Weight:‌ A closely related question is the ice cream maker's size. With freezer-bowl machines, you'll need to keep the bowl in your freezer (or plan ahead and freeze it whenever you intend to make ice cream), and the higher the capacity, the more space it will take up. There's also the question of how much room a given machine will occupy on your counter or in your cupboard, and—with some higher-end machines—how much it weighs.
‌Churning Time:‌ If you're the impatient type, this is a big one: How long does it take to make ice cream? Depending on the ice cream maker you choose, it can be as little as 20 minutes or as long as an hour. Bear in mind, that usually gets you to about a "soft ice cream" consistency and you'll still need to pop the finished product into your freezer for a little while in order to bring it to a scoopable texture.
A Few Ice Cream Making Tips
No matter what recipe you're using, chill your ice cream mixture thoroughly before churning it. A couple of hours will do, but overnight is even better. If you're making a traditional recipe that starts with an egg-based custard, an overnight rest will improve the texture of your finished ice cream.
If you're a novice, you'll be shocked at how much sugar is included in some recipes. It's not just for sweetness, but because sugar helps give the finished ice cream or sorbet its soft, smooth texture (and keeps it from freezing into a solid brick). If you want to reduce the sugar, you'll need to compensate by adding fat, alcohol, gelling agents or other ingredients. As a beginner, it's usually best to start with a recipe that's already designed and tested to be low-sugar or sugar-free.
Similarly, if you need to make ice cream that's non-dairy, low-carb or addresses some other dietary constraint, it's best to start with existing recipes and gain some experience before you try improvising. You may need to acquire a good kitchen scale, and learn how to deal with esoteric ingredients like xanthan gum.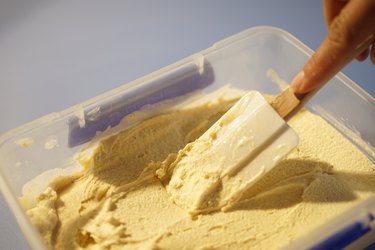 The Best Overall Ice Cream Maker
If you're looking for the Cadillac of home machines, this model from Breville fits the bill. Its built-in compressor means it's ready to use whenever the mood strikes, and it can give you finished ice cream in about 30 minutes, depending on which settings you choose and how big a batch you're making. The bowl will hold up to 1.5 quarts, but a half-batch freezes more quickly (that's basic physics), something to bear in mind if you're impatient.
The Breville has all the bells and whistles you could want, including a pre-chill function for the bowl to speed up your ice cream-making, a timer so you can load it and set it to start at a preset time, and a keep-cool function to preserve your ice cream's texture if you leave it in the machine. Most importantly, it will make some of the smoothest, creamiest ice creams you've ever had. If you're a serious ice cream lover, you can't go wrong with the Smart Scoop.
The Best Freezer-Bowl Ice Cream Maker
If you'd love to have a compressor-driven ice cream maker but find the price point a bit too rich for your blood, this Cuisinart ice cream maker gives you similar features—and impressive performance—in a freezer-bowl model. The bowl has a capacity of up to 2 quarts and can crank out a batch of your favorite ice cream or gelato in as little as 15 to 20 minutes.
The push-button operation and digital LCD screen make it easy to choose between the ice cream, gelato and sorbet settings, and to manually adjust the churning time to suit the specific recipe you're making. It's a sleek, compact unit, and at just over 13 pounds, it's half the weight (or less!) of a machine with a compressor. As freezer-bowl machines go, this one's pretty deluxe.
The Best Value Ice Cream Maker
For those of us who just want good ice cream without all the bells and whistles, it's hard to go wrong with this smaller, simpler Cuisinart ice cream maker. It'll still make a pretty large batch—up to 1.5 quarts—but at about 9 inches square and less than a foot high, and only 9 pounds, it's much easier for a casual ice cream lover to make space for it in their kitchen (there's also the price difference, of course!).
The ICE-21 couldn't be easier to operate: You pour your ice cream mix into the bowl, lock the lid in place and press start. That's it. Like its larger sibling, it'll turn out a batch of ice cream in about 20 minutes or so, and the machine has a large spout on the top for pouring your add-ins when the time arrives. All in all, this one offers some serious bang for the buck.
The Best Vintage-Style Ice Cream Maker
The whole point of ice cream making is to freeze the dessert as quickly as possible, which creates a fine texture. Old-school ice cream makers did that with ice and salt, which isn't as convenient as modern machines but is still highly effective. In fact, the only real issue with those old-school wooden-bucket models was the endless hand cranking.
This ice cream maker by Nostalgia captures the best of both worlds, using the traditional ice and salt in a wooden enclosure (plastic-lined, to preserve the wood), but with a modern electric motor providing the churning power. It turns out very good ice cream and frozen yogurt in batches of up to 4 quarts, which makes it ideal for kids' parties or stocking up your freezer for late-night indulgences. Churning time is typically a very reasonable 20 to 30 minutes, depending on the size of your batch.
The Best Unconventional Ice Cream Maker
A couple of decades ago, top chefs fell in love with an unconventional Swiss-made ice cream maker called the Pacojet. To make ice cream, you'd freeze your mixture to a solid block, then the Pacojet's powerful motor and proprietary blade would thinly shave and churn it to perfect creaminess in just seconds, in quantities ranging from a single (restaurant-sized) portion to a full pint. The only problem was its price, which (brace yourself) ranged from over $4,000 to $7,000 or more. That's fine for a chef with a busy restaurant but prohibitive for a home enthusiast.
Enter Ninja. The popular home appliance maker has created its own Pacjojet-inspired ice cream maker called the Creami, at a consumer-friendlier price. Like the Pacojet, you'll make up your ice cream mix in advance in the supplied pint-sized containers (two come with the unit, but you can order them separately in a 2-pack or a 4-pack).
When you want a treat, pick one of your prepared pints and pop it into the Creami. In as little as three to five minutes, you'll be enjoying your frozen treat. The machine is about the size and shape of a drip coffee maker, so it's counter-friendly, and those pint containers are easier to fit into your freezer than the big freezer bowl of a conventional ice cream maker machine. This is an unusual option, but well worth considering for anyone who's serious about frozen desserts.
The Best Splurge Ice Cream Maker
Serious question: How much do you love ice cream? We concede that the price of this unit might make you swallow pretty hard—if the Breville is a Cadillac, the Lello is a Rolls-Royce— but it's not actually as bad as you'd think. If you're currently plunking down for two to four pints of premium ice cream per week, it won't take all that long for even a high-end machine like this to pay for itself.
And what a machine the Lello is, turning out the closest thing to professional artisanal ice cream or gelato that you can manage at home. The powerful motor and compressor of this Italian-made model will let you crank out a full liter (just over a quart) of ice cream in about a half-hour, or a smaller batch (2 1/2 to 3 cups) in under 20 minutes. More to the point, it'll be the smoothest and creamiest ice cream you've ever tasted. If you're willing to splurge in order to get that, the Lello is the machine you should aspire to.