A paper towel holder has two very important jobs: To hold your paper towels and to store them in an easily accessible place. The best paper towel holder will reduce the time and effort it takes to grab one while also keeping the roll in a stable position. You can set a paper towel dispenser on your kitchen countertop, in the cabinet underneath the kitchen sink, attach or mount it underneath a shelf, or mount it to the wall. Wherever you put it, it needs to be handy enough so you can quickly tear one off.
If you have limited space in your kitchen, you might want to go with a mounted paper towel holder to save on counter space, but if space isn't an issue, freestanding or mounted will get the job done. Even though a paper towel dispenser is largely covered by a paper towel roll, you can still purchase one that matches the style of your kitchen decor.
What To Consider When Purchasing a Paper Towel Holder
​Material:​ The most common paper towel holder materials are plastic, stainless steel or wood.
​Plastic:​ The least expensive of the group, plastic does well in the kitchen as it's resistant to liquids. It isn't, however, the most durable or eco-friendly and might need replacing more often than stainless steel.
​Stainless Steel:​ The most durable option, stainless steel is long-lasting and resistant to liquids. It also blends nicely with most styles of home decor.
​Wood:​ A wood paper towel holder is durable and tends to come with an added coat that protects it against spills. But over time, the coating can wear off and moisture can accumulate, which can cause mold, rot and breakage.
​Type:​ There are three general types of paper towel holders: freestanding, wall-mounted and in-cabinet.
​Freestanding Paper Towel Holder:​ The most common type of paper towel holder is a freestanding holder that can be placed on the countertop. As long as your kitchen countertop has enough space and your cabinets aren't too low for it to fit, freestanding is a great option.
​Wall-Mounted Paper Towel Holder:​ The best option for a kitchen counter with limited space is a wall-mounted paper towel holder, but it also works great even for counters with ample space. It keeps the paper towels off the counter and out of the way.
​In-Cabinet Paper Towel Holder:​ In-cabinet holders tend to have a hook that loops over the top of a cabinet door, which keeps it handy while remaining out of view. They can also be mounted.
​Design:​ The design of paper towel holders usually entails a rod and a base, but some have extra features that can make it easier to dispense, organize and store, including hanging hooks, tension arms and shelves.
​Hanging Hooks:​ Found on some wall-mounted or cabinet-mounted paper towel holders, hanging hooks can hold various kitchen accessories like dish towels and cooking utensils for added kitchen storage.
​Tension Arm:​ A tension arm makes it easier to tear off a paper towel on a freestanding paper towel holder. It allows you to use just one hand to tear it off instead of needing to hold the roll with one hand while tearing with the other.
We rounded up the best paper towel holders of 2022 for your shopping convenience. Check them out below.
The Best Overall Paper Towel Holder
OXO Good Grips Steady Paper Towel Holder
Our top pick for the best paper towel holder is the OXO Good Grips holder. It has a weighted, non-slip base that offers stability along with lipped edges that can hold up to jumbo-sized paper towel rolls. The countertop holder offers smooth rotation for easy tearing and a knob at the top is easy to grab for portability to the dining room (or, wherever it's needed). Its stainless steel design fits with any decor. It doesn't have many bells and whistles but when it comes to a basic kitchen accessory, sometimes simple is best.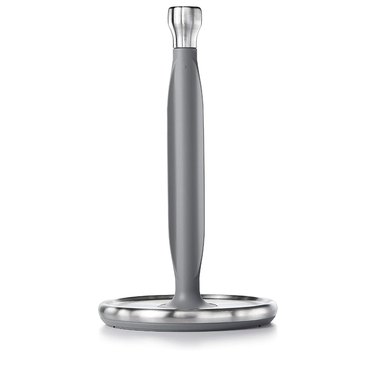 The Best Budget Paper Towel Holder
Mainstays Paper Towel Holder
If you want a solid paper towel holder for a low price, this Mainstays kitchen paper towel holder is a great option. Even though you'll only be spending a few dollars, this one gets the job done well. Made of durable metal wire with a black finish, it comes in a standard size and can fit most paper towel rolls. Three round feet on the bottom help balance and keep the roll holder in place.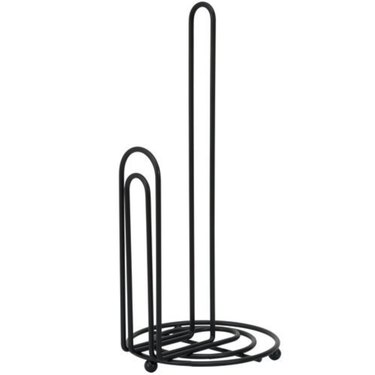 The Best Space-Saving Paper Towel Holder
Vaehold Adhesive Paper Towel Holder
We love the versatility of Vaehold's Adhesive Paper Towel Holder. It can be installed under a cabinet or on a wall (vertically or horizontally), with both options keeping it out of the way. There are two methods of installation: Use the included adhesive pad and stick it on a smooth wall surface or drill a hole on the preferred surface to mount it with a screw. Choose from a black, gold, rose gold or silver finish.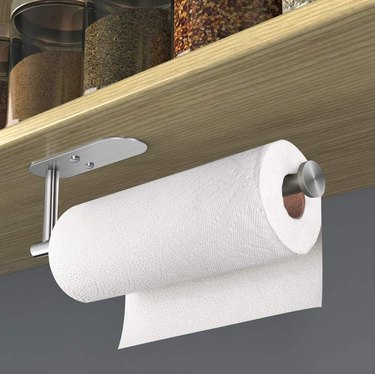 The Best Magnetic Paper Towel Holder
Spectrum Diversified Magnetic Paper Towel Holder
A smart way to keep your paper towel holder conveniently close while also staying out of the way is to simply place it on the refrigerator using a magnet. This magnetic paper towel holder from Spectrum Diversified is magnetized to mount to the refrigerator without the need for drilling or adhesive. Made of durable plastic, the arms are strong enough to keep the roll in place during use, while easily releasing the roll for replacement.
The Best Wall-Mounted Paper Towel Holder
Simplehuman Wall-Mount Paper Towel Holder
This wall-mounted stainless steel paper towel holder from Simplehuman is the perfect addition to any kitchen. Simplehuman makes top-notch, high-quality products, and the durability of this holder is no exception. The ring spring holds the roll securely in place so paper towels can be pulled off one at a time without unraveling half the roll. The mounting bracket is extra strong, so you won't have to worry about it being pulled off the wall.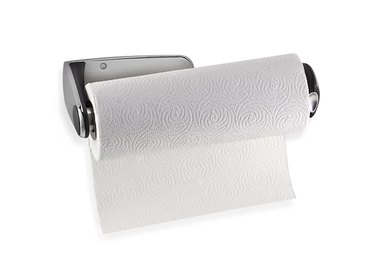 The Best Easy-Tear Paper Towel Holder
Kamenstein Perfect Tear Paper Towel Holder
Being able to pull and tear a paper towel with just one hand without the entire roll unraveling is actually possible. Kamenstein's Perfect Tear Paper Towel Holder has a small rod to assist with the one-handed tears. The stainless steel roll holder has a weighted base that's also non-skid, enabling the unit to stay in place. The rolling mechanism ensures that the paper towel roll will never get stuck.
The Sturdiest Paper Towel Holder
Smartake Paper Towel Holder
A paper towel holder should make your life a little easier, and that's exactly what Smartake's holder does. It's made of durable stainless steel with nonslip silicone pads on the bottom to help it stay put when you're tearing off a paper towel. A tension arm holds the roll in place and provides the perfect tear, and the knob on top of the unit makes it easy to move around your countertop.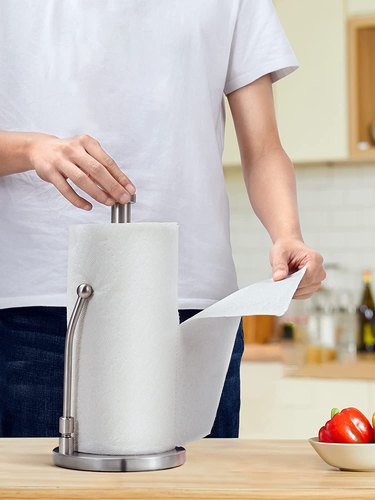 The Best Paper Towel Holder With Storage
mDesign Paper Towel Holder With Storage Shelves
The mDesign Paper Towel Holder is a great way to add storage space to your kitchen. The wall-mounted chrome paper towel stand comes with a top storage shelf for easy accessibility to your spices or cooking oils, a towel rack for dish towels and five hooks to hang cooking utensils. The holder comes in several finishes to match any kitchen decor, including black, silver, bronze, chrome, copper and graphite gray.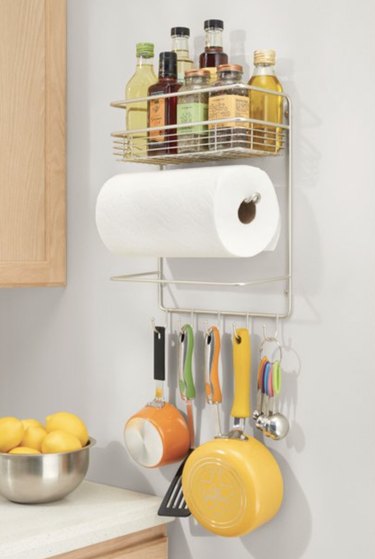 The Best Under-Cabinet Paper Towel Holder
iDesign Swivel Paper Towel Holder
Add some organization to your kitchen space with the iDesign Swivel Paper Towel Holder. It can be mounted under a cabinet above your kitchen counter for easy accessibility, below the kitchen sink to have it at arm's reach while remaining hidden, or on the wall. A swivel feature keeps the roll in place and prevents it from accidentally unrolling.