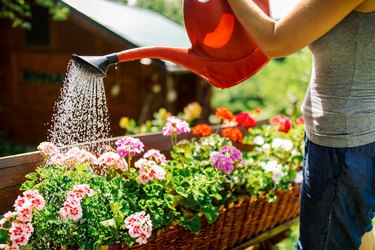 All plants require water to produce healthy growth and survive, including low-water plants like succulents and cactus. Without water, they will eventually die. Regardless of whether you're a novice gardener or have years of experience, a good watering can is an essential addition to your arsenal of gardening tools. Even if you are watering plants using a garden hose, using an outdoor watering can allows you to control the amount of water for specific plants that might need more of a drink when others don't.
When it comes to choosing a watering can, you have a wealth of different choices in sizes, styles and materials, and although they are similar in design, each is best suited for a particular function. Whether you need it for watering indoor plants or for an outdoor garden, the ideal watering can should be easy to use, doesn't create a mess and easily reaches those hard-to-reach areas like hanging baskets.
Since selecting the appropriate style of watering can can be a bit tricky, we've tried to take the mystery out of selecting the best watering cans for every situation. Below, we've outlined some important considerations when choosing a watering can and some specific styles we feel tick all the boxes in what makes a good watering can.
What to Consider When Purchasing a Watering Can
​Size and Holding Capacity​: The size and how much water the watering can holds is an essential factor when choosing one that's appropriate for your particular needs. If you select one too small, you'll be running back and forth to your water sources filling it up. On the other hand, if you choose one that's too big, it may be too heavy and inconvenient to lug around.
When making the selection, consider whether you're using it indoors or outside, how many plants you'll need to water, and how much weight you can comfortably carry. If you're watering an indoor garden of plants, you can get away with a smaller selection. However, if you'll be using it in an outdoor garden, you'll need a larger one.
​Material:​ Another important consideration when selecting an appropriate watering can is the material it is made out of. Most watering cans are made of metal, plastic and ceramics, which is less common, with each material having unique characteristics. Plastic cans are usually less expensive and lightweight, making them easier to carry and are usually translucent so you can see how much water is left.
Metal watering cans are usually more durable and are a good choice for heavy and frequent use. However, a metal watering can may rust, so be sure to purchase one that is rust-resistant so it lasts longer. Ceramic watering cans are more decorative and are best suited for indoor plants.
​Length of Spout and Configuration​: Another point to consider when finding a good watering can is its spout length and whether it has a removable spout rose, which is the detachable end of the spout that has tiny holes and allows the water to flow out in a gentle spray. These models allow you the choice of two different watering modes—a steady stream of water when the rose is removed, or a more gentle spray when on. Watering plants with the attached rose is a good choice when watering seedlings or when you don't want to disturb the soil.
The length of the spout is important to consider, especially if you're using the watering can to water hanging baskets or plants in hard-to-reach areas. An easy-pour and long spout watering can allow you to irrigate these plants without creating a mess and control the water flow.
The Best Overall Watering Can
NOBONDO 1-Gallon Watering Can
The NOBONDO watering can is made from high-quality polypropylene plastic and holds a gallon of water, which means you can water various plants without the need for constant refills. The top opening means easy refills and its sleek design makes the watering can as attractive as it is useful. It's suitable for use as an outdoor watering can or used for indoor plants. The watering can is sturdy and well-balanced with two ergonomic handles, containing one on the side and one up top making for easy handling.
The long spout watering can has a removable spout, allowing either a steady stream of water or a gentle spray. The rose-shaped shower head is made of high-quality stainless steel, making the spout watertight, while the longer spout means no dripping when watering. The large refill opening makes mixing water-soluble fertilizer easy in the watering can. Its sleek design and warm green color mean you can leave it sitting outside on a shelf and it won't be an eyesore. It's overall a good watering can that ticks all the boxes.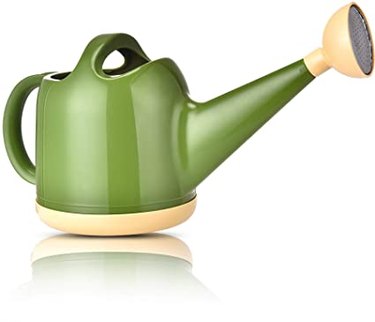 The Best Large Capacity Watering Can
PMU 2-Gallon Watering Can
If you're looking for a plastic watering can that holds more than a gallon of water, then the PMU 2-gallon watering can might fit your needs. It has a durable blow-molded design and comes in the colors hunter green, sage green, purple and blue, so there's something to fit everyone's design taste. The ergonomic handle is designed for comfort and non-slip use and is suitable for use by both children and adults. You can grip the handle on top or on the side, allowing for more control of the water flow and the amount of water given to each plant.
The plastic watering can has a removable spout that can produce either a steady stream of water or have a sprinkler effect when attached, and the sturdy gasket means no leaking. Whether you want to water your houseplants or need it for outdoor use, the durable PMU watering can will fulfill those needs.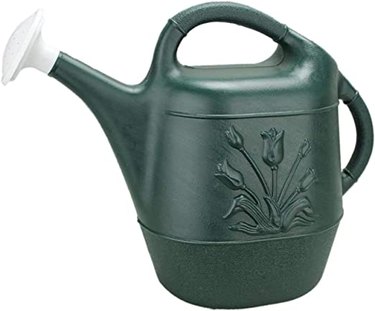 The Best Watering Can for Indoor Plants
DR.UANG Watering Can for Indoor House Plants
Whether you have indoor hanging baskets of plants or they're sitting in a window, the Dr. Uang indoor watering can with its 14-inch long spout will reach and water them with ease. The plastic watering can holds 1.8 liters of water and its opening allows for easy refills of water, as well as letting you to easily mix your water-soluble fertilizers in it. The small watering can is lightweight and the ergonomic handle and long spout make it easy to pour, with the ability to evenly water your small plants or even those delicate plants that can be easily damaged.
The plastic watering can offers two methods of easily pouring or watering. Take off the removable spout for a steady stream of water or leave it on for a sprinkler effect. You also have a choice in pastel colors as it comes in blue, gray, pink or white. Although the Dr. Uang watering can is perfect for use on your houseplants, it's also suitable for use in your outdoor garden.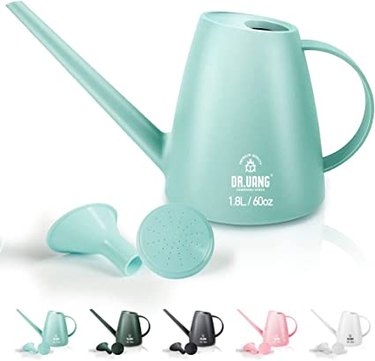 The Best Metal Watering Can
Homarden 1-Gallon Copper Colored Watering Can
The Homarden 1-gallon, copper-colored steel watering can has a retro design and is made from rust-resistant high-quality galvanized steel that is built to last. It holds a gallon of water, so you won't be running back and forth refilling. The metal watering can is painted with high-quality copper-colored paint, making it attractive enough to give as a gift but also efficiently designed to get the job done. The two handles have an ergonomic design, making the metal watering can easy to handle and easy to pour. It has a removable sprinkler spout that simply screws off and on, allowing for a steady stream of water or a sprinkler effect. The Homarden water can is suitably used as an indoor watering can or used in your outdoor garden and will look great while doing its job.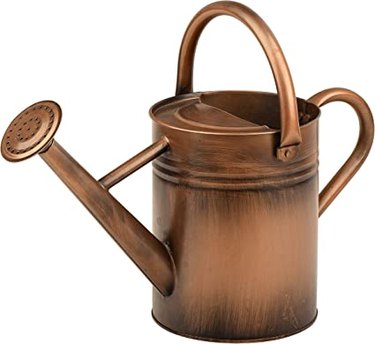 The Best Lightweight Watering Can
Jutrox Plastic Watering Can
If you're looking for a lightweight plastic watering can that still holds a decent amount of water and is easy to carry around, then the Jutrox watering can might fit your needs. It's made of durable, high-quality resin, making it shatter-proof and impact-resistant. It has an ergonomic design for easy handling and a long spout, giving a steady stream of water exactly where you want it to your hanging baskets, indoor or outdoor plants. The plastic watering can holds 0.5 gallons of water, cutting down on the need for frequent refills. Its sleek design means it can sit on a shelf in plain view and not be an eyesore.