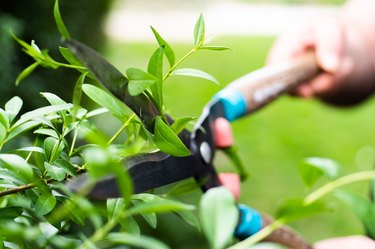 One of the most common gardening tasks to keep your garden looking its best is pruning. Whether that's deadheading spent flowers or cutting off undesirable branches from trees, you need the appropriate garden shears to get the job done effectively. Since some aspects of gardening can be labor intensive, you'll want to make sure you select a tool that works for you (so you don't spend all of your energy working the tool).
Pruning tools include everything from loppers that cut through branches, hand-held gardening shears or snips perfect for smaller jobs, and larger garden shears for trimming bushes. Using a high-quality tool appropriate for the specific job means less frustration and wasted energy. Not to mention, you'll finish your outdoor chores more quickly and can spend the rest of that time relaxing. Here we've outlined the most important considerations when selecting a pruning tool and selected the best-quality garden shears to accomplish your garden work.
What to Consider When Purchasing Pruning Tools
​Function:​ One of the most important aspects of selecting a garden tool is choosing the correct one for the job you plan on using it for. Working with an incorrect tool will only lead to frustration and the inability to do the job efficiently and correctly. If you need to trim off tree branches you'll need to use anvil loppers or bypass pruners, as they can cut through smaller branches usually up to 1.25 inches in diameter.
On the other hand, if you'll be giving your bushes a trim, using a pair of garden shears or pruning shears will make quick work of the job. Although you can usually trim using a pair of hand-held pruners, it will take longer to complete your trimming work. If you're pruning off spent flowers or cutting through thinner stems, the hand-held pruners or shears will work well. Gardening snips will also work in cutting off spent blooms and thinner stems but won't be able to cut through thicker stems and branches.
​Weight:​ Another important factor to consider is the weight of the tool, especially since some garden tools like loppers can be quite heavy. Using a pair of loppers or bypass pruners that are too heavy are assured to wear your arms out long before the job is complete. The tool's weight might not matter that much if you plan on making only a couple of cuts, but if you're dealing with a bigger job, you'll want to make sure the garden tool is a comfortable weight for you.
​Material:​ Using a pair of clippers, bypass pruners or hand-held shears that are made from a heavy-duty material like stainless steel or titanium assures the tool will stand up to the work and last longer. Cheaply made clippers and shears can see the blades chipping or bending, which then results in poor cutting. When shopping for your garden tools, make sure they are made of a sturdy material that won't degrade after a couple of months.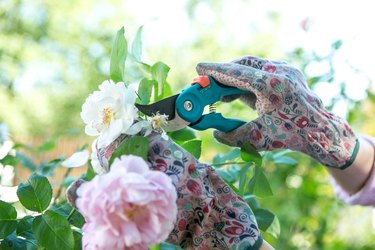 The Best Hand-Held Pruning Shears
Gonicc 8-in. Bypass Pruning Shears
The Gonicc hand-held bypass pruning shears, at 8 inches long, are the perfect size to use for a variety of trimming chores. Considered a bypass pruner due to the curved blade, these hand-held pruners are tough enough to cut through 3/4-inch live branches and lightweight enough that you won't wear out your hand muscles while using them. The blades cut like scissors and are made from Sk5 carbon steel and stand up to most moderate cutting jobs. There's also a groove to divert sap and keep the pruner's blades from sticking together. Additionally, the blades have been coated with anti-rust oil to prevent them from rusting.
The aluminum handles are ergonomically designed and wrapped in PVC, making them comfortable to hold and use. There's also a lever on the side where you can lock the blades together when not in use. These lightweight and durable hand pruners are a great choice for trimming your flowers, vegetables, bonsai, or removing smaller twigs and branches.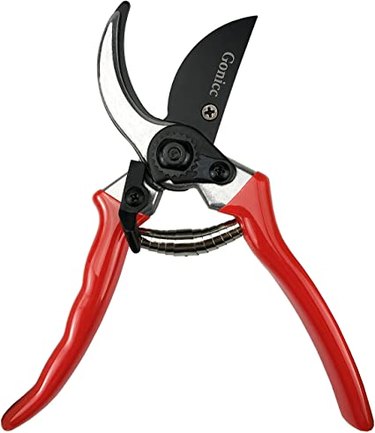 Fiskars Multipurpose Garden Snips
Fiskars Multipurpose Garden Snips allow you to do a host of jobs in the garden all with one small tool. Whether you need to cut wire, open a bag of soil or mulch, cut rope or trim off a plant stem, these garden snips will get the job done, and best of all, they come with Fiskars' lifetime warranty.
The handles of the garden snips are soft, making them comfortable to hold and use. The fully hardened and precision ground stainless steel blades are sharp and cut all the way down to the blade's tip. Spring action automatically opens the blades after each cut so you don't wear your hands out using the garden snips. The multifunction blades include a wire cutter, a blade with a serrated edge and a straight blade, allowing you to perform a wealth of jobs all with this one tool.
Fiskars 23-in. PowerGear Hedge Shears
Weighing in at only 1.8 pounds, Fiskars 23-inch PowerGear Hedge Shears are the perfect choice for trimming your bushes without wearing your hands and arms out in the process. These durable Fiskars shears won the Arthritis Foundation's Ease-of-Use Commendation for their design that's easy to use for people affected by arthritis. They'll also stand up to gardening chores without skipping a beat.
The hedge shear's DuraFrame handles are tougher than steel but still light enough to carry around, grip and maneuver in various positions to do your trimming. In addition, the shears feature the company's patented PowerGear mechanism that multiplies the cutting force near the center of your cut where the force is greatest. This gives more power to your cuts with less effort on your part. The 9-inch blades are made from hardened stainless steel and coated to reduce friction while you're cutting with the tool's overall length of 22 inches.
TABOR TOOLS GL16A Bypass Lopper
If you're looking for a bypass lopper that can stand up to cutting through larger branches then you can't go wrong with the TABOR TOOLS bypass loppers. The fully hardened carbon steel blades will cut through 1.25-inch diameter branches without a problem. The blades stay sharp after hours of extreme use and make pruning easy with their fast and precise cuts. The nonstick coating on the blades reduces friction, which makes cutting easier and extends the blade's life and sharpness.
The bypass loppers are 28 inches long and have ergonomic handles with soft grips. There's also a shock-guard bumper that absorbs any jarring action while cutting—saving your arms and shoulders from fatigue. The bypass blades work like scissors, making clean cuts, and are the best choice for cutting green wood.
TABOR TOOLS Anvil Lopper with Compound Action
If you're cutting dead wood then you'll want to go with a pair of anvil loppers as they work more like a knife pushing against a cutting board—crushing the wood as it breaks off. TABOR TOOLS' 30-inch long metal anvil loppers will easily cut through 2-inch diameter branches with little effort, clearing a dry, woody and overgrown area in no time.
The handle grips are ergonomically contoured for comfort and easy handling while using and ensuring a balanced weight, which means your arms and shoulders won't tire as fast. These anvil loppers have a compound lever system with various pivot points which increases the force applied to the blades, as well as a compound blade with multiple moving parts that multiply the force applied to the blade by three. If you have to cut larger and harder branches, this anvil lopper won't disappoint.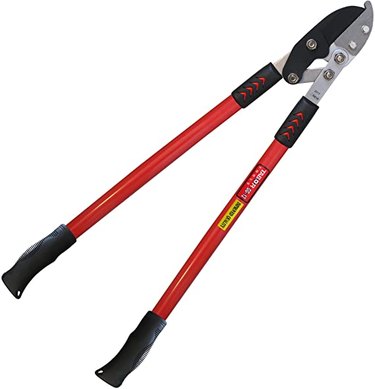 The Best Extendable Hedge Shears
Corona HS 3950 Extendable Hedge Shears
Corona has been a leading manufacturer of garden tools for years, and if you're looking for a pair of hedge shears that have extendable handles, you can't go wrong with their extendable hedge shears. The lightweight steel handles have a comfortable grip and extend from 15 to 26 inches, meaning you can reach areas you typically can't with normal-sized hedge clippers. The 10-inch blades are made from high carbon steel and are durable enough to stand up to the most heavy-duty trim jobs.
The hedge shears also have a bumper guard that will absorb all the vibration that can normally leave you with worn-out and tired arms and shoulders. The center precision bolt allows for smooth and effortless cutting. These Corona extendable hedge shears also come with a limited lifetime warranty.