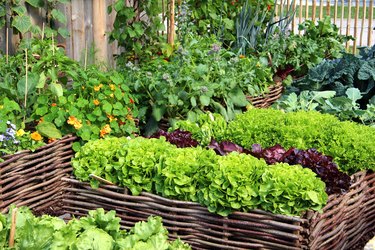 It's no surprise that gardening spiked in popularity during the pandemic, with most of us spending more time at home. It's an ideal hobby: It gets you out of the house, it's a gentle form of exercise that's suitable for all ages, and having even a small patch of greenery to tend can do wonders for your mood.
Unfortunately, not all of us have the space or the soil we need, and not everyone's capable of the bending that's needed to garden at ground level. That's where raised garden beds come in. With raised beds, anyone can garden successfully as long as they have a few feet of open, sun-lit space. Let's take a look at some of the best raised beds, and what sets them apart.
You'll find all kinds of raised beds at Amazon and other retailers, but broadly they fall into two categories. One type consists of open-bottomed frames, intended to sit on the ground in your backyard or gardening space. The others are freestanding planters with a bottom, and are suited for use on patios, decks and even apartment balconies. We'll cover both types in this discussion.
There are plenty of benefits to gardening in raised beds. In a full-scale garden, they'll help you succeed in the face of bad or rocky soil or poor drainage, and they'll extend your season (in short-season gardening areas) by warming more quickly than the surrounding soil. They also improve the appearance of your garden by creating neat borders around your plants and simplifying the task of landscaping around them. Elevated garden beds (deep, tiered or freestanding) reduce the bending and kneeling you'll need to do, making it easier for those with mobility issues to continue with the hobby. In short, there's a raised bed for every gardening situation.
What to Consider When Purchasing a Raised Garden Bed
‌Your Gardening Scenario:‌ Are you gardening on a base of soil, or in the hardscaped environment of a patio, deck or balcony? Beds for on-ground gardening tend to be lower and are usually (but not always) less costly. You can use one on a patio, but you'll need to put a something underneath in order to protect the surface. If you're switching to raised beds to ease the strain on your back, you'll want to be sure the one you choose is at a comfortable height for you, personally.
‌What You Want to Grow:‌ A very large percentage of these beds are 9 to 10 inches deep. If you're gardening on soil that doesn't matter so much because roots can grow down into your original topsoil. For patio gardeners, that's enough to grow flowers, herbs and vegetables with shallow root systems. To grow vegetables with long taproots, at least part of your bed should be 12 to 18 inches deep. That's enough to accommodate just about anything you might want to grow.
‌The Materials:‌ Wood is a traditional choice, but it ages quickly. Cedar and fir are the best for garden use (cedar is also naturally insect-resistant) and can last a decade or more if cared for. Other common options include durable metal, various forms of resin or plastic, and—though not usually offered as a garden bed kit—stone or brick. You'll need to balance aesthetics, cost and durability to decide which one works best for you.
‌Drainage and Watering:‌ On-ground raised beds don't really have issues with drainage, because excess moisture will simply seep out from underneath. It's more of an issue in freestanding raised beds and planters because without adequate drainage, water can accumulate and drown (or rot) your plants. You'll also need to be diligent in watering your plants because moisture will drain and evaporate more quickly. Some beds, but not all, include some form of self-watering to simplify the process for you.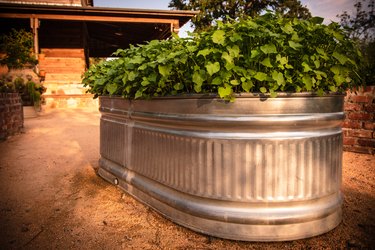 The Best Overall Raised Garden Bed
This simple offering from Best Choice Products will tick all the right boxes for most gardeners. At 4 feet long by 2 feet wide, it's large enough to grow meaningful quantities of herbs and vegetables or to create a lavish display of flowers and ornamentals (there are larger and smaller sizes available, too). The material is durable fir, and if you wish you can oil or stain the exterior to provide additional protection from the elements. This elevated bed stands 30 inches tall, a good height for most gardeners, and comes with a liner to protect the wood from damp soil. The bed is 9 inches deep, enough for most purposes, and there's plenty of drainage. All in all, there's a lot to like and very little to not like.
The Best Budget Raised Garden Bed
The simplest raised beds are essentially big, open-topped bags made of mesh, and within that category, we really like Victory 8's American-made offerings. Their proprietary AeroFlow fabric is UV-resistant and breathable, and the beds can be used either on patios and decks or directly on the soil. Setup couldn't be easier: Just unfold the bed and fill it with soil.
They're available in sizes from 2 by 2 feet all the way up to 4 by 8 feet (a standard-sized garden bed), but the 2-by-4-foot version pictured here will hit a sweet spot for a lot of gardeners. They're also deeper than most, at just under 12 inches, so there's essentially no limit on what you plant in one of these beds. You can even put them on an elevated platform, if you wish, to eliminate bending. Despite the low price, these will last for years, so they're excellent value for the dollar.
The Best Tiered Raised Garden Bed
Stacked or tiered garden beds provide a lot of versatility, giving you three different planting depths to allow for shallow- and deep-rooted plantings in the same bed. They're also visually pleasing, whether they're filled with herbs and vegetables or cascades of flowers. This all-cedar model from Yaheetech is a fine example. It measures 4 feet by 4 feet, with plenty of space for a meaningful quantity of herbs and veggies or a lavish display of blossoms. Planting depth in the lowest section is 8.5 inches and there are 21 inches of planting depth in the top section, so there are really no limits on what you can plant (even small trees). Assembly is simple, and the bottom is open for easy drainage.
If you don't have the space for one of these, you can find vertical container gardening beds (essentially a space-efficient frame that holds four or five planter boxes) that can give you a surprising amount of growing space but still leave you with a usable balcony.
The Best Metal Raised Garden Bed
Metal beds are usually more durable than wooden ones, though not everyone is on-side with their relatively industrial appearance. They're practical though, and there's a lot to like about this offering from Sunnydaze. The hexagonal shape isn't a gimmick, it has a lot of practical benefits: The relatively short, well-reinforced sides won't bow under the weight of your soil (long, straight walls sometimes will); you can put them together in any number of configurations; and the angled sides mean you'll always be able to reach into the middle for weeding, irrigation and harvesting. Planting depth is 16 inches, enough for the longest carrots or heaviest-feeding vines, and the durable galvanized steel construction means your beds will last a long, long time.
The Best Raised Garden Bed for Patios
If your gardening space is limited to a small patio or balcony, you need an elevated garden bed that will give you maximum productivity in a given space. If that's your goal, it's hard to top Keter's Urban Bloomer. Made from weather- and UV-resistant resin, it assembles in minutes but will last for years. At 32 inches long by 14 wide, it can fit most decks or balconies without crowding you out, and it's divided into six separate 12-inch-deep planting compartments for maximum flexibility.
There are a lot of thoughtful features to this design. It's self-watering, with a reservoir at the bottom, and there's even a watering gauge to let you know at a glance when it's time to top up. There's also a manual drainage spigot, so if a major rainstorm drenches your plants, you can take fast action to make the excess water go away. There's even a handy shelf under the bed to hold your gardening supplies. This is an excellent all-around product, and arguably the best raised garden bed for beginners.
The Best Raised Garden Bed on Wheels
One of the only real drawbacks to elevated garden beds is that they're heavy when full, so it can be difficult to move one if you decide you don't like its current position or if it's getting the wrong amount of sun. This attractive model from Best Choice is a nice upgrade from our top pick. It's essentially the same versatile, attractive planter, but with the addition of heavy-duty locking casters so the bed can be repositioned (or brought in for the winter) with ease.
The handy wooden shelf underneath is another welcome upgrade, providing a convenient place for your gloves or gardening supplies. The ease of movement, combined with the simple assembly and convenient height, means this is also a great elevated garden bed for seniors.