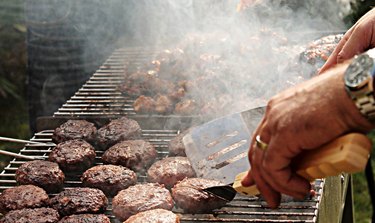 Summer is grilling season, and there are a few things you'll need in order to get started. To begin with, you'll need a good grill, of course, and food to cook on the grill. The final thing on your list— other than some friends to share it with—will be a handful of accessories designed for grilling.
Opinions are divided on grill tool sets. Purists argue that you're better off buying several separate "best of breed" tools, and there's a case to be made for that approach. That being said, there's value as well in having tools that are matched in size, style and weight, so you'll have a consistent experience no matter which tool you're using. If you're in the "give me a matched set" camp, you're in luck: There are lots of great options to choose from, and we're here to guide you through selecting the best grill tool sets.
What to Consider When Buying a Grill Tool Set
So, once you've decided to buy a matched set of grill tools as opposed to picking each one singly, what should you be looking for? We have some thoughts.
‌Size:‌ The core tools in any set are the tongs and spatula. Some sets have just those two pieces, but most flesh out the selection to varying degrees. You can expect larger sets to include some combination of a meat fork, a basting brush for sauces, or a cleaning brush for the grill. ‌Really‌ lavish sets might include knives or a meat thermometer, but usually, they're supplemented with lower-cost extras like corn holders and metal skewers. That's fine, you'll probably want to buy your own knives and meat thermometer separately anyway.
‌Storage Case:‌ Most grilling accessories are designed to hang neatly on hooks at your grill, where they'll be used, but that isn't always the most convenient option. A lot of backyard chefs prefer to take their tools out of the elements, but grilling-length utensils don't fit well in the average kitchen drawer. Some sets meet this need by providing a storage case, either briefcase-style or a soft-sided roll-up or zip-up bag. For any but the smallest sets, it's a nice option.
‌Ergonomics:‌ As with all cooking utensils, you'll get better use and more enjoyment from your grilling tools if they're comfortable and easy to work with. The handles should fit your hand comfortably and not get uncomfortably hot, the spatula should be large enough for your burgers but small enough to navigate a crowded grill, and the tongs should move smoothly and grip firmly but not require enough of a squeeze to fatigue your forearm. In other words, "try before you buy" whenever possible.
‌Dishwasher-Safety:‌ Life is a lot simpler when you can just throw your grilling tools into the dishwasher during cleanup, along with the rest of your dishes. Not all sets are dishwasher-safe, and—depending on your dishwasher—you might struggle to make everything fit, but it's a nice option to have.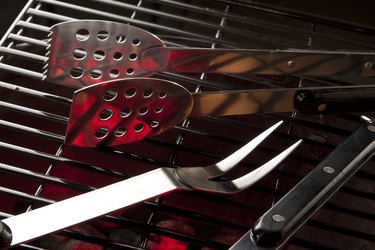 The Best Overall Grill Tools Set
The best grill tools set is arguably one that's "all killer, no filler," and that description fits this set perfectly. It consists of the four most foundational tools—tongs, spatula, basting brush and fork—and all of them are built to last from stainless steel. The fork, spatula and tongs are all sturdy enough to handle whole birds or the most massive steaks, and the perforated spatula has a bottle opener built in (because you'll want to crack a cold one while you're working the hot grill). The tongs lock for convenience and have silicone grips to keep them from being slippery when your hands are wet or greasy. The basting brush is just as long as the other tools, too, so you won't singe your hands while trying to sauce your food.
All four pieces have loops for hanging, and they're rust-resistant and dishwasher-safe. If you're a brand loyalist, the Weber Precision three-piece set is equally high in quality and a good purchase, but otherwise, the Alpha Griller set provides better value.
The Best Value Grilling Set
If your buying style is to get everything you can for the price you're paying, you're going to like this set. The spatula, fork and angled tongs are all sturdily built and functional, and the spatula has cutting edges on either side and a built-in bottle opener. The other core pieces include a silicone basting brush and a grill brush with a second head. That's a nice bonus because you can have one at the grill while the other is in your dishwasher. To flesh out the set, you get metal skewers, corn holders, and—another nice touch—a corkscrew for those who favor wine over beer or coolers. The entire set is rust-resistant and dishwasher-safe, and comes in an attractive and convenient aluminum briefcase. The individual pieces don't quite measure up to our top pick in quality, but the set as a whole provides excellent value and will serve you well for many years.
The Best Budget Grill Tools Set
Cuisinart's products may or may not be the best in any given niche, but they're always going to deliver solid quality at a given price point. This minimalist set is no exception, giving you the fundamentals you need—spatula, fork and tongs—without any added frills. And that's fine. The individual pieces are all sturdy and well made, constructed of stainless steel with black rubberized material on the handles for improved grip when your hands are wet or greasy. The combination of black and brushed steel makes them a good aesthetic match for just about any grill, and they're well enough constructed to handle even large cuts with assurance. The utensils are hand-wash only, but otherwise, they're an excellent set for the price.
The Best Minimalist Grill Tools Set
Getting as many tools as you can for a given price point is a valid strategy. So is buying the bare minimum you need but at the very best quality. If the latter is more your style, this two-piece set from Weber is an outstanding choice. It's the bare minimum that can be called a "set"—just the tongs and spatula—but both are exceptionally good. They're built to last, made of solid stainless steel with soft-grip handles, and each is thoughtfully designed.
The spatula is rigid enough to lift just about anything you'll put on your grill but small enough to nimbly navigate a crowded grill. It's also beveled on all three sides, so you can slide it easily under your burgers from the front or the side. The tongs keep a relatively flat angle, so they'll grip firmly without crushing or tearing your food, and have a hands-free locking mechanism for ease of use. They're even dishwasher-safe. If you're a "get the best individual tools" shopper, they'll give you the perfect foundation for your collection.
The Most Innovative Grill Tools Set
Sometimes all it takes to carve out your own niche in a crowded market is one really bright idea. That's the case—literally—with this set from Grillight. Like the two-piece Weber set, it consists of just tongs and a spatula, but in this case, it's not the workmanship that sets them apart. The Grillight set, as the name suggests, incorporates a small but powerful LED light into the handle of each piece. If you've ever kept the grill going past dusk (and who hasn't?), you'll understand immediately that it's a game-changer. Even with the best patio lighting, you'll sometimes struggle to see the food you're cooking, but when the lights are built right into your tools, they'll always be right where you need them. The tongs and spatula are perfectly serviceable in their own right, even in daytime, so it's not just a gimmick. They're worthwhile tools that solve a universal problem.
The Most Giftable Grill Tools Set
Many of us will cheerfully spend more on a friend or family member than we'd spend on ourselves. If that's how you roll, and you have someone in your life who loves grilling, this is a set that almost anyone would love to receive. It includes a very complete set of tools—tongs and spatula; fork, basting brush and cleaning brush; as well as corn holders and skewers—but everything is just that little bit "extra."
The tongs and spatula are very high quality; the basting brush is long so you won't feel the heat as you sauce your food; the cleaning brush is oversized and comes with an extra cleaning head; and the fork has a built-in meat thermometer so you can check the temperature of your food as it cooks. The fork also has a built-in LED light, so you can see where you're taking the temperature (which is important) even when it's dark. The entire set comes in a solidly constructed aluminum briefcase for convenient and durable storage. It's everything anyone could want in a grill tools set.