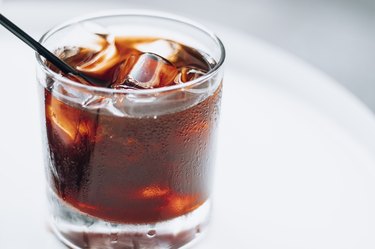 For people who like cold caffeinated beverages, cold brew coffee has become an increasingly popular alternative to iced coffee. There are a number of things that differentiate the two. For example, the brewing process takes longer for cold brew coffee, and—predictably, perhaps—it's done using cold water rather than hot water. Cold brew also has a longer shelf life, staying tasty for days, as opposed to hours for iced coffee.
Brewing with lower-temperature water also reduces the acidity and bitterness of the final product. This makes cold brew a friendlier option for those who experience heartburn or stomach upset after drinking coffee, or who don't particularly like the bitter taste of coffee and don't want to load it up with sugar. Cold brew also has a stronger, richer coffee flavor because of the extended steeping or brewing process.
As cold brew coffee has become an increasingly in-demand menu item at coffee shops, the number and variety of cold brew coffee makers for home use has increased too. So, it's important to know what to look for to find the best cold brew coffee maker for your needs and preferences.
What to Consider When Purchasing a Cold Brew Coffee Maker
​Brewing Method:​ Cold brew coffee makers typically use one of two brewing methods. One is immersion brewing, which is basically steeping the coffee grounds in cold water. This is the more traditional method that imparts the most flavor (in fact, it yields a cold brew concentrate meant to be diluted with additional cold water or milk), but it takes 12 to 24 hours. The other method is slow-drip brewing—a more gradual version of how hot coffee is made—which is faster, though it still takes several hours. This style also tends to cost more.
​Filter Type:​ Some cold brew coffee makers use paper coffee filters, just like regular coffee machines. It's easy to dispose of them and the used coffee grounds, but you do have to keep buying new ones, and it does create waste. Other models have a reusable stainless steel infuser instead. This can add a little bit to the upfront cost of the machine, but it saves money in the long run. It's a little more effort to clean, but it does avoid creating the waste of disposable filters. Just make sure you're buying a quality product, as poorly designed ones with metal infusers often allow coffee ground sediment to make its way into the coffee.
​Size:​ Most cold brew coffee makers are smaller than standard coffee machines, but they still come in a range of sizes from compact to rather large. Many are the size of a pitcher or smaller, intended to fit easily in your refrigerator. But others can take up a good chunk of your counter space or storage space. Of course, the product's size also affects the brewing capacity, so think about how many cups you want to be able to make at the same time—especially considering the relatively lengthy brew time—in addition to your available space.
​Price:​ You can spend somewhere in the neighborhood of $20 on a small, simple cold brew coffee maker, or you can go well over $100 for a larger, high-end product. The size, brewing method and features are all big factors in the price. Quality cold brew coffee makers are available at the low end of the price spectrum, so don't feel obligated to splurge. And remember, as is always the case with kitchenware, a high price tag doesn't automatically mean it's a high-quality product.
These considerations will help you pick out the best cold brew coffee maker for your home.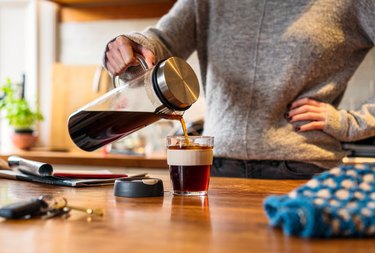 The Best Overall Immersion Cold Brew Coffee Maker
Toddy Cold Brew Coffee System
The Toddy Cold Brew Coffee Maker has been around since the 1960s, and it has been a pivotal product in bringing cold brew to the masses. It's even widely used by baristas in coffee shops. This simple immersion model uses a disposable paper filter and a limited-reusable special felt filter, producing exceptionally smooth, flavorful, low-acid coffee. This model makes about 4 to 5 cups at a time, and you can also use it to make hot and iced tea. It's sold at a great price point for the user-friendliness, quality, reliability, and durability. Also, the glass and plastic components are a breeze to clean.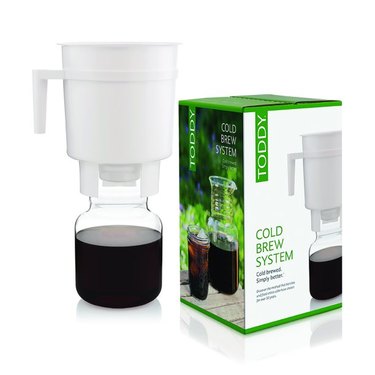 The Best Overall Slow-Drip Cold Brew Coffee Maker
Nispira Cold Brew Drip Tower Coffee Maker
If you prefer a slow-drip cold brew coffee maker and are willing to go the higher end of the price range for this type of kitchen accessory, this is a top pick with a fun vintage aesthetic. The glassware and wood frame make this a stylish accent and conversation piece, and it's easy to assemble, disassemble and clean. You can make 6 to 8 cups of cold brew coffee at once, in about half the time as an immersion model. It also yields a slightly sweeter, less bitter coffee than immersion brewers.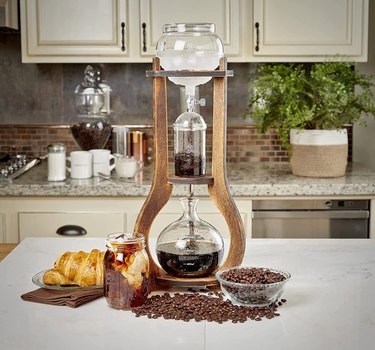 The Fastest Cold Brew Coffee Maker
Cuisinart Automatic Cold Brew Coffeemaker
While making cold brew coffee typically takes at least several hours to a full day, Cuisinart can get it done with great results in 25, 35 or 45 minutes, depending on the desired strength (you set the machine for mild, medium or bold). This automated model features a stainless steel filter and a glass carafe that holds up to 7 cups and can go right into the fridge to store your beverage. It has an intuitive interface and operates much like a traditional drip coffee maker. All the removable components are dishwasher-safe, and this durable product is backed by a 3-year warranty.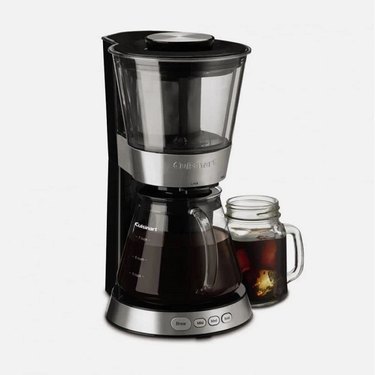 The Best Cold Brew Coffee Maker With Mesh Infuser
OXO Good Grips Cold Brew Coffee Maker
If you're looking for a reliable, affordable, traditional immersion cold brew coffee maker that uses a stainless steel mesh filter rather than disposable paper filters, look no further. It makes 4 cups of cold brew coffee concentrate using a unique "Perforated Rainmaker" water dispersion system that turns out a nice, smooth, rich cold brew. The included glass carafe has convenient measurement markings and a secure stopper for keeping your coffee in the fridge. It also comes with paper filters, which are optional, but you won't need to replace them because the mesh infuser gets the job done. Also, the parts nest nicely for a smaller countertop footprint and compact storage.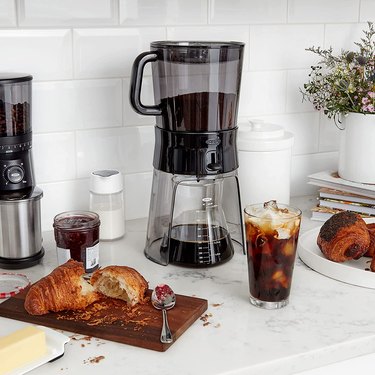 The Best Budget Cold Brew Coffee Maker
Hario Mizudashi Cold Brew Coffee Pot
This is about as little as you can spend on a cold brew coffee maker, but you're still getting a quality, durable product that yields the tasty results you want. It makes about 2.5 cups of cold brew at once, and it has an easy-to-clean permanent mesh basket filter you don't need to replace. This dishwasher-safe, immersion-style product is designed like a pitcher, so you can easily keep it in the refrigerator and serve yourself a glass using the pour spout. And just for the record, Hario is one of the best-known and most popular brands for coffee makers in Japan.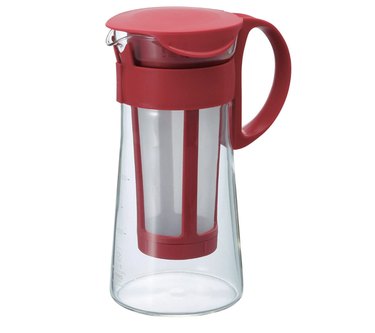 The Best Compact Cold Brew Coffee Maker
County Line Kitchen Mason Jar Cold Brew Coffee Maker
If all you want is a small, super-simple cold brew coffee maker, this model should be appealing. Just steep your cold brew in the reusable stainless steel fine mesh brewing basket inside the mason jar, which serves as the brewing container and storage container. Although it's a compact product, you can still make about 8 cups of cold brew in one round. The mason jar is very sturdy and the airtight lid with a silicone seal keeps your beverage fresh-tasting for up to a couple of weeks. And all the components are dishwasher-safe for easy cleanup.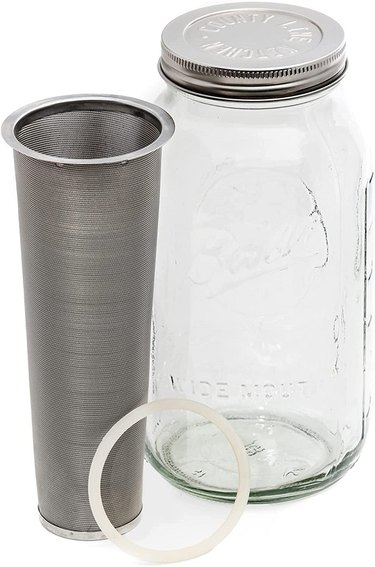 The Best Large-Capacity Cold Brew Coffee Maker
KitchenAid Cold Brew Coffee Maker
This user-friendly immersion cold brewer and iced coffee maker lets you make up to 19 cups of coffee at a time, so it's great for serving a group, or even if you just want to stock up on your daily glass or two for the next one to two weeks with bulk batches (since properly stored cold brew coffee can keep that long in the fridge). It's a stainless steel piece with a high-end look from the trusted KitchenAid name, and the coffee taste is simply delicious. It's a relatively small footprint considering the large capacity, and there's a convenient tap for dispensing the contents. The stand pictured in the photo below is also included with your purchase.