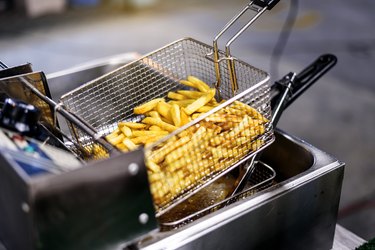 Sure, you can make healthier French fries, onion rings, fried chicken, chicken wings, fried fish, doughnuts and more in an air fryer when you want to cook food with less oil. But when you want the real, crispy, oily, delicious thing, there's just no beating a deep fryer. Using one is also much easier—and much less messy—than trying to replicate the cooking process in a sauté pan or saucepan on the stovetop with a thermometer.
The best deep fryers monitor and regulate the oil temperature and turn off automatically if the oil gets too hot. That's much simpler than handling all that yourself, and it provides more evenly cooked results. Plus, it's safer. And then there are all sorts of helpful extra features available on different products.
Deep fryers for home use aren't as large and heavy-duty as commercial deep fryers, but they're very capable appliances that also require some kitchen space, maintenance and proper disposal of dirty oil. So, learn about usage and take care to pick out the best deep fryer for your needs, preferences and kitchen setup.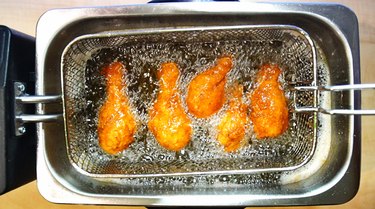 What to Consider When Purchasing a Deep Fryer
​Safety:​ Deep frying poses risks, particularly where super-hot splattering oil is concerned. It can cause severe burns and fires. Most electric deep fryers today offer reliable safety features. Common safety features to look for include automatic shutoff if the oil gets too hot, a lid on the cooking container, a viewing window in the lid so you can monitor cooking food without opening the lid and risking splatters, a splatter guard, a stay-cool handle on the fry basket, stay-cool exterior walls and an indicator light when the appliance is on. Propane deep fryers for outdoor use are larger and have fewer safety features, and they're best left to cooks experienced with deep frying.
​Size and Capacity:​ Deep fryers are relatively large kitchen appliances, so check out the size and consider your counter space and storage space. The size of the cooking container affects how much oil you'll have to pour in every time you cook. As for capacity, 4 quarts is standard, and it's enough for most home uses for a family. But if you only cook for one or two, a 1- to 2-quart capacity is probably all you need. Also, take a look at the fry basket's capacity. You can of course find extra-large models, as well as double fryers with two separate cooking containers.
​Ease of Cleanup:​ Greasy surfaces and disposing of hot, dirty oil aren't much fun at cleanup time. A removable oil container with a nonstick interior makes things much easier, as does a pour spout to facilitate oil draining. An oil filtration feature is helpful, and some deep fryers have dishwasher-safe components.
​Temperature Control:​ Deep frying typically calls for oil to be heated to anywhere from 275 to 400 degrees Fahrenheit; however, 375 degrees is adequate for most uses. So, choose a product that gives you the ability to set the temperature between 275 and 375 degrees at the least, and consider the type of controls—they're usually dials or a digital interface—and how precise they let you be.
Along with your budgetary considerations, these factors should help lead you to the best deep fryer for your kitchen.
The Best Overall Deep Fryer
Cuisinart 4-Quart Deep Fryer
This is a pretty perfect deep fryer from one of the most trusted, popular brands in kitchenware. The powerful 1800-watt immersion-style heating element brings the oil up to temperature quickly and—more importantly—gets it back up to target quickly after adding food. It's a relatively compact design that minimizes space needs and the amount of oil you need (making it cheaper to cook with and easier to clean up after). Yet it still has an adequate 4-quart capacity, and the basket holds up to 2.3 pounds of food.
The interface is easy to use, with a dial for setting the temperature between 175 and 375 degrees Fahrenheit and a second timer dial. There are also green and red indicator lights that let you know when the appliance is on and when the oil has reached the desired temperature. The stainless steel basket has a stay-cool handle, and the wide window in the lid lets you easily keep an eye on your food as it fries while preventing oil splatters.
Cleanup is easy too, thanks to the cooking container's enamel coating and pour spout that lets you neatly drain the used oil. Plus, the fry basket, removable cooking container and removable lid are all dishwasher safe. It's also worth noting that this is a great price point for such a high-quality Cuisinart product in this appliance category, and it comes with a 3-year warranty.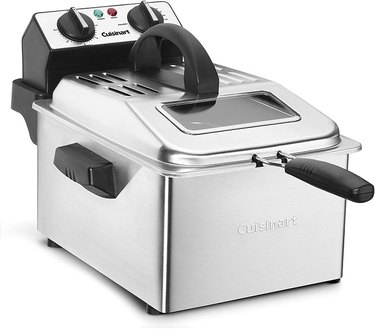 The Best Budget Deep Fryer and Best Compact Deep Fryer
Presto FryDaddy Electric Deep Fryer
This great product deserves recognition in two categories. It's a quality, durable, versatile, user-friendly appliance at the low end of the price range for deep fryers, and it's also a smart pick if you want one of the smallest models available. Just one caveat: It only operates at one temperature. That eliminates guesswork, but it doesn't allow for precise control if you're experienced with this cooking method.
The 1-quart capacity makes up to four servings of food with only 4 cups of oil, and at only around 8 inches in every direction, it's basically as small a deep fryer as you'll find. And weighing in at only 3 pounds, it's a lightweight piece to move around. It also needs relatively little oil, making it even more affordable on an ongoing basis.
The surfaces inside and out have a highly effective nonstick coating, making for easier cleanup—even if you burn something. And rather than frying in a basket, you use a convenient slotted scoop for loading, lifting and draining your food. This small deep fryer's 1200-watt heating element heats the oil efficiently, and a lid keeps it all inside during use. It's a secure snap-on lid, so you can use it to hold your oil if it's still reusable after cooking in it.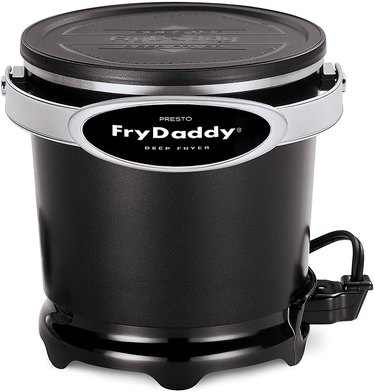 The Best Deep Fryer for Easy Cleanup
De'Longhi Livenza Easy Clean Deep Fryer
If your priority is a deep fryer that's easy to clean, this is the product for you. The Easy Clean draining spout makes disposal of dirty oil a breeze. It also has an oil cycle counter that lets you know if you even need to bother replacing the oil yet, and its cool-zone technology prevents food that falls from burning. Burnt-on bits of food are one of the most unpleasant parts of cleaning a deep fryer, and they cause foul odors and more quickly dirty your oil. All the non-electric components—including the removable cooking container—are dishwasher-safe, too.
This model is a spacious one, with a 1-gallon oil capacity that can handle up to 3.3 pounds of food at once. If you have an above-average-sized family or like to host parties, this deep fryer can accommodate the quantities you need and not cause you extra headaches at cleanup time.
Enjoy precise temperature control with the adjustable thermostat, as well as oil that lasts about 20% longer thanks to the big cool zone, which reduces the cost of use. The stainless steel construction is heavy duty and durable, so this machine can last you a long, long time with proper care. That, along with the user-friendliness and large capacity, certainly helps justify the slightly high price tag.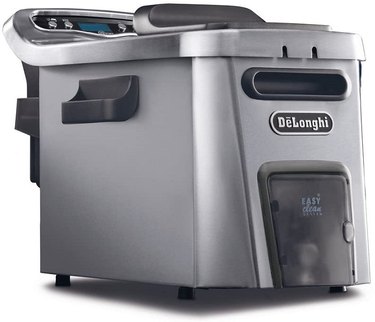 The Best Large-Capacity Deep Fryer
Masterbuilt Electric Fryer, Boiler, Steamer
For anyone who needs a large-capacity electric deep fryer—one that can even work as a turkey fryer—this is a top pick. It'll handle up to a 20-pound turkey, or lots of other food for a gathering. The 1650-watt heating element works quickly, and you can also use this model for boiling and steaming, making it a versatile product that comes in handy in other ways when you're cooking veggies, seafood and other stuff for a crowd.
The dimensions on this high-capacity deep fryer are approximately 16.5 by 18.4 by 14.8 inches, so make sure you have the counter space and storage space for it. Drain valves make it easy to clear out the used oil, it has a hinged removable lid, and the removable parts are dishwasher-safe. Also, the fryer basket is cleverly designed to nicely hold whole birds.
Another cool feature of this product are its patented drain clips. They allow you to rest the fried food above the oil to drain neatly back into the oil container. The handle and lifting hook on the fryer basket make it easier and safer to extract food from the hot oil, too.
The Best Deep Fryer for Outdoor Use and Best Propane Deep Fryer
Bayou Classic Bayou Fryer
If you have experience with deep frying and want a large outdoor propane deep fryer, this one is made by a trusted manufacturer in the category and well worth the money—even if it's quite pricey compared to other models. It's a freestanding model with a 4-gallon stainless steel fryer, a 48-inch stainless steel braided LPG (liquefied petroleum gas) hose and a high-pressure 10 PSI regulator with a brass control valve.
There's an integrated temperature gauge, and the V-shaped design creates a cool zone at the bottom. This helps prevent burning food and helps keep the oil cleaner for longer, often allowing you to reuse it for subsequent frying.
It includes two big stainless steel mesh fryer baskets with cool-touch handles for frying two separate batches of food. The convenient drain valve facilitates easy oil removal, and this outdoor fryer has a hinged lid. In addition, this model retains heat exceptionally well, minimizing propane use during cooking.