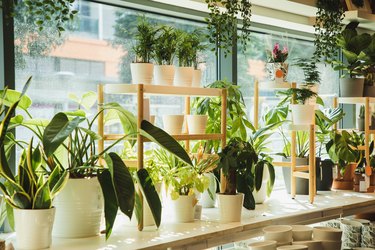 Whether you've just started collecting plants or you consider yourself to be an amateur horticulturist, the right plant stand can really bring your plants to life—literally and figuratively. Pots and planters are a great place for plants to live, but plant stands bring dimension and style to any room and really showcase your plants. Plant stands elevate houseplants so they're off the ground and on display. They come in two styles: Ones that hold a single plant, are low to the ground and tend to have a midcentury modern vibe, and ones that are more like an actual display shelf that can hold multiple plants and look great while doing it.
Not only do plant holders make the most of your greenery and act as a decorative item in your home, they can also save space by consolidating your plant display to one area.
What to Consider When Purchasing a Plant Stand
‌Size:‌ The height, diameter and shape of a plant stand are important factors and will depend on the type of plant you plan on setting there. Short and wide plant displays work best for wide-growing plants, while tall plant stands are ideal for smaller plants or climbing plants with long vines. You can find plant stands that can be adjusted as the plants grow and need a larger pot or if you decide to switch out the plant with one that's a different size. It's also a good idea to take a look at the weight limit of a plant stand, otherwise, you could end up with a plant that's too heavy and it could topple over when the plant stand collapses from the weight. Of course, the dimensions are also important so you can make sure the plant stand fits in your space.
‌Indoor Versus Outdoor:‌ You can find plant stands for both inside your home and outside. If you want to set the plant stand on a porch, patio or other outdoor space, you'll need to make sure that it's weather-resistant. Outdoor plant stands are helpful in keeping your plants off the ground and away from pests. You can find both indoor and outdoor plant stands that come on wheels, whether it's to move all your plants together to find more sunlight or to take them outside for repotting day.
‌Single Versus Multi-Plant Stands:‌ If you have multiple smaller plants to showcase, you might want to consider buying a multi-plant stand as opposed to several single plant stands. A plant shelf can save space by holding several plants and allows you to display plants by size, with the larger ones on the bottom and smaller plants and trailing plants on top. Many of them also come in handy for displaying other decorative items like photos and trinkets. Additionally, many multi-plant stands are multi-tier. Some need to be mounted to a wall, while others can sit next to a couch, table or other areas in your home.
Check out our list of the best indoor and outdoor plant stands for all styles of home decor.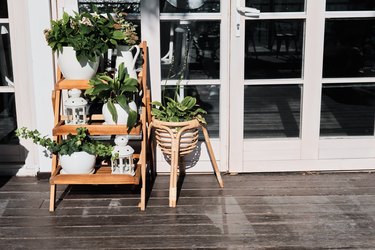 The Best Overall Plant Stand
Inspired by the simplistic style of the '50s, this minimalist midcentury modern wooden plant stand will spruce up any living space. This ceramic indoor plant stand will fit any pot that is 11.8 inches or smaller, and it can hold up to 200 pounds, perfect for a large plant like a fiddle-leaf fig. It'll raise your plant to reach more light and showcase the beauty of whatever plant you're working hard to keep alive. (We totally get that keeping a plant alive is actually a lot harder than it looks.)
‌Dimensions:‌ 34" x 40" x 30" (LxWxH)
The Best Budget Plant Stand
Mainstays Metal Plant Stand can hold one small- to medium-sized plant. It's a great indoor-outdoor accent piece to display a lush plant or flower pot. Made of powder-coated wire in a matte black finish, it can be placed on an outdoor patio, balcony, porch or inside a sunroom. Three legs support the stand, and it can hold a pot up to 9 inches in diameter. For a plant stand that's under $10, it's impressively sturdy and well-made.
‌Dimensions:‌ 9" x 9" x 13" (LxWxH)
The Best Plant Stand for Multiple Plants
Whether you want an indoor or an outdoor plant stand, this modern display stand can be both. This gorgeous stand adds to the decor of your home or outdoor space, so much so that it feels like artwork. Made of natural wood, this structure is sturdy and durable and it can withstand outdoor elements. It's a solid space-saving option for anyone who has lots of plants and not a lot of room to place them. Something we love about this solid wood plant stand is the number of variations offered. There are eight sizes and setups to choose from, so you're bound to find something that fits in your space.
The Best Plant Stand for Corners
If you have more to display than just plants in your living room, this corner plant stand will do it all. The five-tier plant stand will hold succulents and other small plants, books, picture frames and small trinkets. It's a stylish way to replace old bookcases or large pieces of furniture that aren't adding to the room. Each shelf can hold up to four pounds, and it comes in a white or black finish.
‌Dimensions:‌ 58'' x 11.8'' x 11.8'' (LxWxH)
The Best Wall-Mounted Plant Stand
If you're short on floor space, consider a wall-mounted plant stand like this handmade one from the Edeman Etsy shop. It's made with beech wood that has been finished with natural wax and then polished. The frame of this well-made stand measures 17.4 inches long, 6.9 inches wide and 0.7 inches thick. There are three shelves for displaying your favorite succulent, spider plant, pothos or another small plant. All the hardware needed to assemble it is included and the floating plant stand is super easy to hang once the shelves have been added.
‌Dimensions:‌ 6.9'' x 17.4'' x 0.7'' (LxWxH)
The Best Plant Stand for Outdoors
This indoor-outdoor plant stand is crafted from solid wood harvested from Cypress trees with decay resistance, making it fully weather-resistant. The three-tier, A-frame design adds to the charm of any room or outdoor space. Three shelves in ascending sizes provide plenty of display space for small to medium plants that won't grow too large. A protective finish increases its durability and longevity.
‌Dimensions:‌ 18" x 60" x 24" (LxWxH)
The Best Plant Stand With Wheels
A plant stand on wheels increases its versatility, like the Copree Bamboo Plant Stand, which can be used to showcase small to medium potted plants or flowers indoors or outdoors. Two of the four caster wheels are locking wheels to help keep the stand in place. The wood is made of anti-corrosion and insect-protected bamboo, so your plants can be in the sun or rain without the worry of damage.
‌Dimensions:‌ 34.3" x 9.84" x 25" (LxWxH)
The Most Versatile Plant Stand
These two stunning display stands will hold your hanging plants, potted plants and any other items you want to showcase. Each piece has five tiers with five shelves and two hanging hooks. Made from particle board and metal frames, the plant stands would make for the perfect addition to your living room, patio, garden or balcony. It's equal parts organizer and a home decor piece.
‌Dimensions:‌ 11.8" x 61" x 19.6" (LxWxH)
The Best Adjustable Plant Stand
If you don't want to deal with measuring your potted plants with the hope that they'll fit into a plant stand, this adjustable plant stand will save the day. It can be adjusted up to 12 inches to fit potted plants of various sizes. Made from bamboo, this indoor plant stand has a natural, midcentury modern look and is sturdy enough to hold up to 100 pounds.
‌Dimensions:‌ 12" x 12" x 14" (LxWxH)