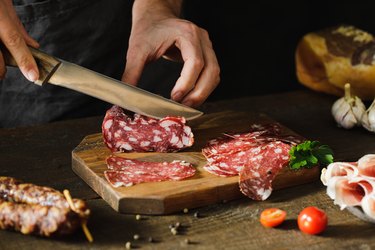 Cutting boards may not be the highest-tech or most glamorous piece of kitchenware, but they're so important and so frequently used. And they take a beating, too, as you're chopping, slicing, dicing and sawing away on them with your sharpest, strongest knives.
And even though they're not particularly fancy or complicated, there are still a number of things to think about when you're choosing a cutting board. Like any other kitchen tool, the best cutting boards just make life a little easier when you prep and serve food.
What to Consider When Purchasing a Cutting Board
​Material:​ Most cutting boards are made of wood, bamboo, plastic or rubber. Wood cutting boards—usually made from hardwoods like maple, oak, cherry, acacia, mahogany or teak—are generally considered the best. They take less of a toll on knife blades than most other materials and hold up well. They often look nice too, so they can double as serving boards (like for charcuterie) or trivets. However, wood boards tend to be the highest-priced, largest and heaviest. Plus, they require hand-washing and are susceptible to stains and odor retention—especially if not washed shortly after each use. Keeping them properly oiled helps keep them from absorbing liquids.
Bamboo boards are also an aesthetic choice, they're quite durable, and they're dense enough to prevent liquids from seeping in, but they're also the hardest on knife blades. Plastic is a lower-cost, lower-maintenance, lightweight option, and some are flexible, which is nice for transferring contents and cleanup. Plastic does more damage to knife blades than wooden cutting boards though, and they are more prone to cut marks, which detract from the appearance and can harbor bacteria. Rubber is typically a little more costly than plastic and not usually dishwasher-safe, but it's gentler on blades. However, it too can develop cut marks.
​Size:​ Cutting boards come in a wide range of sizes. In theory, bigger is better, fitting larger quantities and foods. But think about your available storage space and the countertop space where you'll place the board. Small cutting boards can be convenient for small kitchens and small prep jobs, as they're lighter and easier to handle and wash. Keep in mind, though, that if you frequently use a 12-inch chef's knife, you don't want a board that's smaller than the blade.
​Design:​ Cutting boards are either flat or grooved. Flat ones are best for chopping dry ingredients. Grooved boards have a channel running along the edges for collecting liquids that ooze out of food as you cut it. These are helpful when you're doing things like carving meat and slicing juicy tomatoes or oranges. Other than taking up some of the flat cutting surface, there's really no downside to having a groove.
​Features:​ Yes, cutting boards have features! One you might appreciate is nonslip edging or nonslip feet to hold the cutting board in place during use. Some boards are reversible, so you can use both sides to avoid cross-contamination before washing. And, as mentioned above, rubber cutting boards and some plastic cutting boards are flexible, which lets you bend them up and pour the contents into your pan, bowl or garbage can. Then there are boards with handles or tapered ends that help you move them around, if that's a feature you'd appreciate. These days, you can even get cutting boards with a slot in the corner that holds up your phone or tablet.
Along with any budget considerations, these factors will help you pick out the best cutting board for your needs and preferences.
The Best Overall Cutting Board
Epicurean Gourmet Series Cutting Board
Our pick here isn't made from any of the materials mentioned above; it's made from a natural composite material. This material is lightweight yet durable, notably gentle on your knife blades and it has an attractive slate appearance. It's also heat resistant up to 350 degrees Fahrenheit, dishwasher-safe, and it doesn't absorb odors or easily develop cut marks. The versatile board is reversible and one side has a juice groove. This is a decent-sized board at 14.5 by 11.25 inches, and it's offered at a good price for the quality. A hole in the corner makes it easier to grab, and you can hang the board to store if you want.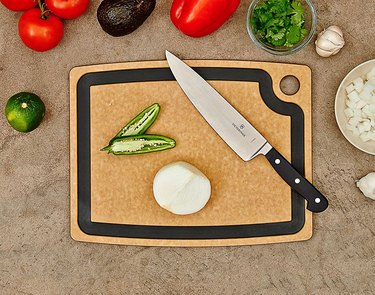 The Best Wood Cutting Board
John Boos Maple Cutting Board
While it's a bit on the pricey side, this is an exceptional wooden cutting board that can last a lifetime with proper care. At 24 by 18 inches, it's a large cutting board that accommodates plenty. It's reversible—one side has a juice groove, the other's flat—and there are hand grips on the sides that make it easier to pick up and carry. This edge-grain maple board is heavy-duty but knife-friendly, sturdy enough to stay still during use and aesthetic enough to serve on. And it's made from sustainably sourced maple, too. Like many high-quality wood boards, it should be oiled before the first use and regularly thereafter.
The Best Plastic Cutting Board
OXO Good Grips Utility Cutting Board
For a lightweight, high-quality plastic cutting board, you can't go wrong with this affordable product. It's 10.39 by 14.78 inches, big enough for most standard home uses. You can use both sides as a cutting surface, one of which is flat and the other has a groove for collecting juices. There are two handles with the comfortable rubberized grip OXO is known for, as well as nonslip feet on both sides to hold the board steady. Made from polypropylene, this piece won't absorb odors and is relatively scratch-resistant. The board is also dishwasher-safe for easy cleanup and disinfecting.
The Best Flexible Cutting Board
Dexas 4-Piece Grippmat Flexible Cutting Board Set
If you want the convenience of being able to bend the sides of your board up and dump its contents right into your pan, bowl or trash, choose this set of four thin, flexible plastic cutting boards. Each is a different color, which you can use as a color-coding system to prevent cross-contamination. They're amply sized at 11 by 8 inches, nonporous and nonabsorbent. One side has a nonslip coating (so no, they're not reversible). These boards are made from BPA-free, dishwasher-safe plastic. And you really can't beat the price for a four-piece cutting board set.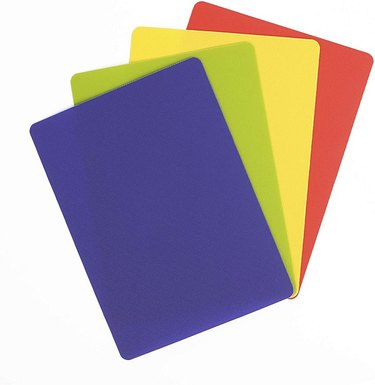 The Best Bamboo Cutting Board
Totally Bamboo 3-Piece Bamboo Cutting Board Set
This isn't just one great bamboo cutting board—it's a set of three reversible boards for the price of one. And they're all different sizes, so you're equipped for a wide range of food prep tasks. The large cutting board measures 13 by 9.5 inches, the medium board is 11 by 8.5 inches, and the small one is 8 by 6 inches; the bigger two have handle cutouts, too. The flat-gain Moso bamboo is lightweight but durable, and about as gentle on your knife blades as this material can be. The boards are also attractive enough to use as serving pieces. Hand-wash these products; don't put them in the dishwasher or leave them soaking in the sink.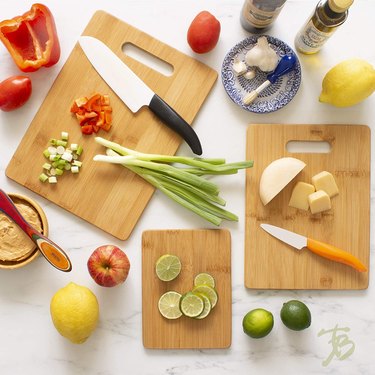 The Best Rubber Cutting Board
If you settle on buying a rubber cutting board, this one is well worth the investment. While it may seem costly compared to plastic boards, this is a good price point for the material, quality and size (it's a big board, at 20 by 16 inches). The material is naturally nonslip, so you don't have to worry about it sliding around on the countertop. The high-density natural rubber this product is made from is also particularly resistant to developing cut marks that can harbor bacteria, and it won't crack or warp, yet it also won't dull your knife blades. It's not dishwasher-safe, though.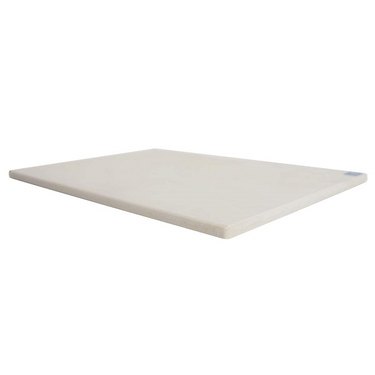 The Best Budget Cutting Board
Farberware Plastic Cutting Board
If you're just looking for a basic, cheap cutting board that's well made, durable and functional, this one should please you. It's as affordable as these kitchen tools get, and at an ample 11 by 14 inches, you're not sacrificing size for the savings. The board is reversible and has a handle hole, and it's made from nonporous, nonabsorbent, stain-resistant, dishwasher-safe, BPA-free polypropylene plastic.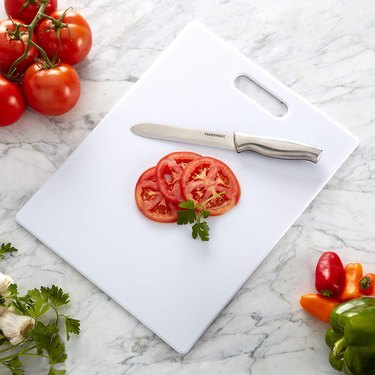 The Best Cutting Board for Carving Meat
J.K. Adams Large Reversible Maple Carving Board
For a high-quality carving board and butcher block, this beautiful, smartly designed, sustainably sourced maple board is a great buy. At 20 by 14 inches, it's big enough for a turkey and large roasts. Both sides of this reversible board have a deep well for collecting juices, and one side also has an indentation in the middle to cradle whole birds and roasts so they sit still while you carve. Also, the board slightly slopes down from the center to encourage juices to run into the grooves. This piece is a bit of an investment, and the best way to protect it is to wash it shortly after use with warm water and soap—never put it in the dishwasher or soak it in the sink—and condition it regularly.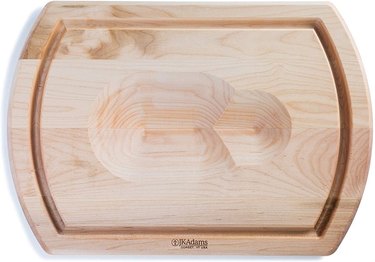 The Best Cutting Board for Serving
Sonder Los Angeles Walnut/Cherry/Maple Wood Cutting Board
This gorgeous edge grain board is as much a high-end serving piece as it is a cutting board. Made from three types of wood—mostly walnut, with cherry and maple accents—you'll be happy to use it to serve charcuterie or hors d'oeuvres to your guests. One side of this reversible board has a long, wide well that's not just helpful for collecting juices or pushing aside chopped ingredients, it's also perfectly sized for crackers, a baguette, round slices of cured meats, nuts, olives and more. It's generously sized at 17 by 13 inches. Only wash it by hand, don't soak it, and regularly oil it to maintain its appearance.