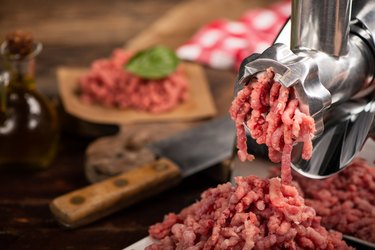 When you want an exceptionally fresh, robust flavor from your burgers, sausages, meatloaf, meatballs and other ground-meat preparations, grinding your own at home is the way to go. It also gives you control over exactly what goes into your food, including the type and cuts of meat and the fat content.
After all, when you buy packages of ground meat at the store, you don't really know exactly what parts and scraps are in there. And with this newfound control, you can experiment with meat blends to develop your own carnivorous culinary delights.
But there are tons of meat grinding appliances on the market, and they're somewhat unfamiliar kitchen tools to many people. So, it's important to read up to ensure you end up with the best meat grinder for your intentions and preferences.
What to Consider When Purchasing a Meat Grinder
​Style:​ The first decision is whether you want a countertop electric meat grinder or a manual one that attaches to a counter or table by clamp or suction cup and operates with a hand crank and elbow grease. Electric models don't require any manual labor as they're powered by a motor. They tend to be pricier, bulkier, and a little more work to clean and maintain, though. You can also get an electric meat grinder in the form of a stand mixer attachment for certain brands.
You might opt to take on the extra effort involved with a manual meat grinder if you enjoy a more hands-on approach to preparing your food, you're watching your budget or storage space, or you want easier cleanup. Some people also contend that manual mincing involves less processing and retains more of the meat's flavor.
​Capacity:​ See how much meat a product's hopper can hold and how quickly the grinder can process it. A larger hopper means less pre-cutting to load the machine and less refilling. Manual meat grinders mostly depend on your cranking ability, but electric machines rely on motor power; you'll see specifications about how much meat it can grind per minute or hour (around 3 pounds per minute is a pretty good rate). Of course, the various aspects of an appliance's capacity also affect its size, another important consideration in terms of where you'll store it.
​Attachments and Accessories:​ Meat grinders come with all sorts of attachments and accessories to enhance their functionality and user-friendliness (and many are compatible with additional ones that are sold separately). For example, they often come with sausage-stuffing plates and tubes for making sausage. Some include juicer attachments, kibbeh-making attachments or presses to form ground beef into patties. A meat pusher is a helpful implement to seek out, used to encourage the meat to flow smoothly through the hopper and grinding head.
​Price:​ There are budgetary considerations as well. You can pick up a good small manual food grinder for somewhere around $30 to $40. Leading manual grinders tend to be priced around $100 to $130. And then, quality electric grinders usually fall somewhere between $120 to $200, but high-end and commercial meat grinders can run to many hundreds of dollars. Look for your sweet spot where cost and functionality intersect.
These factors should help point you toward the right meat grinder.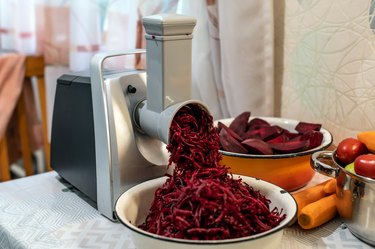 The Best Overall Meat Grinder and the Best Electric Meat Grinder
STX Turboforce 3000 Electric Meat Grinder
This powerful, reliable electric meat grinder is a great machine for just about anyone, including those who want to grind larger quantities of meat. It has an extra-large hopper with the capacity for over 3 pounds of meat, so you don't have to pre-cut your meat all that much to feed it into the machine, saving you some prep time. The 3,000-watt motor gets the grinding job done quickly and well, processing up to 4 pounds of meat per minute.
You get a lot for the price too, besides a durable, high-quality machine. That includes tools for making sausages, kibbeh and burgers. This product comes with a size #12 polished aluminum grinding head, hopper, three stainless steel cutting blades, three different sizes of stainless steel grinding plates, a sausage-stuffing plate, three different sizes of sausage-stuffing tubes, a kibbeh-making attachment, a meat pusher/stuffer, two meat shredder/holder claws and a burger/slider press. Also, for a little more money, you can purchase this meat grinder with a foot pedal and/or a juicer attachment.
Even working quickly at high capacity, this commercial-quality meat grinder doesn't easily get clogged up—a common issue with inferior products. Choose from three speeds, including a reverse function that can resolve any jams if they do occur. It's quite a sturdy appliance too, and the rubber nonslip feet provide extra stability. The one caveat we'll give is that this machine is fairly loud.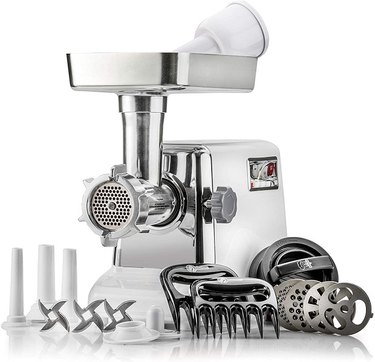 The Best Manual Meat Grinder
Huanyu Manual Meat Grinder
If it's a manual hand-crank meat grinder you're after, look no further. This sturdy, heavy-duty stainless steel piece is a real workhorse, it's easy to use, and it even has an elegant design and mirror polish. The body's single-piece casting makes it strong and more hygienic, free of cracks and crevices that can be weak links or harbor food and bacteria. In fact, the whole thing is dishwasher-safe for simple cleanup and disinfecting. It won't corrode, rust or oxidize.
In addition to the clamp, this product derives extra stability from a strong suction cup on the bottom that affixes to the counter or table. Use the 4.5-millimeter or 8-millimeter round meat plates and cross knife to grind—and this model is also suitable for use with low-moisture vegetables—and you also get a nozzle for stuffing sausage casings (you can buy it with an extra sausage tube for a slightly higher price, too).
Also included are a meat funnel and pusher for easier loading and operation. The machine hums along smoothly and quietly as you turn the crank. While the cost is admittedly a little high for a manual meat grinder, it's well worth it given the ease of use and durability; you're getting an exceptional piece of kitchen equipment that can last a lifetime.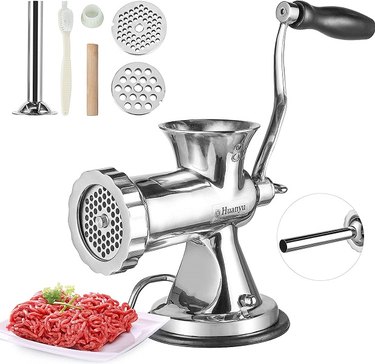 The Best Budget Meat Grinder
F&W Kitchen Basics 3 N 1 Manual Meat and Vegetable Grinder
If you're seeking a high-performance, durable meat grinder at the lowest end of the price spectrum for this category of kitchen tool, this one's a smart buy. This affordable manual food grinder is surprisingly versatile for the cost, too.
It easily and efficiently grinds meat with the sharp stainless steel blades and the fine and coarse mincing plates. But it can also handle vegetables and crush nuts, it's great for making baby food, it comes with three sizes of sausage-stuffing funnels, and it works as a pasta maker that produces spaghetti and rigatoni.
At only 7.5 inches tall and 5 inches wide, it's a compact piece, ideal for smaller kitchens and anyone short on storage space, as well as stashing in your RV. Of course, the compact size means a fairly small capacity. It's also lightweight but sturdy, attaching to your countertop or tabletop with a strong suction cup. Plus, except for the base, this is a dishwasher-safe product for easy cleanup.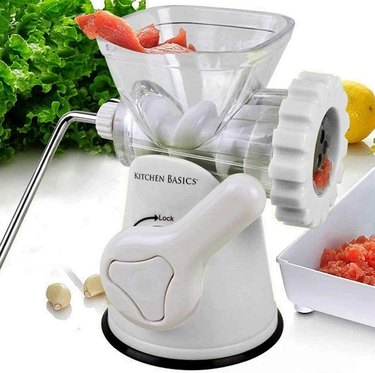 The Best High-End Meat Grinder
LEM Big Bite Electric Meat Grinder #8
This stellar product comes in five different models, ranging from a 0.35-horsepower motor up to a 1.5-HP motor. We've highlighted the 0.5-HP model here, which can grind up to 7 pounds of meat per minute. It's a large, high-capacity, high-performance, 29-pound machine that should easily meet the needs of anyone's home use; upgrades would mostly just make sense for commercial uses and hunters.
It's a stainless steel kitchen machine with all metal gears that are built to last and built to work hard. It can even grind raw chicken bones. There are lots of accessories, including fine and course plates, a stuffer plate, three sizes of stuffing tubes, a steel knife, a meat stomper (a step up from a meat pusher for this stepped-up machine), a plate extractor and a meat pan. It also has a convenient drawer at the bottom to store these components.
This grinder is notably quiet too, given its size and power, and it even has its own built-in circuit breaker. And it rarely gets clogged. Plus, the functionality can be greatly expanded, as the machine is compatible with lots of sold-separately attachments, like several mixers, a juicer, a jerky tenderizer and slicer, a jerky and patty maker, and more.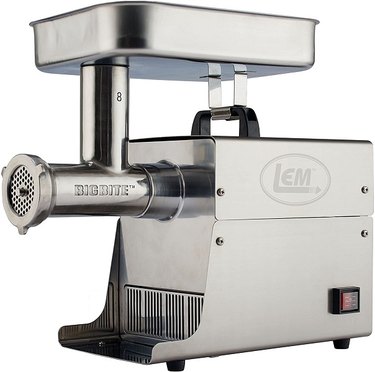 The Best Stand Mixer Attachment Meat Grinder
KitchenAid Metal Food Grinder Attachment
If you own a KitchenAid stand mixer, you undoubtedly know it can power plenty of attachments that hook up to its power hub connector. And that includes this excellent meat grinder attachment which, conveniently, is smaller and more affordable than a quality standalone electric meat grinder. It's compatible with any KitchenAid stand mixer model.
It comes with fine, medium and coarse grinding plates, as well as a sausage-stuffer plate, two sausage-stuffer nozzles, a food pusher and a handy cleaning brush. The hopper holds a decent amount relative to the overall size of the attachment. Also, in addition to handling red meats, poultry and fish, this stand mixer attachment can process other foods, too—even bread to make breadcrumbs.