One frequently overlooked aspect of owning pets is how much time you spend cleaning up after them. From house-training puppies to cleaning up hairballs, pet owners spend a lot of time scrubbing away at urine, feces, vomit, blood and every combination of those four. When dealing with these inevitable messes, having the right cleaner can mean the difference between a stain and odor you just have to live with and keeping your new beige couch, well ... beige. Not all cleaners are made the same, so it's important to identify which products work for your needs.
What To Consider When Purchasing a Pet Stain and Odor Remover
‌Safety‌: Is the product you're buying potentially harmful to pets or children? The best way to know is to check the back of the bottle. Avoid chemicals like bleach, ammonia, formaldehyde and chlorine. The products you should avoid will not say anything like 'safe for children and pets.' Products made from all-natural ingredients are generally going to be nontoxic.
‌Stain/Odor Type‌: Some cleaners are better or worse than others at dealing with certain organic substances. Most high-quality cleaners are enzymatic, meaning they contain enzymes that break down and absorb stain and odor molecules, but not all enzymes are the same. Certain cleaners are specifically designed to eliminate the ammonia in urine, for example, and some cleaners do not effectively target blood.
‌Location‌: Not all cleaners can be used universally. Some are made specifically for certain types of upholstery or surfaces, while others are all-purpose. Typically, the more natural ingredients a cleaner has, the safer it is for a variety of surfaces. Sometimes, this means a trade-off between really hardcore cleaners and versatility, but there are quite a few all-natural or mostly-natural cleaners that are shockingly effective.
Take the guesswork out of choosing a pet stain and odor remover, and check out these 7 products for every type of mess you may face.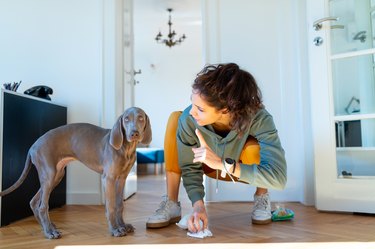 The Best Overall Pet Stain and Odor Remover
Unlike most cleaners, which use enzymes to break down stains and odors, Skout's Honor relies on a plant-derived, completely biodegradable formula that absorbs stains and odors through osmosis and then destroys them. It's nontoxic and safe, while also maintaining professional-strength cleaning properties. Although the manufacturer warns against using the product on silk, leather or natural wood, it can be used on rugs, carpets, upholstery, clothing, and other porous or water-safe surfaces. It's designed to eliminate stains and odors from blood, wine, feces, urine and even grease. This affordable cleaner is not tested on animals, uses only biodegradable ingredients, and, for every bottle sold, Skout's Honor contributes to feeding shelter animals.
The Best Pet Stain and Odor Remover for Laundry
Biokleen's stain remover is safe for use on just about everything, including in the laundry. Many products claim to be safe for use in the laundry, but we prefer Biokleen because it uses no phosphates, chlorine, ammonia, brighteners, or artificial fragrances and dyes. In other words, there is nothing in it that would typically trigger irritation or allergies if used on clothes, sheets or other fabrics that come into close contact with skin. Its stain and odor-eliminating powers come from live enzymes, which break down stains and odors into tiny molecules that are then essentially eaten and converted into carbon dioxide. This means that Biokleen is a great laundry cleaner since it continues to work throughout the cycle to clean and deodorize fabrics.
The Best Pet Stain and Odor Remover for Urine
If your biggest stain and odor problem is urine, this is a great product. Urine has one of the strongest odors, and the smell often persists long after the stain is gone. To combat this, Rocco & Roxie Professional Strength Stain & Odor Eliminator uses a bio-enzymatic formula that's specifically designed to feed off of the ammonia residue in urine stains, while also going to work on other organic residues like feces, vomit, blood and sweat. By eliminating odors so completely, it discourages re-soiling. The complete list of surfaces on which this child- and pet-friendly cleaner can be used is a long one: upholstery, carpets hardwood, tile, concrete, artificial grass, litter boxes, garbage cans, diaper pails, laundry, pet crates and pet beds. The Carpet and Rug Institute even gave it the Seal of Approval for use on ‌all‌ carpets.
The Best Budget Pet Stain and Odor Remover
This affordable cleaner is especially effective at cleaning and sanitizing soft surfaces. It uses hydrogen peroxide and other sanitizers to eliminate bacteria, stains and odors, so it's a great product for cleaning stains from potentially harmful biowaste. Woolite Stain & Odor Remover kills 99.9% of Staphylococcus aureus (Staph) and Enterobacter aerogenes (which can cause gastrointestinal issues) on soft surfaces. However, because it is such a strong cleaning product, it's not safe for use on polypropylene/olefin or wool fibers, which means it cannot be used on many rugs, carpets and car interiors.
The Best Pet Stain and Odor Remover for Tough Stains
Like many cleaners, Simple Solution uses enzymes to break down and absorb stain and odor molecules. The pro-bacteria and enzymes in this cleaner are three times stronger than those used in Simple Solution's regular formula. It's OK to use on all water-safe materials, meaning most fabrics, but it should not be used on wool or leather. You can even toss it into the wash with soiled clothes or sheets to give a powerful boost to the wash cycle. One great feature that many cleaners get wrong is that the spray bottle has three settings for targeting stains in small crevices or on wide surfaces. It's safe for use around children and pets, but it's definitely one of those cleaners that should not make contact with your eyes.
The Best Natural Pet Stain and Odor Remover
This spray is made up of a blend of organic enzymes and plant-based surfactants. Like many cleaners, it works by breaking down and then absorbing (digesting) stain- and odor-causing molecules. Its ingredients, while effective at destroying unwanted stains and odors, are gentle on carpets, upholstery, rugs, clothing and even hard surfaces. It's designed specifically to attack organic substances: blood, urine, vomit, feces and mildew. Finally, it leaves behind a scent of mandarin orange and green tea, rather than the harsh scent of many stain and odor removers.
The Best 2-in-1 Pet Stain and Odor Remover
This stain remover for carpet and upholstery claims to work on everything from dirt, grass and mud to blood, feces and urine in only 30 seconds. It primarily uses Pro Oxy, which is a hospital-grade disinfectant with cleaning properties similar to peroxide. It's safe for kids and pets when used as directed, and it also discourages pets from re-soiling the same spot. Its built-in brush is specifically designed for use with the product so that you don't risk making the stain worse by rubbing it in. It should not be used on silk, velvet, vinyl or leather. In short, this is a great product for people with pets who are repeat offenders on their carpets, rugs, or furniture.