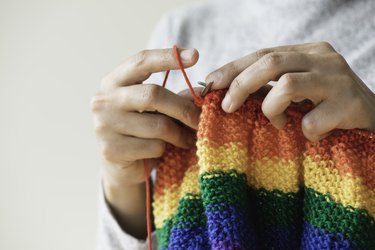 Knitting is definitely having a big moment in the crafting world. Let's face it, the last few years have brought on a resurgence in the hobbies we can enjoy in the comfort of our own homes. So it stands to reason that many people are now knitting up a storm. Not only is knitting a fun and satisfying craft, it has been found to be a healthy one, too. Knitting is linked to slowing down our thoughts and calming us just as a bubble bath, yoga or meditation would. Creating things with our own hands is rewarding, gratifying and can make us happy. So, if you've decided to pick up a pair of knitting needles and try your hand at this fun and stress-relieving hobby, we're here to help you choose the perfect set.
What to Consider When Purchasing Knitting Needles
​Length:​ As a rule of thumb, the thicker the yarn, the longer your needle needs to be. A longer needle will give you the space to spread out the larger stitches that are created by a thicker yarn. One guideline for choosing needle length is to add the measurement, in millimeters, for each yarn you plan to use. Choose the needle that is closest in size to that number. You'll also want to consider the number of stitches that will be in a pattern to determine needle length. If you use a needle that is too short, you risk dropping stitches and slowing down your knitting pace.
For beginners, a 10-inch needle is a good starting size. It will be small enough to handle easily, especially if you are learning to knit with smaller projects. You can go up in size as your project size increases.
​Needle Tip:​ Knitting needle tips come in two types: sharp and pointed or round and blunted.
Sharp tipped needles are used when knitting with fine yarns like lace, cobweb or fingering. You also use sharp-tipped needles when knitting projects that require tighter stitches like socks or gloves.
A blunt tip works best when knitting with larger yarn weights or yarn that easily splits like cotton, loosely spun fibers or acrylic.
​Material:​ Knitting needles come in six different materials: wood, bamboo, plastic, aluminum, carbon fiber and stainless steel.
Wood knitting needles tend to be a lightweight option for those with wrist and hand pain or if endurance is an issue. The softer woods like pine and birch can dent and cause the yarn to catch on the needle which isn't necessarily a bad thing if you're a beginner. Yarn catching on the needles will slow down the process a bit and help to avoid dropped stitches.
Bamboo knitting needles are similar to wood in that they are lightweight, strong and flexible. Yarn does stick to them more than other materials but beginners will appreciate this quality to keep from dropping stitches. More advanced knitters might want a different type of needle that won't slow down the knitting process.
Plastic knitting needles are great when using super chunky or bulky yarns. Be sure to choose plastic with a smooth finish to keep the yarn from snagging as you knit. Plastic needles are lightweight which helps reduce hand fatigue while knitting. One drawback of plastic needles is they tend to bend and break more easily than metal needles.
Aluminum knitting needles are a lightweight, durable and strong option. This type of needle tends to be long-lasting but can bend if stepped on. Aluminum needles are also likely to get scratched which could cause yarn snagging.
Carbon fiber knitting needles weigh more than wood and bamboo needles but less than metal needles. They won't bend like metal or break like wood and they feel nice and warm in your hand while knitting.
Stainless steel knitting needles are long-lasting and are best for advanced knitters who love to knit fast. They don't scratch, dent or bend and will hold up well in all sizes.
​Type:​ There are straight, circular, interchangeable and double-pointed needles.
Straight knitting needles are the OG of the knitting world. They work best for producing flat pieces that are later sewn together to complete a sweater or a towel. Straight needles have a built-in knob on one end and a single tip on the other end. Straight knitting needles can become heavy because the project yarn hangs on them, placing more weight on your hand. If hand fatigue or arthritis is an issue for you, then straight needles might not be a good choice.
Circular knitting needles are used for knitting in the round for projects like hats, sweaters, socks and mittens. Since the needles are attached with a length of plastic cord, the weight of the project is taken off of your hands. Circular needles can also be used for flat knitting which makes them a versatile choice.
Interchangeable knitting needles are similar to circular needles because they are made up of two needle tips joined by a cable but the difference is you can change out the needle size and length.
Double pointed knitting needles are only 4 to 8 inches in length. They are used for making small circular projects like socks, hats and glove fingers. You can also use them for small flat projects like sock heels or knitting the tops of hats when knitting in the round.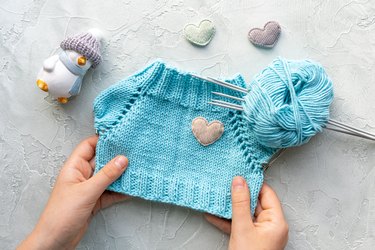 The Best Straight Knitting Needles
BCMRUN Straight Knitting Needle Set
This set of knitting needles is designed with beginners in mind. It is a complete set of stainless steel needles that includes 11 pairs of U.S. standard size straight knitting needles, 9 large-eye blunt needles, 10 knitting stitch markers, a knitting needle bag and a measuring tape. Basically, everything you need to get started in the world of knitting. In no time at all, you'll be making cozy warm socks and colorful sweaters for yourself or a lucky loved one.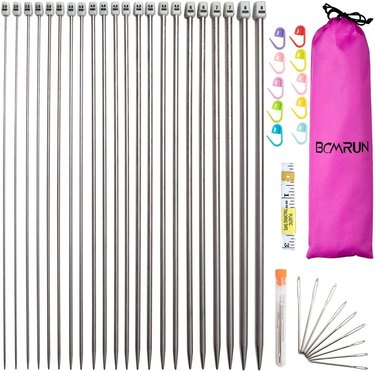 The Best Circular Knitting Needles
ChiaoGoo Circular Knitting Needles
The ChiaoGoo Red Lace Circular Knitting needles are made from surgical-grade stainless steel. The plastic-coated steel cable will stay out of the way while you knit and the weight of the project rests on the cable and not on your hands. Yay, we know what that means—longer knitting times! These needles are lightweight and great for knitting in the round and flat knitting. As a matter of fact, when knitting flat, the longer cables give you the benefit of making two sleeves at once, making row counting much easier. The needle sizes are etched on the needle which makes finding the right needle fast and efficient. This circular needle is great for both beginner and advanced knitters.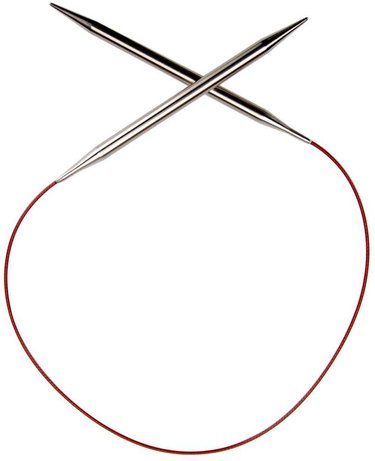 The Best Interchangeable Knitting Needles
Lykke Interchangeable Knitting Needles
It's no surprise that the word "lykke" means happiness in Norwegian, which is just what this knitting needle set is going to bring you. The high-quality Lykke interchangeable knitting needle set is made from birch and is sure to bring your knitting experience to a whole new level. Included in this set are 9 pairs of needles in U.S. sizes 3, 4, 5, 6, 7, 8, 9, 10 and 10.5. There are two 16-inch cords, one 20-inch cord, and one 24 cord as well as two connectors, four keys and eight stoppers, all organized and handy in a chic black pouch.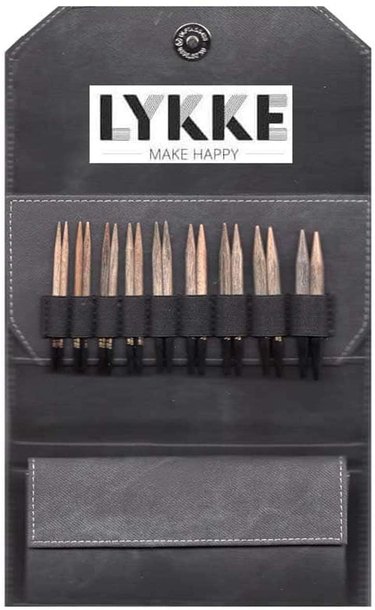 The Best Double-Pointed Knitting Needles
Relian Double Pointed Knitting Needles
The eco-friendly and lightweight Relian double-pointed knitting needles are made from high-quality bamboo. This set includes 75 needles: 15 different sizes with five needles in each size. This set of double-pointed knitting needles is great for beginners as well as more experienced knitters because there are enough sizes included to enjoy creating a variety of projects like socks, gloves, hats and mittens. Think of all the joy you will bring to those who are on the receiving end of your beautiful knitted creations!