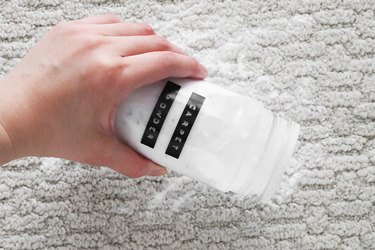 If you're looking for a quick, all-natural way to freshen up your home, make this DIY carpet powder. It's made with nothing more than baking soda and essential oils, which are two staples in homemade cleaning products. In fact, you might even have them on hand already.
Baking soda works by eliminating odors. This makes it an excellent deodorizer for not only carpets but refrigerators and pantries as well. Meanwhile, the essential oils provide a natural and pleasant fragrance.
When combined, these two natural ingredients create the ultimate deodorizing carpet powder. What's more, it doubles as an air freshener since the wonderful scent will make your house smell amazing. It sure beats using cleaning products with potentially toxic and harsh chemicals.
Are you ready to make your own carpet deodorizer? Read on to learn more about this easy DIY project.
Things You'll Need
2 cups baking soda

10 to 20 drops lavender essential oil

10 to 20 drops eucalyptus essential oil

1 tablespoon dried lavender buds (optional)

Shaker bottle or glass jar
Tip
You can use your favorite essential oil blends. Citrus options, such as orange and lemon essential oils, are especially popular. However, if you have pets, be sure to avoid essential oils that are harmful to animals.
Step 1
In a bowl, combine the baking soda and five to 10 drops of essential oils. Mix well.
Step 2
Add the lavender buds if you're using them. This is an optional ingredient, but it offers an attractive visual and even more natural fragrance.
Add another five to 10 drops of essential oils and stir well.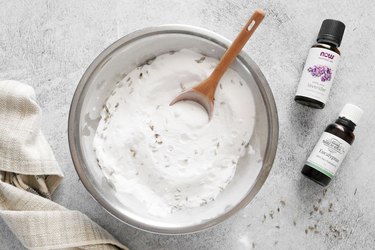 Tip
The ideal amount of essential oils will depend on the potency of each one.
Step 3
Pour your homemade carpet cleaner into a glass jar or shaker bottle. You can even use an old Parmesan cheese container, which is an excellent eco-friendly choice.
To use your homemade carpet powder, simply sprinkle it onto your carpet or rug. Let it sit for 15 to 20 minutes and then vacuum it up.
It's important to note that this carpet deodorizer isn't a replacement for regular carpet cleaners. You'll still need to routinely disinfect and wash your rugs with a carpet cleaning solution. However, between cleanings, this homemade carpet deodorizer can act as a refresher while keeping your home smelling good. Happy cleaning!