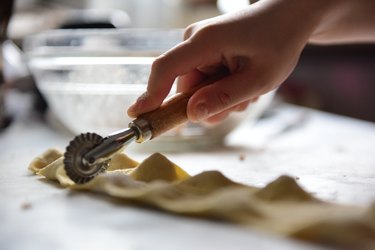 Making your own pasta is a fun experience and one that delivers a fresher, livelier taste than what you get from packaged pasta products. As pasta only requires a few ingredients, it's very simple to prepare the dough. Turning that dough into uniform noodles that cook properly can be a little trickier, though. That's where having the best pasta-making tools comes in.
There are utensils, accessories, attachments and countertop appliances to help with every step of the pasta-making process. It's not practical to cover them all, but we've put together product recommendations for many of the basic items used to make homemade pasta.
What to Consider When Purchasing a Pasta-Making Tool
​Pasta Varieties:​ Decide which types of pasta you want to make. Certain tools are essential for most types of pasta, like those for working with dough. That includes items like a wood board, bench scraper, rolling pin or pasta roller, and so on. The latter make sheets for dishes like lasagna and ravioli, and for cutting into noodles.
There are pasta cutters for making long, flat noodles like linguine, fettuccine and pappardelle. Pasta extruders make round and tubular noodles like spaghetti and penne. Specialty rollers, cutters and extruders can form spirals like rotini, ridged pasta like cavatelli and all sorts of other shapes. Certain kinds of pasta have their own dedicated helpful tools, like for ravioli or gnocchi. You can also use piping bags to make some kinds of filled pasta. We could go on and on, but we won't—start with the basics and expand your assortment of pasta-making tools as you decide to tackle new types.
​Material:​ Obviously, the type of material you want depends on the item you're buying. But, as a general rule, stainless steel is usually a good choice for products available in this material. It's strong, durable, heat-resistant, rust-resistant and often dishwasher-safe. When buying wood items, look for a strong type of wood, and remember these pieces usually shouldn't go in the dishwasher and may require a bit more care to keep them in good shape. Silicone is another go-to material for many cooking utensils, like baking spatulas used for working with dough.
​Price:​ Also consider what you're willing to spend on any given item. With just about any kitchen tool, you'll find a wide range of price points, from value purchases to high-end offerings. Be cautious when buying anything at the lower end of the price spectrum; while you can certainly find budget-friendly products that work well and hold up, you can also easily end up with products that don't. At the same time, high-end products are often excellent and aesthetically pleasing, but a high price tag doesn't automatically equate to top performance and durability.
These considerations will help you pick out the pasta-making tools that are right for you. Also, remember to check out the cleaning and care requirements as well as other aspects of the user-friendliness of any product you're thinking about buying.
The Best Wooden Pastry Board
Zelancio Reversible Wooden Pastry Board
A wooden pastry board is the perfect surface for working your pasta dough. It's typically warmer than a tabletop or countertop, and pasta dough does better on a warm surface. Also, a porous board like this natural acacia one absorbs excess moisture from the dough, which helps prevent sticking and is beneficial for achieving the right consistency without the use of excessive amounts of flour.
If you're going to invest in a quality wooden board, this product is worthwhile because it's perfect for making pasta and it'll come in handy for a variety of other purposes—especially when you're baking. This reversible board is designed to use one side for working dough and the other as a cutting board. It also has helpful measurement markings for a range of pasta dough portioning and baking tasks.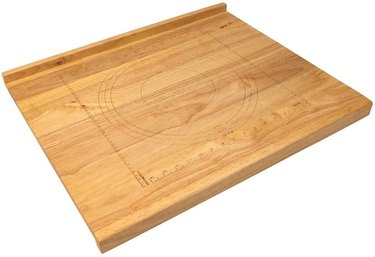 Norpro Stainless Steel Scraper/Chopper
When you're working with a floured surface, mixing dough and chopping it into portions, a bench scraper is a useful tool to have on hand. It helps with the food prep and even the cleanup, allowing you to scrape and scoop up the flour and remnants of dough. This sturdy stainless steel bench scraper is a well-designed, budget-friendly option to assist with your pasta making (as well as baking and more).
One of the best features of this product is the handle design, which lets you lay it flat when you're scooping things up; that's a rare find. But it's still a comfortable handle to work with. The blade has etched measurement markings, making it easier to portion dough for uniformly sized pasta pieces. And you can just toss this bench scraper into the dishwasher when you're finished with it.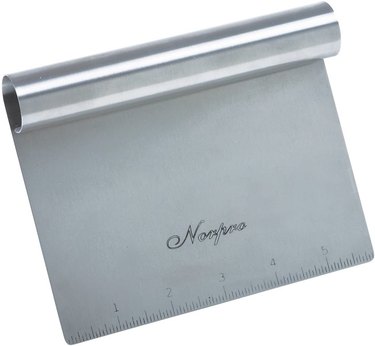 The Best Pasta Roller and Cutter Machine
Marcato Atlas 150 Pasta Machine
Pasta rollers and cutters are essential pasta-making tools, and this durable, chrome-plated steel set performs exceptionally well—and it looks great, too. Use the roller to press the dough into a sheet of uniform thickness for lasagna, ravioli and more. This one customizes to an impressive 10 different thicknesses, plus the roller creates a rough texture that helps the resulting pasta hold sauce better. And it doesn't jam up like a lot of other pasta rollers do.
It also comes with two pasta cutter attachments for making fettuccine and tagliolini noodles. And, on top of that, it's compatible with an additional 12 cutters for making a wide range of other pastas. Beyond that, you can get a little motor that converts this from a manual pasta roller and cutter into an automatic one, which makes the whole process faster and easier.
The Best Accordion Pasta Cutter Wheel
Ateco 5-Wheel Stainless Steel Cutter
If you don't have a hand-crank pasta cutter, or if you want to make small square sheets, a tool like this will be enormously helpful. While there are lots of single-wheel cutters, this sturdy, stainless steel cutter has five wheel blades, and it folds and collapses accordion-style. You can cut large pasta sheets into long noodles or squares efficiently and evenly, making it a great time-saving and quality-control device.
Simply adjust the blades to the desired spacing, then tighten the wingnut to hold them securely in place. And you can get lots of use out of it for other purposes too, like making lattice pie crust and cutting brownies, for example. Hand-washing is recommended for this tool.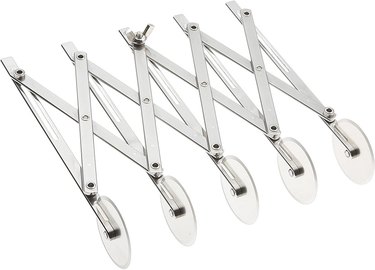 The Best Pasta and Ravioli Cutter Wheel
LaGondola Double Pasta and Ravioli Cutter Wheel
A wheel cutter like this comes in handy for cutting your own pasta, especially if you don't have a hand-crank pasta cutting machine or attachment. This one has two heads: one standard wheel blade for cutting through dough, and one fluted (festooned) pastry wheel. The latter creates the classic serrated edges on ravioli that aren't just for aesthetics—they help it seal more securely to prevent burst-open pasta during cooking.
You often have to purchase these two types of wheel cutters separately, but this product conveniently combines them into one tool. It's made of brass and even sturdier than similar stainless steel wheel cutters. The brass combined with the comfortable, attractive wood handle makes this is an elegant-looking piece, too. And the blade is quite sharp and cuts cleanly.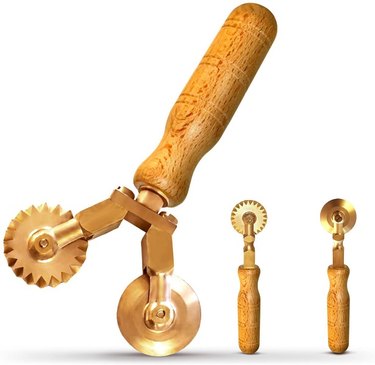 If you plan to make your own ravioli, you want a ravioli tray. This is a budget-friendly option, which you can also use to make other dumpling-style dishes, such as wontons, kreplach, manti, jiaozi or gujiya, as well as sweet treats like stuffed cookies or bite-sized pies. Easily mold 12 ravioli at the same time, then use a ravioli wheel cutter (see the previous product on this list) to create the individual pieces. The resulting 1.5-inch raviolis are a perfect size.
The Best Pasta Drying Rack
Eppicotispai Beechwood Collapsible Pasta Drying Rack
Long, flat noodles like linguine, fettuccine, tagliatelle, pappardelle and lasagna turn out better if you air-dry them after forming. This lets them develop a thin skin that prevents sticking and helps them maintain their shape and texture while cooking. The key is to have air circulation all around them, which means drying by laying them on a flat surface isn't as effective. A drying rack like this well-priced, quality beechwood piece is perfect. It's collapsible for compact storage but expands to provide more than 10 square feet of pasta-hanging space.
The Best Pasta Drying Screen
Eppicotispai Beechwood Stackable Food Dryer
As mentioned in the previous entry, air-drying homemade pasta minimizes sticking and helps the noodles hold their shape and texture as they cook. While it's best to hang long noodles from a drying rack, other shapes fare best on a drying screen that allows air to circulate all around. This high-quality beechwood drying screen has wide holes to promote airflow. It's a durable piece that will last—just make sure you only hand-wash it—and it's useful for efficiently air-drying all sorts of food besides pasta.

Fantes 8-Inch Beechwood Gnocchi Board
Authentic gnocchi has a ridged surface that helps it hold onto more sauce and cheese. While you can create this surface using the tines of a fork, a gnocchi board lets you do it more efficiently and evenly—and with less likelihood of squishing the gnocchi flat. You can also use a gnocchi board to form other ridged pastas, like cavatelli. All you do is roll your pillows of dough over the lightly floured surface. This natural beechwood product features a comfortable handle, and it's so affordably priced, that it's a great pick for anyone looking for specialty pasta-making tools.