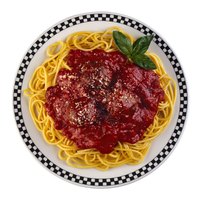 Whether you are helping with a church spaghetti dinner or neighborhood block party, or are hosting a large dinner party, if you are feeding a large crowd, you need a way to keep your yummy spaghetti hot for serving. Your Hamilton Beach roaster oven has the capability to meet your needs.
Things You'll Need
Hamilton Beach roaster oven
2 small ovenproof containers
Preheat the roaster oven to 250 degrees Fahrenheit. Place two small ovenproof containers of water in opposite corners of the insert pan. Use emptied and washed food cans that are filled two-thirds full with hot water.
Place your cooked spaghetti and sauce into the insert pan. Cover the pan and keep your spaghetti warm for up to one hour. Stir occasionally for quicker, even heating. Keep the roaster covered when you are not stirring. Removing the cover allows heat to escape and affects the temperature of the roaster oven.
Measure the spaghetti's temperature with an instant-read thermometer to ensure that the food is at least 140 degrees Fahrenheit. Hot foods held below this temperature encourage the rapid growth of microorganisms. Foods on a buffet table should be checked often. Do not leave hot food set at room temperature for more than two hours.
Turn the roaster oven's temperature control to off, unplug the roaster from the outlet and let it cool. Wash the cover and insert pan in hot, soapy water. To remove burned-on food, let the insert pan soak, then scrub it with a nylon scouring pad. Wipe the inside of the roaster base with a damp cloth. The outside of the roaster oven can be washed with a damp, soapy cloth, then dried.