When it's time to cook or bake your favorite recipe, the first thing you'll reach for is usually the recipe itself. The second thing will usually be measuring cups (unless you're a kitchen scale person).
Broadly, there are two main kinds of measuring cups—for dry ingredients and for liquid ingredients—and a well-equipped kitchen has at least a few of each. But what sets the good ones apart from those that are just so-so? Let's look at a few of the best measuring cups, and what they do differently.
What to Consider When Purchasing Measuring Cups
The first and most important thing any measuring cup can do is provide an accurate measurement. The major brands you're familiar with all do this reasonably well, but off-brand and lower-priced options might be a bit less reliable.
Other things to consider include:
​Material:​ All of the most common materials have strengths and weaknesses. Glass is heat- and microwave-safe, but can shatter. Plastics won't make dangerous shards, but are prone to breakage and may not be microwave- or dishwasher-safe. Metal is durable but can rust or become warped (and therefore less accurate) with use.
​Tool For the Job:​ Dry measuring cups are meant to be filled to the brim and then leveled. They also double fairly often as scoops, so durable materials and sturdy handles are a plus. Wet measuring cups rise significantly higher than their markings, so there's plenty of "slosh space" when you lift and pour. Ideally, wet measuring cups are made from a transparent material (glass, plastic, sometimes silicone) so you can see the level of liquid from the side.
It's not that you can't use liquid cups to measure dry ingredients and vice versa, but it's always better to use the right tool for the job.
​Size of the Set:​ A typical set of wet measuring cups includes, 1, 2 and 4 cup sizes. The corresponding set of dry cups might include 1/4, 1/3, 1/2 and 1 cup sizes. Serious cooks might find themselves wanting more and larger wet measuring cups, and serious bakers might appreciate additional fractions (1/8, 2/3 or 3/4 cup) or perhaps a bigger 2 cup measure. You can buy extra sizes "à la carte," but they might not match your set (or stack with them). It's often better to start with a more complete set.
​Physical Considerations:​ Measuring cups are physical objects in their own right, and their appearance and design have a big impact on their usability. Are the handles sturdy and comfortable? Are the markings easy to read, and will they last? Can they stack neatly for compact storage? Do they have unusual design features you won't find on other cups? Do they bring a bit of aesthetic appeal to your kitchen with sleek styling or a splash of color? None of these directly affects their measuring ability, but they all count in the real world.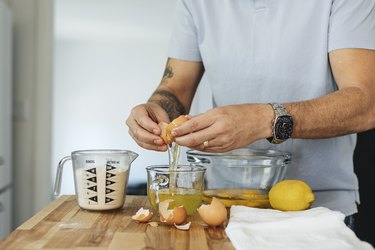 The Best Overall Liquid Measuring Cups
OXO Good Grips Angled Measuring Cups, 3-Piece Set
OXO has a reputation for out-of-the-box thinking and getting the details right. These measuring cups are a prime example of both. Their distinctive two-tiered design has a pragmatic purpose: Aside from the traditional side-view measurements, the diagonal portion of each cup has a second set of measurements you can view from above, as you pour in your liquids. The markings are hardwearing, the handles are comfortable and sturdy, the cups will give you drip-free pouring, and they're dishwasher-safe and BPA-free. This set includes 1, 2 and 4 cup sizes, making it a great all-round value.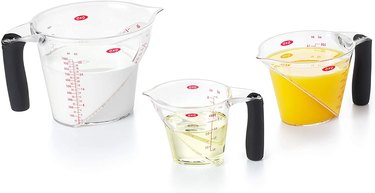 The Best Glass Liquid Measuring Cups
Pyrex Glass Measuring Cups, 3-Piece Set
There wasn't much question that Pyrex would take this spot on our list, the question was "which Pyrex product?" The brand has been a kitchen mainstay for almost a century now (since 1926), and many of us have one that belonged to our mothers or grandmothers. They're just about everything you want in a measuring cup: Sturdy, durable, microwave- and dishwasher-safe, and with markings that take decades to fade. Their only drawbacks are weight and the risk of shattering if they're dropped on a hard floor or stone counter. If those aren't deal-breakers for you, this set of three might even be your top choice.
The Best Value Liquid Measuring Cups
Vremi BPA-Free Nesting Stackable Measuring Cups, 3-Piece Set
If you want solid value but can't (or don't want to) budget for our top choices, this set might be just the thing. While they don't have the thoughtful view-from-above markings that distinguish the OXO cups, this set from Vremi is otherwise very similar. They pour beautifully, the non-slip handles are comfortable and well designed, and they stack neatly for storage. Their only real downside is that the manufacturer recommends hand-washing in order to minimize wear on the markings. Again, this set includes 1, 2 and 4 cup sizes.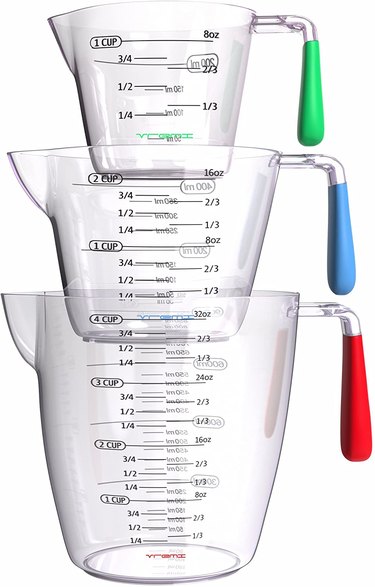 The Best Overall Dry Measuring Cups
OXO Good Grips With Magnetic Handles, 4-Piece Set
There are certain things you'd ideally want in a dry measuring cup: A good handle, a sturdy design that won't warp, a flat top for easy leveling (on some cups, the handles get in the way), and markings that will last as long as the cup does. This set from OXO delivers all of that, and more. The handles are as comfortable as you'd expect from OXO, and sturdier than those of most rivals. They nest neatly when not in use, and—rather than using a ring or clip mechanism to keep the cups together—the handles are magnetized so you can easily remove the one you want without fuss.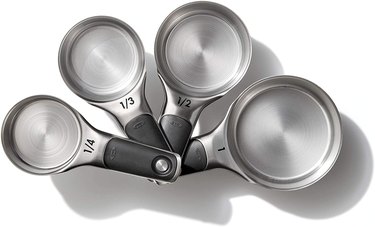 The Best Stainless Steel Dry Measuring Cups
Hudson Essentials Stainless Steel Dry Measuring Cups, 6-Piece Set
If our top-choice OXO measuring cups are distinguished by special design features, this set from Hudson Essentials is defined by its simplicity. These are the kind of durable, no-frills measuring cups that will stand up to decades of everyday use. They're made of corrosion-resistant stainless steel, so they're dishwasher-safe. Like the OXO cups, they're flat on top for easy leveling, and their handles are reasonably comfortable.
A big plus is that partial measurements are physically stamped into the metal of the cups, adding to their versatility. You can measure two ingredients accurately in the same cup, or even use them for liquids if necessary. The six-piece set includes 2/3 and 3/4 cup measures, both useful sizes for bakers.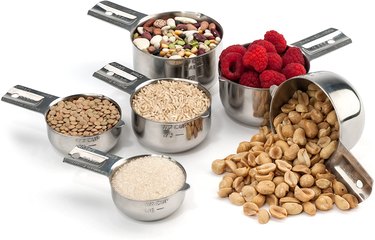 The Best Value Dry Measuring Cups
Prepworks Ultimate 19-Piece Measuring Cups and Spoons Set
Progressive's Prepworks line stands out in the crowded "cheap and cheerful" segment, with products that consistently show a little more thought and a little more design than most of their competitors. Checking in at a whopping 19 pieces, this set gives you 10 cups and nine measuring spoons. The colorful cups and spoons nest neatly for storage and clip together with a ring so they don't go astray. The handles are comfortable and have the measurements embossed on them, and the cups span a full range from 1/8 cup all the way up to 2 cups (and the spoons from 1/32 of a teaspoon to 1 tablespoon). If you want value, Prepworks delivers.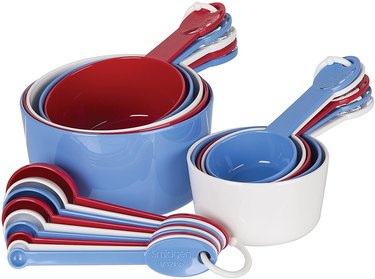 The Best Full-Set Measuring Cups
Control Kitchen Measuring Cups and Spoons, 11-Piece Set
There are times in life—first apartment, first home together—when it makes sense to go for a one-and-done, "everything you need" solution. For measuring cups, this set from Control Kitchen fits the bill nicely. You get plastic liquid-measure cups in the standard 1, 2 and 4 cup sizes, and stainless steel dry-measure cups in 1/4, 1/3, 1/2 and 1 cup sizes. To round out the package, you'll also get a set of four sturdy stainless steel measuring spoons. Are any of them as good as our standout picks in each category? No, but they're all serviceable and they add up to excellent value for your dollar.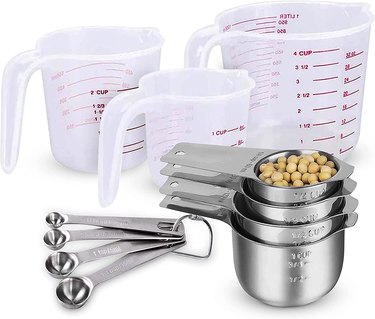 The Best Special-Purpose Measuring Cups
OXO Good Grips Squeeze & Pour Silicone Measuring Cups, 3-Piece Set
While most measuring cups follow a few standard formats, there are lots of special-purpose designs as well. There are space-saving collapsible measuring cups and adjustable cups, and OXO's nesting set of measuring beakers has a definite chem lab/geek chic air about it. Those all have their merits, but our favorite special-purpose measuring cups are OXO's Squeeze & Pour silicone cups. They're heatproof enough to melt butter or boil water, they're microwave- and dishwasher-safe, and the honeycombed grips keep your hands cool. They're also flexible, so you can squeeze to pour into especially small openings. It's an unusual but eminently practical design.