A lazy Susan isn't just for serving up a variety of snacks in the middle of your table anymore. Sure, it is great for parties and makes it easy for everyone to reach the appetizers, but that's not all it can do. The rotating turntable also packs a punch in the functionality department.
Use a lazy Susan in your mission to organize and increase the functionality of your home. The rotating ability of the lazy Susan means you can use it to store and organize bottles and containers in all areas of the house like never before. From the laundry room to your bedroom and every space in between, there's so many ways to incorporate a lazy Susan in your design.
If you don't already have a lazy Susan in your organizational arsenal, you can purchase an inexpensive one from Amazon. There is a variety of styles available, from basic ones to ones with dividers and high walls to keep the tray contents from spilling to even tiered ones to make use of valuable vertical space.
You can also try your hand at DIYing one yourself. All you need to make your own are two cake pans, marbles, a large charge plate for the top and some super glue to hold it all together. Most if not all of these supplies can be found at your local dollar store. For a few dollars and a few minutes of work, you'll have yourself an organizational power tool that will take your cabinets and countertops to the next level.
Here are 10 organizing tips that will put your lazy Susan to good use in every room of your house.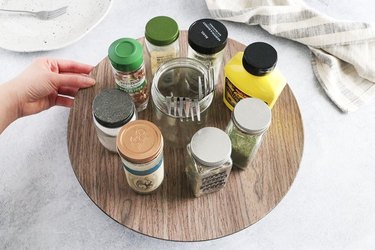 1. Clean Up Your Spice Cabinet
Take a few minutes to organize your spice cabinet and toss any expired ones that are lingering in the back. Then, you can make it easy to see exactly what you have by lining up your most frequently used spices and seasonings on a small lazy Susan inside your kitchen cabinet. Add a small label to the lid of each jar so can easily see which one you need without having to lift up each one. This way, you'll always grab the right one. You don't need to do this with a fancy label maker either. A piece of tape and a permanent marker is all you need. You'll never run the risk of accidentally ruining dinner by using the wrong spice.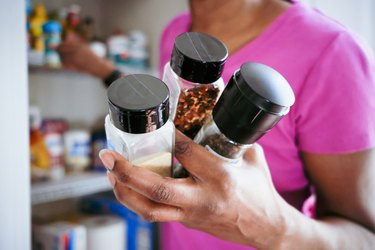 2. Organize Your Beauty Products
Say goodbye to that cramped and cluttered bathroom cabinet with a little help from your friend lazy Susan. Use the handy turnable tray to gain easy access to your daily necessities, like moisturizer and SPF, without having a pile of products in your drawer. You'll shave a few minutes off your morning routine since you won't be digging through the drawers searching for your mascara ever again. You can also choose a lazy Susan with dividers so you can use it to store hair tools, like brushes and curling irons. Either way, getting ready for work just got that much easier.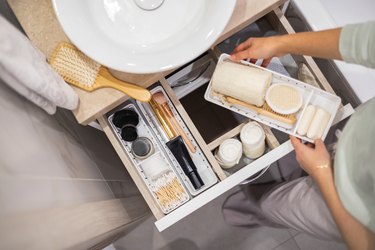 3. Streamline Your Cleaning Supplies
You'll never buy a duplicate bottle of glass cleaner that you don't need ever again after you add a lazy Susan to your kitchen cabinet. Add things like toilet cleaner, sprays, disinfectant wipes and a few rags to the turntable. You'll be able to grab exactly what you need without digging through a cluttered cabinet. Take advantage of the prime real estate in your cabinet and place the lazy Susan front and center. Save the space at the back of the cabinet for things you use less often, like your emergency candles that you definitely need but don't need every day. The next time you have to clean up a spill, you'll be ready to spring into action.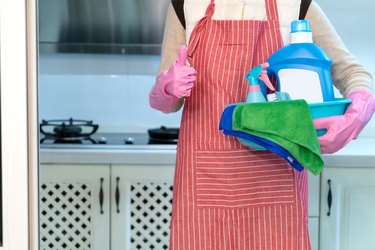 4. Organize Your Coffee Station
Wake up every morning and feel like you are at a quaint local coffee shop instead of standing at your small kitchen countertop. Store your coffee pods, creamer and choice of sweeteners on a handy lazy Susan on your counter and you'll be able to make your coffee with your eyes closed. Go an extra step further and keep a few coffee cups and stir sticks nearby to make it easy for guests to help themselves to a cup if they wake up before you do.
5. Sort the Condiments in Your Fridge
You will never have to guess if you have a bottle of your favorite salad dressing or condiment when you can easily see them every time you open the fridge. Add a lazy Susan to your refrigerator and use it to corral all those half-used bottles from the back of the fridge. Not only will this save you from buying duplicates but you'll also be able to actually finish what you have in the first place since the items will always be easily accessible.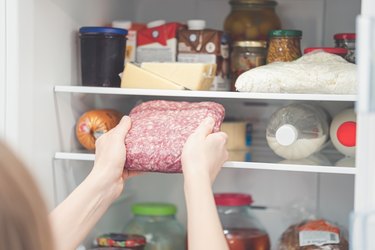 6. Keep Your Laundry Room Tidy
Laundry soap, bleach, fabric softener, stain remover — doing laundry requires a ton of products. Keep the laundry room spic and span by using a lazy Susan to hold all your favorite detergents and additives. This is great for laundry rooms with limited storage space since all you'll need to do is spin the turntable, and you'll be able to easily grab the fabric softener or stain remover without using a step stool to get them off a high shelf or fumble through a pile of bottles searching for the right one.
7. Organize Your Baking Supplies
Avid bakers know there are a handful of ingredients and supplies that you use almost anytime you bake something, like flour, sugar and baking soda. Incorporating a lazy Susan into your kitchen cabinetry will make whipping up your favorite sweet treats easy as pie. Add the lazy Susan to an underutilized corner cabinet where things in the back are often hard to see and reach. Having all of your baking supplies in one area means more time kneading and mixing and less time searching for that bottle of vanilla extract you know you bought but can never find.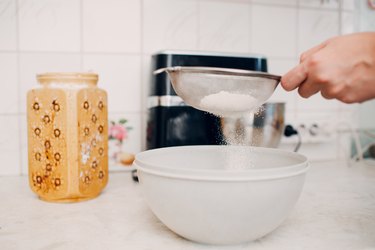 8. Create a Functional Display for Perfume
Contain all the clutter on your dresser with help from a lazy Susan. Line up all your favorite perfume bottles, body sprays and lotions so you can easily pick your favorite before heading out the door. This is a genius way to save space while also displaying the pretty perfume bottles in a functional way that will make getting ready a breeze.
9. Organize Craft Supplies
Keep your markers, crayons and scissors in one spot and crafting will become easier than ever. Craft supplies have a way of appearing on every surface and in every drawer but not anymore. Use Mason jars on top of a lazy Susan to sort all your supplies and keep them organized right on your tabletop. The next time you get the itch to be creative, you won't have to search the whole house for the crayons and markers.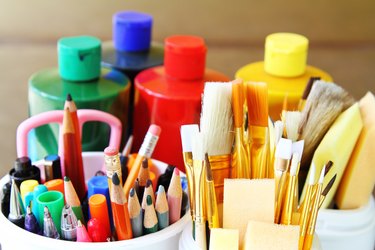 10. Decorate a Cake With Ease
Put your lazy Susan to work and decorate cakes like a pro. Place your cooled cake on top of the lazy Susan and give it a little spin as you begin to apply the first layer of frosting. Keep spinning slowly as you work. This will help you easily frost the cake without having to change your position. This also works well when you are adding decorations or ganache since you'll be able to keep all your supplies in one spot while you rotate the cake to the perfect position. Say hello to your new favorite kitchen tool!