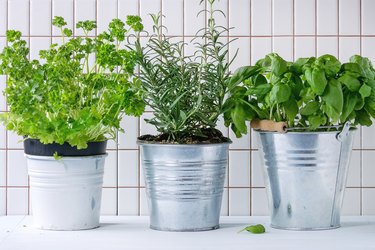 There's nothing worse than opening the fridge to discover all the fresh herbs you bought from the store have gone limp. And because this happens so easily, most cautious shoppers will only purchase herbs if they know they're going to use them within a couple of days.
But what if you could keep those fragile herbs for longer, and keep them fresher? And, if you've grown them yourself, you'll likely want to make sure you can hang onto your herbs for as long as possible, especially after a big harvest.
That's where an herb keeper comes into play. These containers are specifically designed to keep herbs from wilting, and you can store them in the refrigerator or set them on your kitchen countertop, depending on the herbs. There are many options to choose from, so you're bound to find one that complements the style of your kitchen. Before you rush out and purchase the first herb keeper you see, let's talk about what to look out for when selecting a fantastic herb keeper in 2022.
What to Consider When Purchasing an Herb Keeper
​Size​: When looking for an herb keeper, the first element to consider is the size you want. Since, in many cases, your herb keeper will go in the fridge, you'll want to make sure it fits without taking up too much space. What size you get also depends on how many herbs you've either harvested or bought. The avid gardener will be harvesting loads of fresh herbs, making a larger size more sensible, but if you only use herbs in your cooking occasionally, there are more compact models that will meet your needs without taking up more space than a quart of milk.
​Water Reservoir:​ While practically all herb keepers have a basin for water, you'll want an herb keeper with a water reservoir that's shallow and easy to reach. There's nothing worse than battling with a container and spilling water, especially if it's in the fridge. Another reason why a shallow reservoir is better is that you want the stem ends submerged while keeping the leaves above the water level.
​Accessibility:​ Well-designed herb keepers will have lids that are easy to open. Some herb keepers will even have a lid that slides all the way down, giving you easy access to your herbs so you don't have to stick your hand in a tight, narrow container to reach them. Other models may use a lift and push plunger that lifts an interior herb basket out from the main container for the same reasons.
​Ventilation​: A good herb keeper will provide adequate ventilation. While your herbs need water, too much contained moisture can cause mold to grow. Moldy herbs can easily become a health hazard, affecting the rest of the food in your fridge, so look for herb keepers with holes, slits or vents that allow your herbs to breathe a little. Other ventilation features you might see include herb compartments with dividers or screened baskets to provide proper airflow.
​Ease of Cleaning​: It's always a plus if your herb keeper washes up easily—or better yet, is dishwasher-safe. You'll probably want to avoid getting any herb keeper, however nice it may look, made entirely from glass, as well as models made from cheap, thin plastic. Even if an herb keeper isn't marketed as dishwasher-friendly, as long as its different parts are easy to separate, it should be pretty easy to wash by hand.
With these considerations in mind, we've selected the best herb keepers in 2022: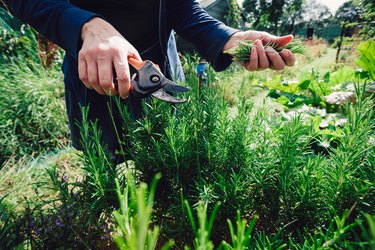 The Best Overall Herb Keeper
OXO Good Grips GreenSaver Herb Keeper
You have no doubt opened your fridge to find your herbs reduced to limp, soggy fronds crushed inside an unventilated container. Well, OXO's herb keeper is designed to overcome all the usual issues, and the Good Grips GreenSaver Herb Keeper does it with a simple yet inventive design. It ensures that your herbs are hydrated and protects them from being abused when you're rummaging around the fridge thanks to its unique basket.
The basket also promotes 360-degree airflow, which maintains humidity for freshness. It's incredibly easy to access the herbs with the hinged lid, which allows the user to easily lift up and grab the produce. Another benefit of the basket is to keep herbs from clinging to the sides of the container, which can cause them to go limp more quickly.
And, if you want to remove all the herbs in one go, the basket inside has a handle. If you don't want to store this herb keeper on the shelf, it's shaped so you can easily slip it into the side of the refrigerator door. The OXO Good Grips GreenSaver Herb Keeper is also well-priced without skimping on style, so if you ever store herbs that don't need to be refrigerated, it looks quite good on the kitchen counter.
​Product Dimensions​: 6.5" x 4.75" x 9" (L x W x H)
​Weight​: 7 oz.
​Materials​: Polypropylene
​Dishwasher-Safe:​ Yes
​Shape​: Rectangular
The Best Herb Keeper for Multiple Herbs
Cole & Mason Fresh Herb Keeper
The Cole & Mason Fresh Herb Keeper is designed and made in the U.K. and promises to keep your produce fresh for up to 10 days. With three dividers, this herb keeper allows the user to store multiple types of herbs separately. There's also the cut-herb keeper feature, which slides the container's lid shut, preventing the produce from getting knocked and damaged.
Another great design feature of the Cole & Mason Fresh Herb Keeper is that it features a water level indicator, so you know exactly when you need to refill it. This is situated at the front for ease of access. The container also features ventilation holes and is narrow enough to fit into your fridge door at home.
​Product Dimensions​: 7.28" x 4.75" x 9.06" (L x W x H)
​Weight​: 1.1 oz.
​Materials​: Acrylic
​Dishwasher-Safe​: Yes
​Shape​: Rectangular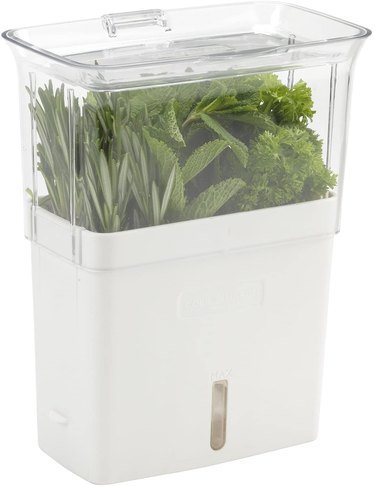 NOVART Extra Large Glass Herb Keeper
The NOVART Extra Large Glass Herb Keeper guarantees to keep produce fresh two to three times longer than other herb keepers. NOVART estimates that this will keep herbs and veggies crisp for up to three weeks. Made from glass, BPA-free plastic and stainless steel, this herb keeper not only looks great but is made from premium materials.
The herb keeper resembles a French press coffee maker, owing to its transparent cylindrical design and lift and push plunger. Only this time, the plunger is designed to lift up the interior herb cup for easy access.
Touted as the largest herb keeper on Amazon, it's also a rather tall container at 12.2 inches, so before you order one, make sure you have enough vertical clearance in your fridge. But, with the extra height comes the ability to store more than just herbs. It is perfect for asparagus, kale, beans and more.
While the plastic and stainless steel core are probably safe to stick in the dishwasher, the manufacturer doesn't mention anything about the product being dishwasher-friendly, so we'd recommend washing it by hand with warm soap and water. In spite of this, for the higher price tag, you get a well-built product that's stylish, long-lasting, and best of all, keeps your herbs fresh for a competitively long time.
​Product Dimensions:​ 4.7" x 4.7" x 12.2" (L x W x H)
​Weight​: 2.2 oz.
​Materials​: Glass, stainless steel, plastic
​Dishwasher-Safe​: Possibly; hand-wash recommended
​Shape​: Cylinder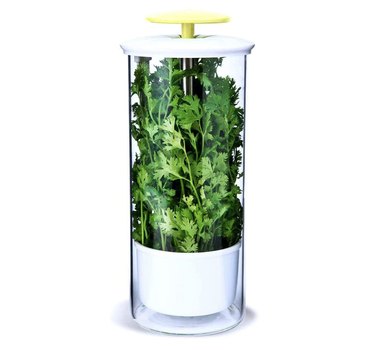 The Best Space-Saving Herb Keeper
Oprah raved about the original Prepara herb keeper and rated it as the "must-have" kitchen accessory of 2010. So, what has the company done since then? As it turns out, Prepara has unveiled a new and improved herb keeper. Ditching the older model's rectangular shape, the designers at Prepara decided to create a cylindrical herb keeper that's sleek and futuristic, but still functional.
This herb keeper promises to triple the lifespan of your fresh herbs, has an easy-to-access refillable reservoir with a removable cap, and fits in all standard refrigerator doors. At just over 3 inches across, it doesn't take up much more space than a glass bottle of milk, coffee or lemonade.
It features a transparent vertical lid that makes it super easy to reach in and grab your herbs. On the back, near the bottom, there's a removable filler cap that makes it convenient to refill the water reservoir. For the best results, Prepara recommends replacing the water with fresh water every three to five days.
While we've listed the single herb keeper here, for roughly $9 extra, you can get the Prepara Herb Savor Pod 2.0 in a set of three. The difference between the units is that the Pod 2.0 has a hinged lid instead of a pop-off lid. They're also a bit smaller. Either way, both models are convenient and effective.
​Product Dimensions​: 3.2" x 2.6" x 9.6" (L x W x H)
​Item Weight​: 7.2 oz.
​Materials​: Plastic
​Dishwasher-Safe​: Yes
​Shape:​ Cylinder