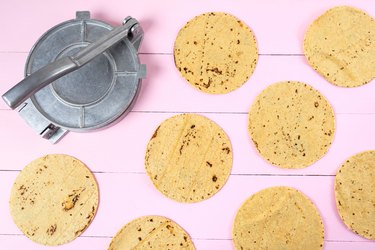 While you can easily buy a pack of pre-made tortillas, the fact is, they're better fresh. There's no debating it—if you want the best tortillas, you'll either need to recruit someone to make them for you, or purchase your own tortilla press. A tortilla press is a device that helps you flatten a ball of dough into a tortilla shape, which, in most cases, you then cook in a pan. While making tortillas yourself is extra work, the upside is that, with a little practice, you can make them as thick or thin as you want. You also have more control over what ingredients go in, so you can make them a little healthier than store-bought tortillas.
Whether you're Team Corn or Team Flour (corn being more authentic), a tortilla press can bring the quality of a Mexican restaurant or food truck right into your kitchen. We've laid out what to consider when purchasing a tortilla press and selected the best tortilla presses in 2022. We've also included a simple flour tortilla recipe you can try.
What to Consider When Purchasing a Tortilla Press
​Electric Versus Nonelectric​: While there may be some minor variance in design from one tortilla press to another, virtually all tortilla presses involve a flat surface and lid that presses down flat, similar to a waffle iron. However, there are technically two types: electric and nonelectric. The main difference is that electric tortilla presses will also cook the tortilla, whereas nonelectric models simply flatten the dough into tortilla form; you'll still have to throw them on a griddle. Electric tortilla presses will especially come in handy when you're preparing lots of food for a party, as they'll save you time. Nonelectric tortilla presses, however, remain more popular.
​Size​: The size of the tortillas you can make depends on the size of the press. Most tortilla presses offer enough surface area to make 8- to 10-inch tortillas, but some may be a little smaller or larger. Corn tortillas, which are more authentically Mexican, are generally smaller, usually 4 to 6 inches in diameter, and don't require a large cooking area. Flour tortillas, on the other hand, require more space and are often double the size of corn tortillas. Besides the size of tortillas you want to make, there's also the matter of storage space. A bulky tortilla press can have a bigger footprint than a waffle iron, and wooden presses may be nearly as thick. However, there are plenty of models, especially nonelectric ones, that are relatively thin and compact.
​Ease of Use:​ It should go without saying, but any apparatus that is difficult to operate will likely end up in the back of the cupboard and be forgotten. Your tortilla press needs to be easy to use and handle a ball of dough. The lid should flip easily, and the lever shouldn't strain you when achieving the exact thickness of the tortilla you desire. If the handle is difficult to squeeze, you'll be halting production after a few presses. The press should also allow for easy removal of the squashed tortilla. A stuck tortilla is a messy nightmare that interrupts your pressing flow. While you can add more oil, no one wants an overly oily tortilla. Also, the press should be easy to clean with a quick hand-wash.
​Price​: You won't be surprised to find out that there's a huge price range when it comes to tortilla presses. It's not uncommon to pay around $50 for a tortilla press, and some models may even exceed $100. Rest assured, however, that if you have a budget, we have a press on this list that will fit into it.
With these considerations in mind, here are the best tortilla presses in 2022: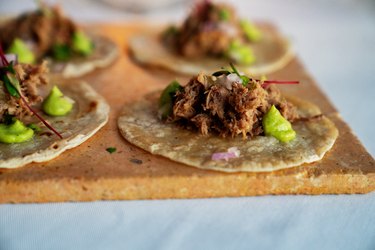 The Best Overall Tortilla Press
Tortilla Press Kit by Verve Culture
Crafted by Mexican artisans, this tortilla press is authentic and eco-friendly. Made from 100% recycled cast iron that promises to last forever, this 6 1/2-inch press makes the same size of tortilla that street vendors serve their customers all across Mexico. It can also be used to flatten dough for empanadas, tacos, enchiladas, tortilla chips and patacones/tostones (fried plantains).
The press itself is easy to use. Just place the dough inside, press, rotate and repeat. And just like that, you're done. It also includes a servilleta cloth, which will help keep your tortillas warm when cooked. And it's hard to miss the bright red enamel finish, which is FDA-approved and nonstick, as well as bringing a pop of color to any kitchen.
​Tortilla Size​: 6 1/2"
​Package Dimensions​: 11.5" x 8..8" x 3.3" (L x W x H)
​Weight​: 3.94 lbs.
​Material​: Cast iron and enamel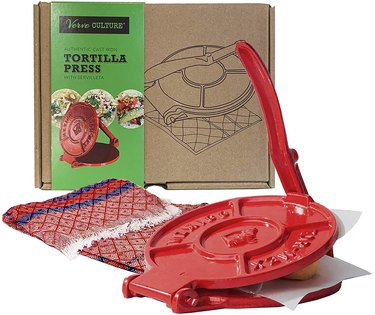 The Best Budget-Friendly Tortilla Press
Victoria 8-Inch Cast Iron Tortilla Press
Made from cast iron, the Victoria 8-inch press offers quality at a price point you can't argue with. Ready to press for empanadas, tacos, enchiladas, tortilla chips and plantains, it only misses our pick for "Best Overall Press" because it doesn't have a fun splash of color. And if that's not important to you, then it's really a winner.
However, that doesn't mean it misses the mark elsewhere. It has a nifty reinforced hinge design to ensure you don't pinch your tortilla, and its heavy-duty construction means it can withstand considerable force from pressing down. During production, the cast iron is seasoned at high temperatures with 100% non-GMO vegetable flaxseed oil. While it requires little to no maintenance, it does come with an extra screw for the lever.
Though considerably less budget-friendly, we also want to mention the Victoria 8-Inch Commercial-Grade Cast Iron Tortilla Press With HD Iron. It costs nearly three times as much as the original 8-inch model, but it's made from what Victoria touts as their new and improved formula of indestructible iron they call "HD iron." This model boasts a new, unbreakable handle design and an anti-locking feature to improve speed and safety.
​Tortilla Size​: 8"
​Product Dimensions:​ 9.5" x 8" x 2.5" (L x W x H)
​Weight​: 3.68 lbs.
​Material​: Cast iron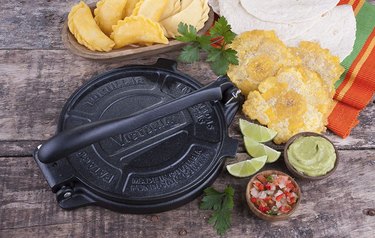 The Best Wooden Tortilla Press
Hardwood Tortilla Press Oak and Walnut from Central Coast Woodworks
Bucking the traditional materials for pressing tortillas, Central Coast Woodworks' handmade presses are truly beautiful. They also say that this press works best when pressing dough that is non-gluten based, so it's ideal for making corn tortillas. If you're interested in using a wood press, make sure to swap out ingredients such as wheat flour for maize.
The hardwood is great because it allows for a tighter press, while the press's stainless steel hinges can take a beating. The alternating oak and walnut wood has been treated with several coats of food-grade mineral oils and beeswax. The pressing surface measures 9.75 inches by 10 inches, so this press makes nice, large tortillas. For even larger tortillas, Central Coast Woodworks also makes an 11 1/2-inch tortilla press; for slightly smaller (and to save around $25), they also make an 8-inch model.
​Tortilla Size​: 10"
​Package Dimensions​: 14.25" x 12.36" x 6.97 " (L x W x H)
​Weight​: 7.98 lbs.
​Material​: Hardwood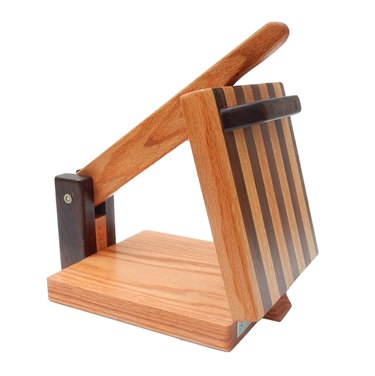 The Most Authentic Tortilla Press
Doña Rosa x Masienda Tortilla Press
For ages, Doña Rosa has been supplying local vendors in Oaxaca's Central de Abastos with these presses. Now, through the Los Angeles-based company, Masienda, you can order one right to your door. Each one is handmade, which means each press will be unique. Once the presses arrive in the States, they are enameled in FDA-approved white paint.
This tortilla press allows users to make a range of thicknesses. Masienda does warn buyers that due to the handmade nature of the press, there may be slight imperfections and the edges might be sharp, so kids should be supervised by adults when they use it.
While Masienda recommends using the Doña Rosa tortilla press to make corn tortillas using ​masa​, or maize dough, it says you can also use it to make flour tortillas; it will just be a little trickier. Since the gluten in the dough of flour tortillas provides more stretch, you may need to press it more times, as the dough may attempt to "bounce back" to its original shape.
​Tortilla Size​: 6 1/2"
​Base Dimensions​: 9.5" x 8.75" (L x W)
​Weight​: 10.4 lbs.
​Material​: Steel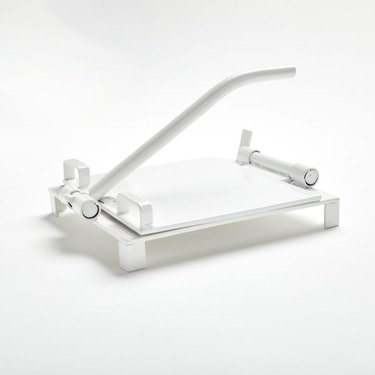 The Best Electric Tortilla Press
Brentwood TS-127 8-Inch Stainless Steel Nonstick Electric Tortilla Maker
While less traditional, if you want to cut your tortilla-making time in half, the Brentwood TS-127 electric tortilla maker saves you the trouble of having to cook your flattened tortilla dough in a pan. Similar to a waffle iron, it's designed to press and cook your dough at the same time.
Made from brushed stainless steel, it features a nonstick aluminum pressing and cooking plate for making 8-inch tortillas, flatbread, chapatti, roti and more. There may be a bit of a learning curve in getting the textures of different types of dough just right, however, as dough with gluten and cornflour stretch differently. The electric press has power and preheat indicator lights so you know when it's turned on and hot enough for cooking. There's also a dial so you can adjust the cooking temperature.
One thing to note is that you can't put as much pressure on the pressing plate as you might be able to on manual tortilla presses, which are more durable and last longer. Still, if you want to make tortillas often or need to make a huge quantity for a party, the TS-127 will save you a considerable amount of time. If you're interested in making even larger tortillas, Brentwood also makes a 10-inch electric tortilla press, as well as a 12-inch model.
​Tortilla Size​: 8"
​Product Dimensions​: 8" x 7" x 11.5" (L x W x H)
​Weight​: 10.4 lbs.
​Material​: Stainless steel and aluminum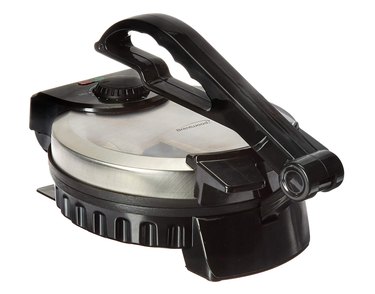 Simple Flour Tortilla Recipe (for an Electric Press)
Ingredients-wise, flour tortillas are very easy to make. All you need is:
2 cups all-purpose flour
3/4 cups of water
1/2 teaspoon of salt
3 tablespoons of olive oil
To prepare, combine the flour and salt, then stir in water and olive oil. Turn the mixture onto a floured surface, then knead 10 to 12 times. Add flour or water as needed to achieve a smooth dough.
Let it rest for 10 minutes. This recipe will make eight tortillas. Lightly flour your rolling surface, then roll each portion into a 7-inch circle. Once you're happy with your tortilla, grease your tortilla press, place the dough onto the baking surface and wait until it's lightly browned. This will take around a minute on each side. Store your freshly-cooked tortillas on top of each other, covered by a cloth so they steam each other.