Whether you want substantial shavings or feathery tufts, quality graters and zesters are must-have kitchen tools. Forgo the pre-shredded cheese and grate your own for pasta and tacos, liven up sweet and savory dishes alike with citrus zest, shred potatoes for hash browns or carrots for a salad, garnish desserts and cocktails with chocolate curls, or experience the flavors of freshly grated spices that are so much bolder than those of pre-ground, store-bought products.
The uses for a quality grater and zester are practically endless. And no matter the style or size, and regardless of what food you're using it for, the key to a great grater and zester is that it has sharp blades.
What to Consider When Purchasing a Grater or Zester
​Style:​ There are two main styles of graters and zesters: box graters and rasp graters (also known as handheld graters). Box graters sit on the counter and have a handle on top, and they have four sides, each with different blades and holes for various purposes. Typically, one side has large holes and one side has medium-sized holes for grating, a third side has small holes for zesting, and the fourth side has a single blade for slicing (basically a somewhat less-functional mandoline). Box graters are quite versatile—even an effective, much easier-to-clean alternative to your food processor in many instances—and sturdy for grating larger food.
Rasp graters are smaller and usually have just one size set of blades and holes. You hold these products in one hand rather than set them down on a surface, so they can be a little less sturdy while in use. This makes them less suited to larger and harder foods. However, some have a rubber or silicone stabilizing strip on top that allows you to hold the grater upside-down at an angle against the counter or table. But either way, this style is quick and convenient, easy to clean and takes up much less storage space than box graters. The head of a rasp grater is rectangular, but some are closer to a square in shape, and others are long and narrow. There's not much difference in performance, though the shorter, wider ones are a bit easier to hold steady and better for wider foods like a big hunk of cheese or chocolate. And one thing to keep in mind with this style is that most products grate and zest certain foods better than others.
​Holes:​ This size of the holes in a grater determine the size of your shavings. That doesn't mean you have no control; shredding with more pressure produces thicker pieces while dragging the food further across the blades creates longer pieces. But consider whether you prefer a tool that yields bigger or smaller shavings. Also, you don't want holes that are too shallow, as the grater or zester won't grab the food well; this makes the work harder and more dangerous, more easily leading to slips and sliced fingers.
​Price:​ You can spend less than $10 on a grater and zester, and you can spend over $50. Many products at the cheaper end of the spectrum perform just as well as significantly more expensive ones. However, you do tend to find more reliably sharp blades with higher-end models. That said, the blades on all graters and zesters dull over time, and unlike knives, there's no way to sharpen them. So—depending on how frequently and aggressively you use it, and the hardness of the foods you grate most often—you can count on having to replace any grater eventually. Consider that as you figure out how much you're willing to spend on one.
These are the main things to look at when choosing a grater and zester. Take a look at the handle too, and try to find one that will be comfortable to grip. Also, some rasp graters come with a cover for added safety, preventing accidental cuts when you (or perhaps your child) reach into the drawer.
Cuisipro 4-Sided Boxed Grater
This stainless steel box grater is on the pricier side, but its superior performance makes it worthwhile. The blades and holes are etched rather than stamped out of metal sheets (which is much more common), providing more sharpness, strength and precision. Furthermore, vertical grooves running down the sides of the grater reduce resistance as you slide food up and down, facilitating grating with less effort. There's a comfortable nonslip handle, as well as a nonslip base for added stability and safety. As an added bonus, this product comes with a separate specialized ginger grater that keeps you from getting all those annoying little strings in the output.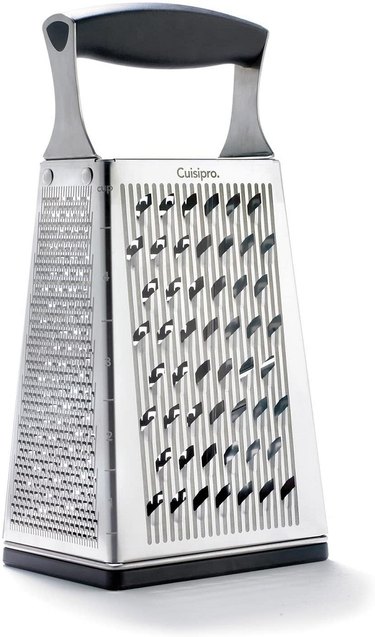 The Best Budget Box Grater
For a budget-friendly box grater that doesn't short you on performance, stability or durability, choose this one from Cuisinart, a trusted, enormously popular name in kitchenware. The stainless steel construction is solid and the blades are quite sharp. A generously sized, ergonomic handle provides a comfortable and secure grip, plus there's a nonslip rubber base to hold the item steady while in use. And, it should be noted, while the zesting and slicing sides of box graters often don't live up to the quality of the two coarser grating sides, that's not the case with this product; all four sides work equally well.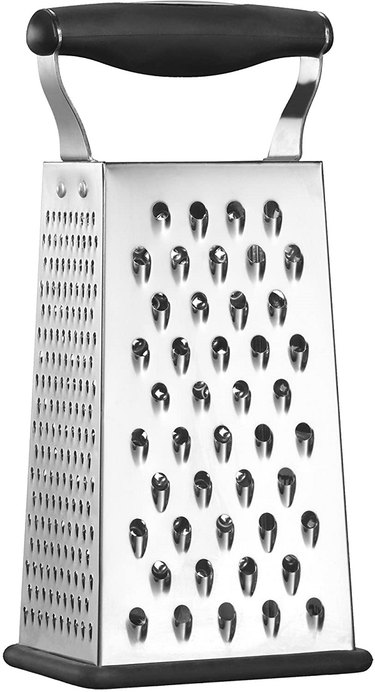 The Best Rasp Grater and Zester
Microplane is a leading name in zesters and graters, with super-sharp, photo-etched blades that effortlessly yield feathery wisps of food and stay sharp longer than other products' blades. If you're only going to own one handheld grater and zester, make it this one. It handles a wide range of foods exceptionally well and easily outperforms the zesting side of most box graters (in addition to other handheld models). Made from surgical-grade stainless steel, this is a kitchen tool you can count on to last a long time. It's also dishwasher-safe for easy cleanup.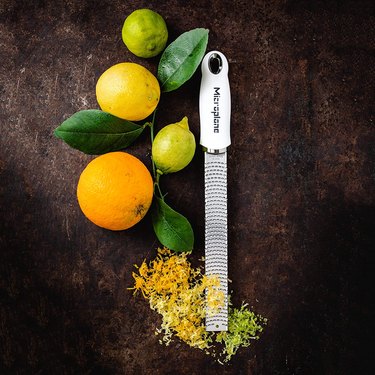 The Best Budget Rasp Grater and Zester
Raniaco Stainless Steel Grater Zester
You can easily end up with a dull, underperforming, fragile grater and zester when you shop for a bargain in this category. But this very budget-friendly etched (not stamped) product delivers! It works well with citrus rinds, hard and medium-hard cheeses, garlic, chocolate, spices and more. The ergonomic, nonslip silicone handle is comfortable to hold as you work, and it has a convenient hanging hole. And one cool feature is that it comes with a safety cover—but not just any regular old cover. For protection, you slide it over the blade side of the grater; but, you can also slide it over the back side of the grater, and it catches and collects your food shavings as you produce them.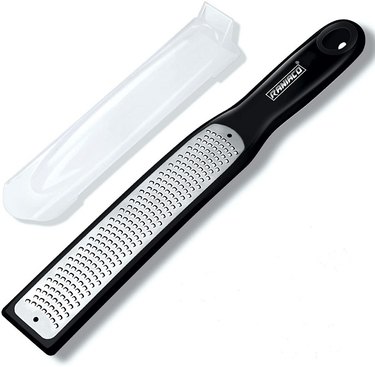 Microplane Flexi Zesti Handheld Citrus Zester
This is a neat design for a citrus zester from the leading brand in zesters. At 3 inches long, 1.5 inches wide and 2.25 inches high, it's quite compact for easy storage and portability. Conveniently, the sharp etched blades are attached to a chamber that catches and holds your zest. The silicone around the blade component flexes, readily accommodating and gliding across any citrus fruit. The rounded shape fits nicely in your palm for an easy, pleasant zesting experience (and it's manageable and relatively safe for a child). Choose from three citrusy colors, too: orange, yellow and green.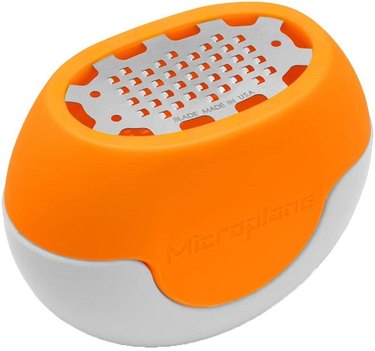 The Best Grater for Cheese
Microplane Artisan Series Coarse Cheese Grater
If you're in the market for a grater that works particularly well for cheeses, choose this one. Microplane's famously sharp, long-lasting etched blades can handle anything you want to grate, but this particular piece was designed with cheese in mind. It has larger holes than most of the brand's other products. They're ideal for shredding hard cheeses like Parmigiano Reggiano and Asiago and semi-hard cheeses like cheddar and gouda. The resulting shreds are substantial enough to flavor pasta, top veggies or tacos, go into an omelet, sprinkle over a salad and more. This is a durable product, made from surgical-grade stainless steel, and it's dishwasher-safe.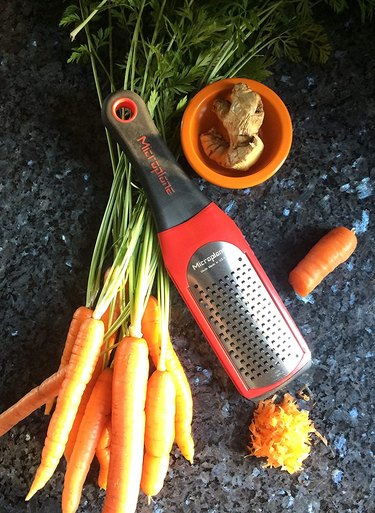 The Best Grater for Chocolate
DI ORO Handheld Cheese Grater
The product's name aside, this is an ideal grater for chocolate. Of course, it works well for cheese and lots of other foods, too. But these broad holes produce perfect airy curls of chocolate that look beautiful atop a ramekin of mousse or a chocolate espresso martini. The stainless steel blades are quite sharp, making quick work of the chocolate before it starts melting in your hand. Meanwhile, the nonslip silicone handle provides a secure and comfortable grip, and there's a rubber stability bar on top of the head so you can hold the grater angled down against the countertop. The slightly wider-than-average holes also make this tool easy to clean by hand, but it can go in the dishwasher.