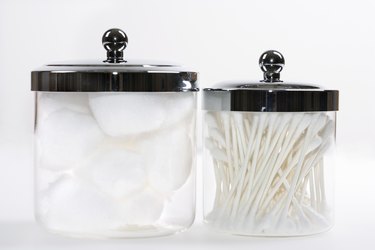 A bath canister can be a huge help when it comes to keeping your daily bathroom essentials organized and easily accessible. The small, unassuming jars keep your countertop or vanity top free of clutter, making your morning and evening routine a little less messy. Wouldn't it be nice to walk into your bathroom and find all of your essentials nicely put away in their respective jars? The canisters can be used for everything from cotton balls to cotton swabs to cosmetic pads to bath salts to makeup accessories.
Even though bath canisters are primarily used for storage purposes, they don't have to be boring, or they totally can be—that's completely dependent on the look and vibe you're going for. Your bath canisters can either blend into your bathroom decor, or you can choose ones that bring an element of style.
What to Consider When Purchasing Bath Canisters
​Material:​ There aren't a wide variety of materials when it comes to bath canisters. Most are either made of plastic, glass or ceramic. Plastic is the least expensive option and tends to be pretty sturdy if dropped; glass can offer a bit more of a modern look, but is easily breakable and should probably be avoided in bathrooms of young kids; and ceramic bath canisters can provide more of a sophisticated look, are durable, easy to clean and sanitary. While ceramic is beautiful, it isn't transparent, so if being able to see what's inside each canister is important to you, you might want to go with plastic or glass.
​Size:​ Bath canisters come in assorted shapes and sizes. You'll want to determine what will go in each canister before your purchases to ensure the items will fit. For example, a narrow canister might not work for makeup pads but would be perfect for cotton swabs.
​Lid:​ Some bath canisters come without lids and some don't. For items like cotton swabs or cotton balls, a lid isn't necessary—it just depends on the look you're going for. But for something like bath salts, you might want to stick with a lid to prevent a mess if the canister were to spill.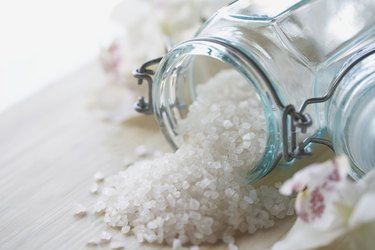 1. The Container Store Brushed Gold Canisters with Lids
If bath canisters could be high fashion, this set of two brushed gold metallic canisters would be it. Made of plastic and acrylic, these canisters are great for mixing and matching bathroom storage essentials on your countertop or vanity. Store your cotton swabs, hair accessories and other bathroom essentials in these containers with lids. Each canister is sold separately.
2. Aozita Bathroom Canisters
All four of these canisters can hold 10 ounces of your most essential bathroom items. They come with lids to keep things extra organized, as well as four labels with pre-printed words for cotton balls, cotton swabs, cotton pads and floss picks. Of course, you can use them for whatever you want. The canisters are made of clear plastic.
3. SheeChung Apothecary Jar Set
You can use these two cute glass jars for small items like cotton balls, cotton swabs or bath salts. They come as a two-pack with lids and are available in six color options: black, bronze, brushed nickel, gold, gray and silver. The 8-ounce, rustic-style canisters feature a jute twine bow and are great for farmhouse decor. You have the option to label the jars with four pre-written stickers.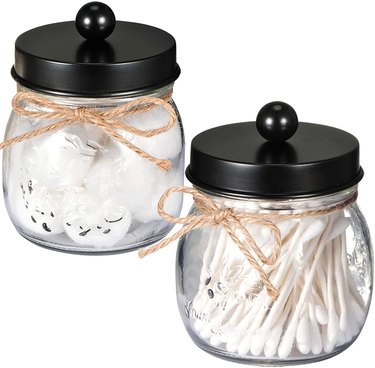 4. Stori Stackable Hair Accessory Containers
Designed for small hair accessories, these three stackable containers can hold your hair ties, clips or pins. They are made of clear plastic and can either be stacked on top of each other if space is limited, or they can sit side by side. The lids can also hold even smaller items like rings.
5. Better Homes & Gardens Ceramic Stackable Jars
All three of these stunning bath canisters will bring a rustic charm to your bathroom. Each piece is handcrafted and unique, combining different textural detailing that complements each other. The set comes with two stacking containers and a removable flat cover that can be used as a jewelry holder. While their main purpose is to hold your bathroom personal items or trinkets, they have a reactive glaze finish that creates variations in the color, making these jars a work of art.
6. Tecbeauty Bathroom Organizer
This plastic, stackable bath canister is all about simplicity and efficiency. It's divided into two small slots to hold small items like Q-tips and makeup pads, and it has a transparent, dust-proof and moisture-proof hinge cover. It either comes as a single canister or you can purchase it as a two-piece set. The color options are white, pink and blue.
7. Bed Bath & Beyond Bathroom Personalized Enamel Jar
Not only is this one-piece bath canister a great storage addition to any bathroom, but it can also be personalized to add some uniqueness and fun. It comes in either small (24-ounce) or medium (40-ounce) sizes, and although the pieces are sold separately, they make for a super cute set that is unlike any other on our list. You can personalize the jar by adding a specific item name like bath salts, hairbrushes or cotton balls, and you can add your last name or any other couple of words. You can even choose the font.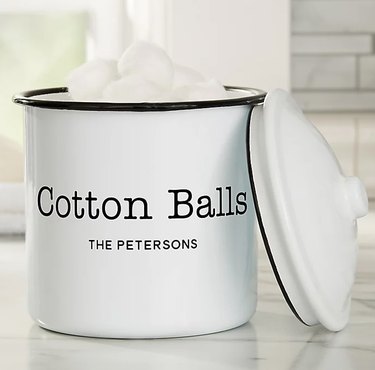 8. mDesign Square Divided Canister
If you're on a budget or prefer not to spend a lot on a bath canister (which is completely understandable), this is a great option. The jar is divided into two sections to provide storage for your small bathroom essentials. The canister is made from shatter-resistant plastic and comes in a wide variety of colors—all with matching lids. It's sleek, modern and will help you keep your bathroom organized.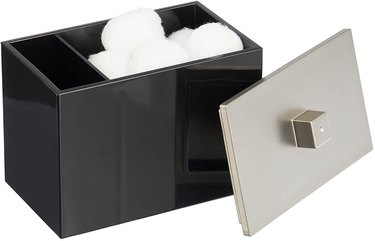 9. Amolliar Apothecary Jars
These classic clear plastic jars come with lids and can hold small bathroom items, but if you want to use them for bigger items like makeup brushes, simply use them without the lids. The canisters come as a set of two, either as two 10-ounce jars or one 10-ounce and one 20-ounce jar.
10. mDesign Plastic Canister with Storage Lid
Whether you want to use this bath canister for cotton swabs, cotton balls, or hair or makeup accessories, there's no doubt that it'll bring some style to your bathroom. The stackable jar is divided down the middle to hold two types of items, and the lid can be used for small items like a watch or eye cream. It comes in four color options: clear/rose gold, clear/satin, clear/white and light pink/rose gold.
11. Bee & Willow Vernon Cotton Jar in Antarctica
This modern bath canister is made of 100% ceramic and is the perfect addition to a bathroom countertop or vanity that needs a little extra organization. It can be easily wiped clean and is one part of the Bee & Willow Vernon Bath Accessory Collection.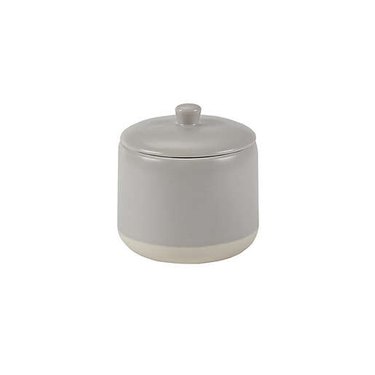 12. Threshold Ribbed Glass Canister
Bring function and vintage-inspired style to your bathroom with this canister. This beauty has a fancy gold lid, and the glass is ribbed for added elegance. It can hold 12.1 ounces and is great for storing items like cotton swabs or makeup pads. This canister is one part of the Ribbed Glass Bath Collection.