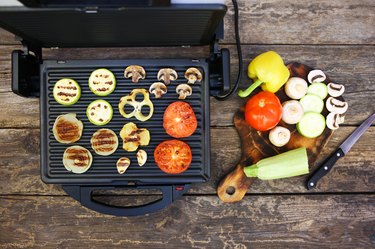 Whether unexpected inclement weather brings the barbecue indoors or you simply don't have an outdoor grill, owning an indoor grill can solve a lot of problems. Indoor grills are more compact and considerably less expensive than outdoor grills (not to mention, they don't require heavy and bulky propane tanks because they're electric). While some indoor grills may not be equipped to do everything advanced outdoor grills can, you'll be surprised by how versatile some models are. The best indoor grills can grill a delicious burger or chicken breast that tastes just like a sunny summer barbecue—even if you never leave your kitchen.
What to Consider When Purchasing an Indoor Grill
​Type​: There are two main types of indoor grills: open grills and contact grills.
​Open grills​ are most similar in design to outdoor grills and have one flat grilling surface, requiring you to flip most foods in order to cook them thoroughly and evenly. They have a fairly wide grate that sits over a drip pan. Open grilling tends to take longer, but works better for certain foods like eggs, bacon, fish and vegetables.
​Contact grills​ feature two cooking surfaces, allowing your food to be grilled from the top and bottom simultaneously (think of a panini press). A contact grill cooks more quickly than an open grill and leaves a nice crust on foods like paninis and grilled cheese sandwiches.
​Capacity​: How much do you want to be able to grill at once? And how large of a cooking surface do you really need? If you're normally cooking for just one or two people, 80 square inches is already plenty. Cooking for a family of five? Some indoor grills offer up to 150 square inches of cooking surface area (but rarely more). One thing to keep in mind is that certain contact grills can double your cooking surface area by opening the lid and using it as a second cooking surface (you will have to flip your food, however).
​Power​: The higher the wattage of your indoor grill, the faster it will cook. Higher wattage is particularly useful for searing, which requires very high temperatures. Generally, the higher the wattage, the more you'll pay, though.
​Heat​: Some indoor grills come with a button or dial to adjust the temperature so you can cook using the right level of heat for whatever foods you're grilling. This gives you the option to grill vegetables at low heat, for example, or sear thick cuts of meat at high temperatures reaching up to 500 degrees Fahrenheit. Cheaper models may take a one-size-fits-all (or more accurately, one-heat-cooks-all) approach and not offer temperature adjustments.
​Features​: Despite their smaller size, indoor grills can generate a lot of smoke (even "smokeless" grills usually produce at least some smoke). To avoid setting off your kitchen's fire alarm, if possible, look for a grill with a built-in filter that will drastically reduce smoke levels. Removable grill plates—especially ones that are dishwasher-safe—are another useful feature that make cleanup easier. Any extra feature that makes your grill more versatile or convenient may be worth the likely added cost.
With these considerations in mind, we've rounded up the best indoor grills in 2022. So, when's the barbecue?
The Best Overall Indoor Grill
Hamilton Beach Electric Indoor Searing Grill
The Hamilton Beach indoor searing grill offers the best mixture of quality and affordability while being capable of reaching up to 450 degrees Fahrenheit for high-heat searing. But searing certainly isn't all it's able to do; use the temperature dial to adjust the heat depending on what food you're grilling. The grilling grate provides118 square inches of grilling surface area—enough to grill six servings at once. The close-down hood (perfect for locking in juices and flavors), grilling plate and extra-large drip tray are all removable and dishwasher-safe. Helpful power and preheat lights eliminate guesswork while you're grilling and the grill boasts an impressive 1,200 watts of power.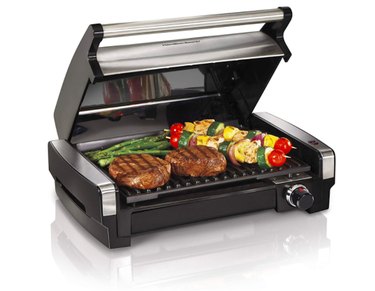 The Best Indoor Open Grill
Power XL Electric Indoor Smokeless Grill
This smokeless open electric grill enables you to achieve the charcoal-style flavor of outdoor grills while remaining indoors. The grill utilizes turbo-speed smoke extractor technology to suck smoke back into the grill via electric fans that evaporate it into water vapor that collects inside. It also comes with a glass lid to keep smoke contained, as well as prevent hot oil splatters. The grilling surface is ceramic-coated, which makes it super resistant to sticking and eliminates the need for extra fat or oil. The grill also features an LED smart adjustable temperature control that reaches up to 450 degrees Fahrenheit.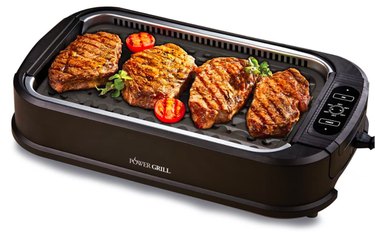 The Best Indoor Contact Grill
T-fal OptiGrill XL Electric Indoor Grill
Not only is this grill excellent for contact grilling, but it's also great for parties since it can cook up to eight servings at once. It features nine preset cooking programs for grilling burgers, sandwiches, poultry, red meat, sausages, fish, pork, bacon and shellfish, and automatically adjusts its temperature depending on the thickness and size of your meat. When your food is ready, an indicator light turns on and the grill audibly beeps so you can entertain your guests without worrying about overcooking your food.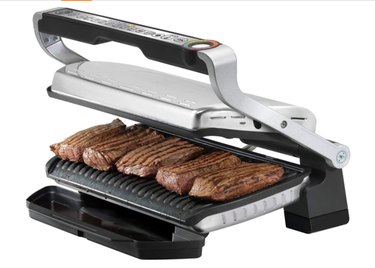 The Best Budget-Friendly Indoor Grill
Elite Gourmet Indoor Electric Grill
At first glance, this electric grill looks more like a regular cooking pan, but upon a closer look, you'll find that it has a grooved grilling surface capable of grilling everything from burgers to fish to vegetables. It measures 14 inches in diameter and includes a temperature-safe glass lid to help contain smoke. The dial lets you adjust to five different temperature settings and the grill reaches up to 450 degrees Fahrenheit. The handles and base remain cool to the touch so you can safely move the grill for cleaning, while its removable drip tray is dishwasher-safe.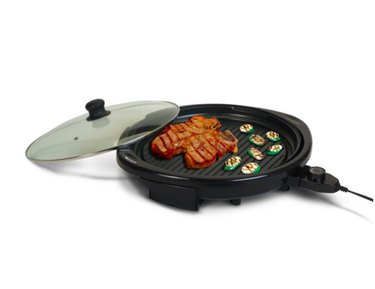 The Best Compact Indoor Grill
Dash Mini Maker Portable Grill
This compact and portable grill is ideal for solo-dwellers, college students or anyone with a tiny kitchen. Its 4-inch, non-stick cooking area provides just enough space for cooking one serving at a time, be it a hamburger, sausage patty or breakfast sandwich. It's not a lot of room, but it's still possible to grill certain vegetables and even paninis. The entire grill clocks in at under 1 pound and includes a recipe book and one-year manufacturer's warranty. The Dash Mini Maker is small and simple but also extremely affordable.
The Most Versatile Indoor Grill
It's quite ingenious how many cooking functions Cuisinart were able to pack into this model, all while remaining far more compact than an outdoor grill. It boasts six (you read that correctly) cooking options, including a contact grill, a panini press, a full griddle, a full open grill, a half-grill/half-griddle and a top melt. While they were at it, Cuisinart threw in helpful features like dual-zone temperature control for cooking different foods simultaneously and removable, reversible non-stick griddle plates. It reaches up to 500 degrees Fahrenheit, so searing is definitely an option. While it's a bit bulkier than most indoor grills, when you consider how multi-functional it is, you'll be quick to forgive it.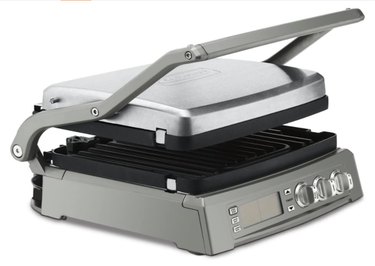 George Foreman Removable Plate Grill & Panini Press
If paninis were the first thing you thought of when reading the words "indoor grill," this George Foreman grill and panini plate is for you. It perfectly toasts, grills and even sears, whether you want a classic panini, the ultimate grilled cheese sandwich, a juicy burger or roasted vegetables. Its 60-square-inch surface area provides enough room to make four servings at once. The grilling surface's advanced George Tough non-stick coating is twice as durable as on previous models and removes the need for butter and oil. The grilling surface also slopes to remove up to 42% of fat from meats for a healthier meal. As if that weren't enough, the removable grilling plates are removable and dishwasher-safe so cleanup is fast and easy.