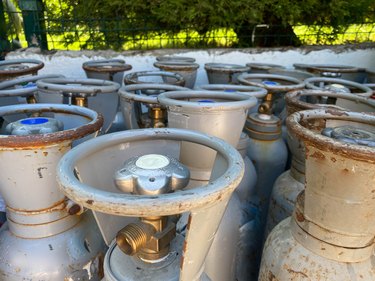 Propane tanks come in different sizes and are used for home grills, fireplaces, home heating, pool heaters, RVs and generators. The largest 500-gallon tanks can even power whole-home heating systems. Consistent propane tank care is essential for them to operate at their best capacity and efficiency. It is also vital for the safety of your family. This care includes cleaning the propane hose, keeping it off when not in use and storing and transporting the tanks correctly.
How to Clean a Propane Hose
Propane hoses are only compatible with specific applications, like RVs and gas grills. Hoses must be approved for propane use. They can be made from rubber or plastic and have different fittings to make them compatible with various regulators and appliances. Hoses can develop air bubbles when they run out of fuel, from disuse or as they age.
To clean propane lines in an RV, open your propane tank valve all the way and head over to the cooktop, turning on all of the igniters. When the blue flames come up, this clears all the air out of the cooktop and the line leading to it. Now, check all of your propane-powered appliances in the RV to make sure that they are working. If lighting the cooktop didn't solve the problem, you'll want to contact the RV manufacturer. There could be something else going on that may require an in-depth examination by a professional.
Clear a Propane Hose on a Grill
Gas grills that use propane hoses can also benefit from a regular burping of the hose to get the excess air cleared out. Open the lid and turn off all your burners. Make sure to double-check that you've turned off the burners, as leaving them on for this is dangerous. Go to the propane tank and turn its shutoff valve to the right until it is securely closed. Then, remove the coupler knob that attaches to your propane tank's valve stem by turning it to the left.
Pull off the hose regulator assembly with your hands and you should hear a soft hissing sound emanating from there. This sound is the excess air being released from the hose. That's all there is to it; the hose will now be free of that extra air that could be causing the problem. Reinstall the now-clear propane hose and you are ready to go.
Propane tanks are inherently dangerous because the gas can leak, catch fire or explode. Since they have safety devices and are regulated to prevent overfilling, those things should not happen with regular use. However, following all propane safety tips is essential when using propane gas tanks. To start, always keep the tank turned off when it is not being used and keep flammable items away.
With RVs, install a gas detector to check for propane or carbon monoxide leaks. If you do detect a foul odor, turn off the valve, open the windows and doors, cover the tank with a wet cloth and go outside and call 911. Never store propane tanks indoors. Do not use outdoor grills inside your home, garage or any other structure and do not light matches near the tank.
The tanks should always be in an upright position. If the hose or connections look damaged, you will want to replace them. When it is time to get a new tank, keep it upright and secure it to your vehicle with rope. Never use metal chains, which can produce sparks when hitting the tank. When storing and transporting propane tanks, lock the valves and cover them with dust caps.