Perhaps this is the first time you've heard of UV Resin or maybe you've seen the term before but are unfamiliar with what exactly it is. To put it simply, it's a secretion from plants that can be utilized in many ways, including making jewelry or other arts and crafts. Get ready to dive into your next passion project because eHow is breaking down exactly how UV Resin works and which materials you will need to get started.
UV resin requires a UV lamp or a window with ample sunlight to cure (a.k.a. harden). The processing is a bit different than epoxy resin, as UV resin is already mixed and ready for use, making the preparation and wait time much quicker. It's best to use in smaller portions if you plan on using a UV lamp.
Within minutes, it can be dried with sunlight or UV rays, but for the best results, only thin layers should be applied or poured on at a time. This will also prevent bubbling from taking place.
What Can You Make With UV Resin?
To say it's multifaceted is an understatement. UV Resin has an illustrious and glossy look and can be used to seal, cast shapes in molds or create jewelry that has an enameled finish.
Additionally, it's a wonderful material to use on small projects. You can make beautiful gems, decorative accents, ornaments or any other crafty pieces for around the house or your day-to-day life. There are plenty of DIY Kits online, some of which come with a UV light and are perfect for beginners.
Check out 5 DIY kits ideal for making jewelry and more:
1. UV Resin Jewelry Making Kit
If you're a newbie, this UV Resin Jewelry Making Kit is a fabulous choice. No longer will you have to wait the 24 hours to dry thanks to the UV lamp. Because of the fast-acting products and light, you'll have a stunning finished product in only three to five minutes (you read that right).
So, what are some popular choices when it comes to arts and crafts with UV Resin? Some people like to do earrings, rings, necklaces, pendants, ear studs, keychains as well as decorative chains for their phones. Another perk: this kit on Amazon uses UV molds that are comprised of 100% pure silicone, which is "very durable, easy to use and demold after complete curing."
Fast Cure UV Resin
Silicone Molds
UV Lamp
Silicone Mat
34 Pieces/Bezels for UV Resin Jewelry
40 Pieces/Accessories and Tools
Step-by-Step Instructions
The UV Resin Jewelry Making Kit is available on Amazon.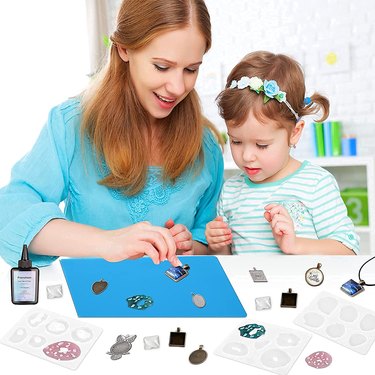 2. Curved Square Mold DIY Kit
Your earring game will go up a notch with this Curved Square Mold DIY Kit. They use high-quality vacuum degassed platinum silicone and the molds provided create glossy and shiny resin casts.
You won't need any releasing agent and the finished pieces will be durable and tear resistant. If you happen to have Epoxy Resin around, that can be used for this kit as well, but don't fret as its also intended for UV Resin. Your finished piece will just pop out of the mold! The kit offers several different shapes to work with, so you can ​really​ get creative.
Curved Square Mold
DIY Silicone Mold
Glossy Square Mold
Resin Silicon Mold
Earring Cabochon Mold Silicone With Glossy Surface
The Curved Square Mold DIY Kit is available on Etsy.
3. Funshowcase 13 Color UV Resin
This kit is a one-stop shop. It's got all the essential UV Resin casting equipment and Resin jewelry metal molds you could need. Plus, it's beginner friendly. A portable 395 nm USB UV Lamp is included in the starter kit. Just be sure to let your pieces cool down before touching.
You can create all sorts of artsy designs with this kit, such as a wave, island cabochon, heart, oval, teardrop and square. People often use the Funshowcase set to make earrings, rings, necklaces, pendants and more. You'll have a stunning new unique keepsake to give away or hang onto when it's complete. And with the vibrant colors, a statement piece might be just what you're looking for this summer.
2 x Owl Tray Pendant
2 x Key Tray Pendant
6 x Square Tray Pendant
6 x Round Tray Pendant
6 x Oval Tray Pendant
6 x Teardrop Tray Pendant
6 x Heart Tray Pendant
8 x Silicone Mold
10 x Gold Screw Eye Pin
10 x Silver Screw Eye Pin
10 x Gold Melon Seed Pin
10 x Silver Melon Seed Pin
1 x Pin Vise with 4 Drill Bit
1 x Large Silicone Sheet Mat
1 x UV Lamp
1 x UV Resin
The Funshowcase 13 Color UV Resin Kit is available on Amazon.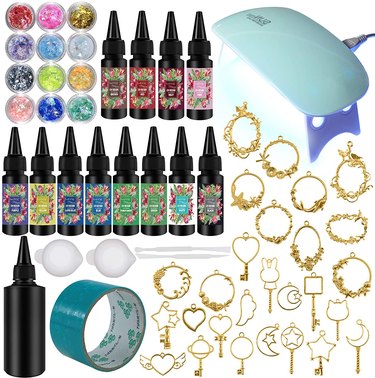 4. UV Resin Starter Kit With Light
Spoilt for choice is a good thing when it comes to choosing your perfect UV Resin Kit. This one in particular comes with all of the necessary supplies and glitter (because who doesn't need more of that).
You'll get mixing cups and stir sticks, so it won't involve using any of your own silverware or bowls. With the dye bottles and sequins provided, the finished pieces will twinkle in the sun and moonlight. The kit also comes with a UV mini resin curing light that can easily fit in your pocket.
1 Bottle of UV Resin (200 grams)
4 Silicone Mixing Cups
2 Silicone Stir Sticks
2 Silicone Scrapers
10 Finger Cots
5 10ml UV Resin Dye Bottles (random color)
12 Jars of Fine Glitter
12 Jars of Sequin Glitter
1 Box of Wheel Gears
1 UV Mini Resin Curing Light With Cord
1 Silicone Work Mat
1 Pendant Silicone Mold Tray
The UV Resin Starter Kit is available on Etsy.
5. Lorvain 9 Sheets Resin Decorate Films
Ready to leave the cocoon and spread your wings? This kit on Amazon will give you all of the butterflies, quite literally. The UV Resin Kit contains colorful transparent printed image sheets of a variety of different wings, which have amazing effects in resin crafting and scrapbooking.
All you need to do is pour a layer of resin glue in a bezel (the rim which encompasses and fastens a jewel, crystal or other object), add some trinkets, pick out the sticker you want and put the sticker in the bezel and seal it. Cure it under a UV lamp, add a chain or clasp and voila, you have jewelry!
9 Sheets Resin Decorate Films
Resin Supplies Kit
Transparent Image Sheets for Silicone Resin Molds
Butterfly Wings Filling Material for UV Resin Craft DIY
The Lorvain 9 Sheets Resin Decorate Films Kit is available on Amazon.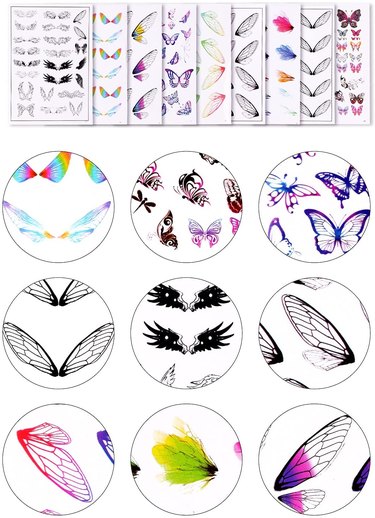 There's a chance you haven't dabbled into the world of UV Resin until now, but you won't regret it once you get started. Surprise a loved one (and yourself) with the gorgeous pieces you can create in a matter of minutes!