Pipe cleaners, also known as chenille stems, have certainly come a long way since their humble beginnings as brushes for the insides of pipes. These days, pipe cleaners are one of the most popular and versatile crafting materials for creative folks of all ages. They come in every color, bend into any configuration and can even connect to each other without any glue. And everyone loves the fuzzy texture. Because they can be twisted into bodily shapes, pipe cleaners are especially great for making dolls and animals. If you want to construct your own pipe cleaner creations, here are some fun crafting kits that include all the materials needed to make your own.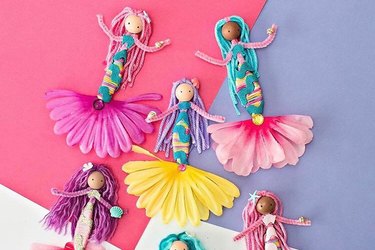 1. Rainbow Friends Craft Kit
This kit is perfect for a group activity, as it has everything you need to make six dolls in a rainbow of colors. Along with the pipe cleaners that act as arms and legs, the kit includes pre-cut felt dresses, wooden beads for heads and embroidery skeins for hair. The highlight of the kit are sparkly stick-on jewels for decorating the dresses – because you can never have enough bling. There's even a handy carrying case.
Tip
Open the carrying case and use it as a stage for the Rainbow Friends to put on a show.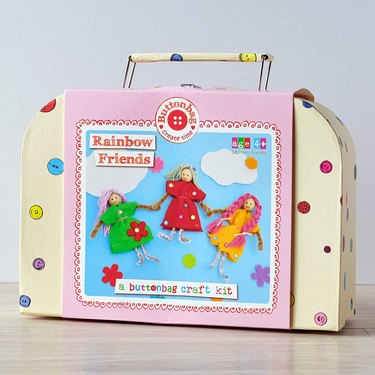 This doll kit can make a little mermaid part of your world. Included are pipe cleaners for the body and arms, yarn pieces for the hair, ribbon and embellishments. The tail is ingeniously made from a fabric flower. And the wooden bead for the head is available in your choice of light beige or brown. The combination of all the pieces is simply magical. This Etsy merchant, WandsandWillows, also sells a variety of delightful fairy dolls.
Tip
Pose your doll on a large seashell, and imagine her come to life.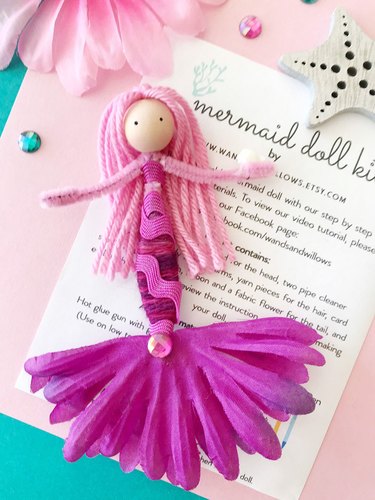 Could this little ballerina be any cuter, as she lifts her arms up ready for a pirouette? She's made from pipe cleaners wrapped with yarn, and you get to pick the color of her tulle tutu, which can be decorated with the included sequins. The feather for her hair is an irresistible touch. The kit includes pipe cleaners, tulle, three colors of acrylic yarn, sequins, feather, stocking, toy filling, gold hanger thread, needles and thread. This ballerina will definitely dance her way into your heart.
Tip
For a whimsical room décor accent, make several ballerinas to create a spinning mobile.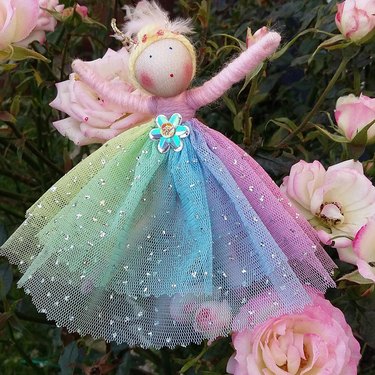 4. Bear and Bunny Kit and Booklet
It's amazing what you can make from pipe cleaners, as pipe cleaner artist extraordinaire Elke Peak demonstrates with these little bears and bunnies. How awesome that the chenille texture of the pipe cleaners becomes the fuzzy fur for these adorable creatures. You'll learn how to make your own bear and bunny, thanks to the included pipe cleaners, silk ribbon, cotton, thread and wire and a 28-page booklet packed with detailed instructions and helpful hints. This Etsy merchant offers kits for a variety of pint-sized animals.
Tip
Instead of bows, use these pipe cleaner animals as creative gift toppers.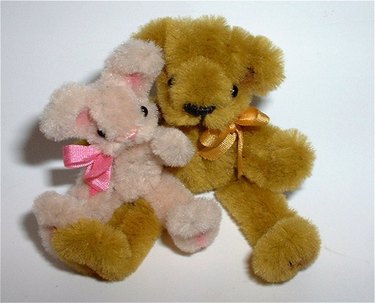 Fans of "Toy Story 4" will appreciate this plastic spork and pipe cleaner set that will allow you to make the much-loved Forky. It's perfect for kids parties because there are enough materials included to make 100 Forky dolls. Besides the sporks and pipe cleaners, the set comes with popsicle sticks for the feet and sticky-backed googly eyes. All you need to provide is air dry clay or Play-Doh to attach the spork to the popsicle sticks. The clay will also come in handy for the mouth and eyebrows.
Tip
Draw a rainbow on one of the popsicle feet so it will look like the one from the Forky in the movie.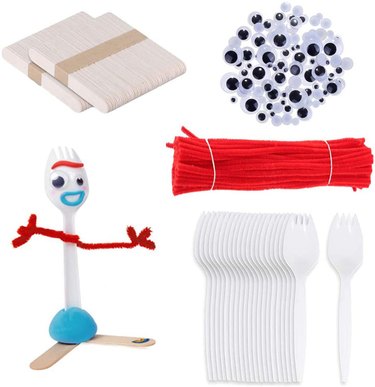 Mermaids, ballerinas and bears, oh my! Try any of these craft kits, and you will never look at pipe cleaners the same again.