​eHow may earn compensation through affiliate links in this article.​
Since more people have been spending an increasing amount of time at home (and in the kitchen), it's only logical that they would become more interested in quality cookware. Likewise, growing awareness of the dangers of harmful ingredients in traditional cookware has led to a much-needed rise of non-toxic alternatives. We're all doing our best to stay healthy during these times, and preparing healthy recipes using safe cookware is a big part of that. Here's a list of non-toxic kitchen sets that may make you consider investing in new goodies for your kitchen!
Xtrema 12-Piece Versa Pot Cookware
The Xtrema cookware set is 100% ceramic, all-natural, inorganic, and eco-friendly—and according to their website, this makes their set the healthiest option for preparing food. The cookware coating also delivers a smooth, high-gloss non-scratch surface. The set's all-black aesthetic would be a sleek addition to almost anyone's kitchen, and comes with 4 red pot holders exclusive to the set.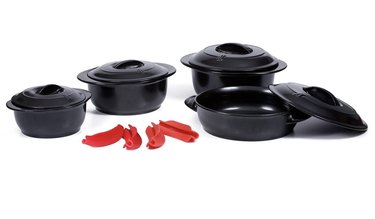 Cuisinart Tri-Ply Stainless Steel Cookware Set
This set by Cuisinart has been very well reviewed on Amazon for good reason. Harmful chemicals leaking into your food will not be a worry with these beauts, and the cookware is also oven-safe for easier cooking options! The stainless steel handles are cool to touch and built to last. Plus, the pieces are dishwasher safe and come with a lifetime warranty. This set would be a great way to introduce non-toxic cookware into one's kitchen while sticking to the classic stainless steel aesthetic.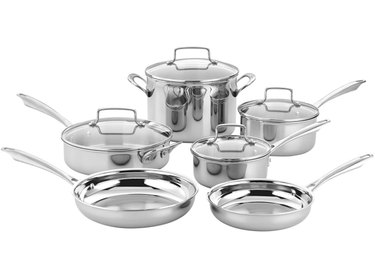 Le Creuset Toughened Nonstick PRO Cookware Set
The reviews for this Le Creuset set are all in sync in that the quality is simply exceptional. This is an updated model that is now 4x stronger and triple reinforced with PFOA free materials. The handles are also incorporated with stay cool ergonomic technology which allow for seamless and quick movements as you navigate the kitchen. They're oven and dishwasher safe, and include easy wipe clean surfaces. Who doesn't appreciate an easy clean up?!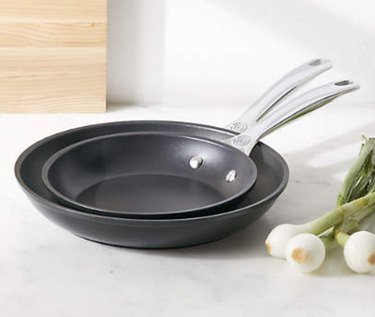 Caraway is a newer cookware brand that has made quite a splash on the internet. Their products are constructed using 60% less CO2 than other typical products with non-stick coating. The pieces are easy to clean, oven safe, and when the entire set is purchased a storage unit is also supplied. The pans also boast of being compatible with any stovetop, which makes them even more alluring.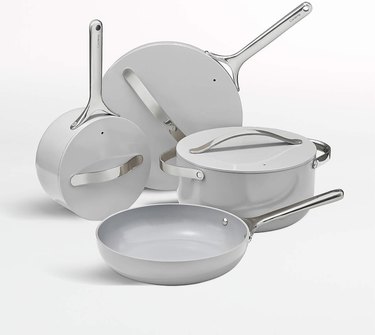 The Always Pan is another internet sensation with product details boasting about being the only pan needed in your kitchen. The Our Place website states that this pan can replace your fry pan, sauté pan, steamer, skillet, saucier, saucepan, non-stick pan, spatula, and spoon rest. This seems like a big order but according to the reviews, it does just that! The Always Pan also doesn't contain any toxic metals, nanoparticles, lead, cadmium, and PFAs. The pan comes in a variety of muted colors that will surely enhance your kitchen space.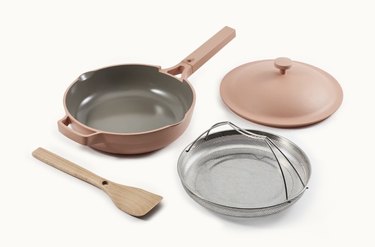 With so many different options, it can seem daunting to make a decision — especially when considering the health of one and one's family. Luckily there are lots of similarities between these non-toxic products so here are two questions to help narrow things down: What do you like, and what do you need? This list comprises full sets and beginner items so hopefully there is something for you, no matter what you're looking for. Happy (non-toxic) cooking!